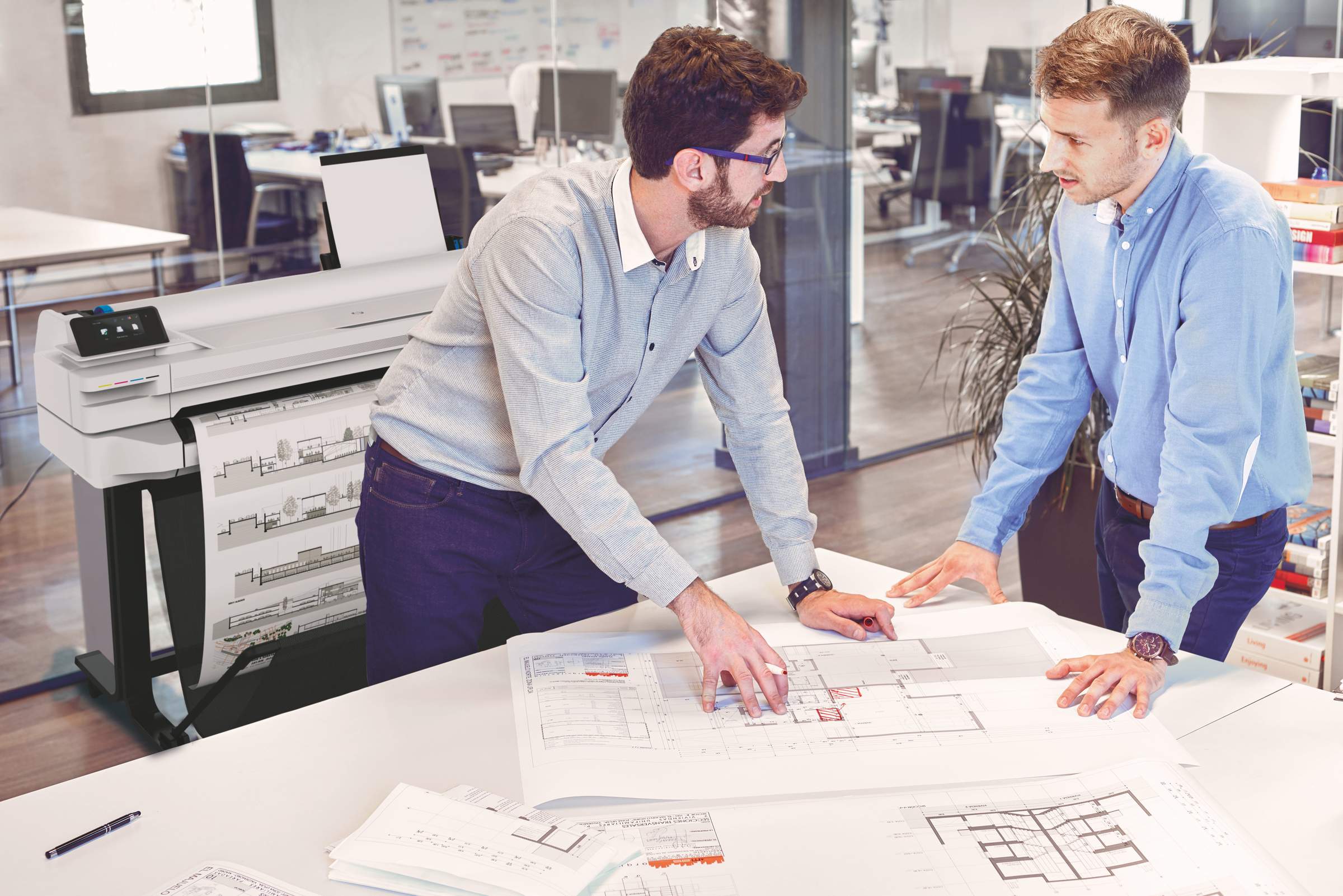 The Best Plotter Printer For Your Company Needs
For architecture, engineering and construction companies, having the right large format printer is crucial in ensuring that technical documents are printed with premium precision and clarity. The good news is that there is no shortage of large format printer options available in the market, but the downside to having a wide array of choices means it can be a little overwhelming when it comes down to choosing and deciding which large format printer is the best for your company.
Need help shortlisting? Here are some common workplace scenarios and office set-ups with our picks of the best plotter printers that can help improve your daily work processes and deliver quality print outs.
Construction company working on a mobile site
When it comes to wide format printers for teams working in mobile or remote offices, the best plotter printer type would be those that offer portability, simplicity and speed.
It's important to have a printer that can keep up with the fast-paced and fluid work arrangements required on-site. It will also be easier to transport a compact plotter between the office and site, making setting up mobile offices easier. When you're working remotely (and possibly relying on just a single printer), you can't afford to have printer downtime so having a fuss-free wide format printer that's easy to operate and won't require much maintenance is a bonus. Speed is another key factor—a printer that can deliver high quality pages quickly and efficiently can have a significant impact in your overall turnaround time.
Check out the world's smallest plotter printers
The HP DesignJet T200 series is designed to make working on mobile sites easier. It's the world's smallest plotter that helps you save time, money and office space. This multipurpose desktop CAD plotter printer allows you to print common formats like PDF, JPEG, TIFF and DWF with a single click from your desktop via the HP Click software or even from your smartphone using the HP Smart App. It's fast too—with a print speed of 30 seconds for an A1 print out. For an elevated experience, the HP DesignJet T600 offers the same compact attributes with upgraded features like a faster print speed of just 26 seconds per A1 print out and comes with its own stand, roll cover and automatic sheet feeder.
Architecture firm with a small office space and high impact aesthetics
For most architecture firms, design and aesthetics play major roles in capturing clients' attention and interest, making design, quality, and size the top considerations when shortlisting an architectural plotter printer.
With that, you'll be looking for large format printers that will complement your office's interior design. And if space is a concern, you'll need a plotter printer that won't take up too much space. More importantly, architectural print outs are integral in any architecture office—line drawings, 3D renders, and isometric floorplans are crucial to any project so you'll need a printer that can support this as well.
Meet the world's first designer plotter printer
The HP DesignJet Studio is a large format printer created specifically as a designer printer that not only offers stunning visual appeal but outstanding performance. It moves away from the traditional black plotter printers with its sleek white and steel/wood finishing that exudes a modern, high-tech look and feel. It's compact and comes with an integrated bin and stand with an output bin, and a roll cover so you can easily tuck it away anywhere in the office. When it comes to print quality, it uses HP Bright Office Inks that ensures precise, accurate, and crisp lines.
Large engineering firm with high volume usage
If you're working in a large enterprise with many different workgroups sharing resources and large format printers, opt for printers that allow large size printing, industrial grade/civil-engineering performance, multi-functions, and security printing.
Larger firms usually have larger volumes of print output so it's important to have a heavy-duty plotter than can support multiple functions, and deliver fast, reliable and quality results. If you have different workgroups in the same organisation, it's important to have a large format printer with security functions such as pin printing to keep sensitive print outs within teams. You also need to think about recurring costs so you should also look out for an engineering printer that is ink efficient.
Get immediate results with the fastest first page print outs
The HP DesignJet XL 3600 Multifunction Printer is a reliable plotter built to last and keep up with heavy workloads. It has a fast print speed of four to six A1 pages per minute making it ideal for larger firms with numerous workgroups. Its multifunction feature means you can easily digitise your projects with automated scanning, quicksets, and post-editing capabilities. While it can produce large outputs, its innovative technology helps companies reduce running costs by having mono and colour print options.
Medium-sized enterprise planning to scale up
If your company has plans to scale up, you'll need equipment that can help you transition to the next level of performance and support higher volume of print outputs. This is where cost efficiency, adaptability, and versatility come to play.
You'll need a large format printer that will keep running costs low to help you save resources, and one that has all the functions you need in one machine so you won't have to invest in multiple ones. And if you ever have to move your operations on site, it also helps if your plotter works just as well in the office or on a mobile site without worrying about performance and portability.
A versatile plotter for the office or on-site use
The HP DesignJet T830 is an adaptable and versatile large format printer that allows you to print, scan and copy. It's an award-winning CAD plotter printer that has won many awards including the Best Wide-Format MFP for CAD and the Red Dot Design Award in 2016. It's also compact and can be easily transported in a military-grade armour case scoring well in portability should you need to work on-site. As with all HP DesignJet plotters, the HP DesignJet T830 supports mobile printing which means you can print from your Apple or Android devices.
Book a demo with us today!
No matter which type of company you're in, there is a suitable HP large format printer just for you. Ready to look for the best plotter printer for your office?

While we can't meet in person, why not to attend a live product demo or join live presentation from our experts.
To schedule it in advance, simply click the corresponding button below.