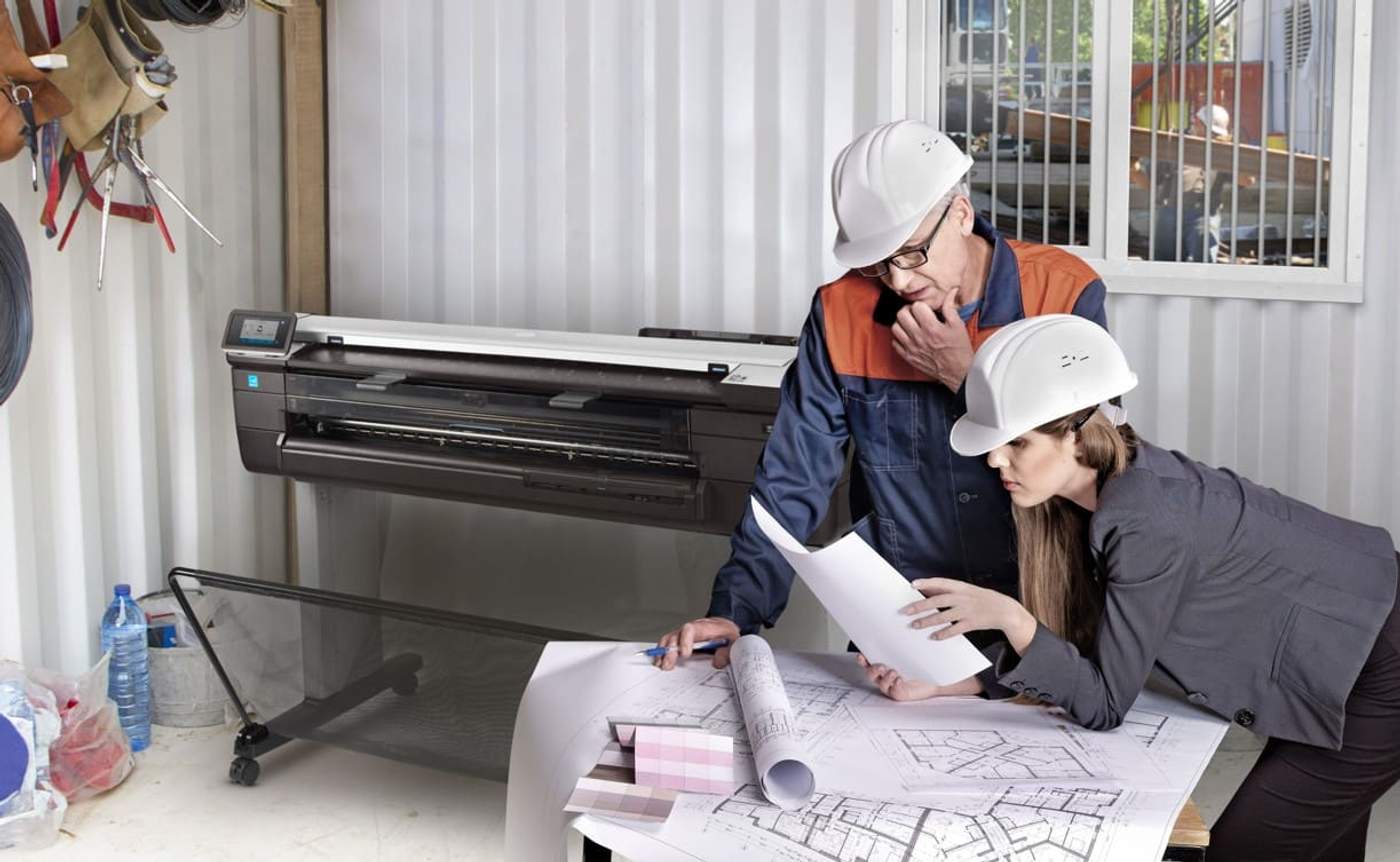 The 5 Best Large Format Printers for AECs in 2022

Whether you plan on printing blueprints, art prints, or engineering schematics, it's critical that Architecture, Engineering, and Construction (AEC) firms have the best large format printers on their side. The size of the printouts is actually one of the least important concerns when looking at large format printers; regardless of the technology you choose, there are a lot of other factors to consider.
If you're looking for the best high-volume printers or the best large format plotters, read on. We've compiled this list of some of our favourites, as well as key features that your firm should look out for.
The Best Large Format Printers of 2022
1. HP DesignJet Studio 24
Our DesignJet Studio 24 is one of the best large format plotters on the market. It can handle up to a 24-inch roll of paper, and it has an intuitive touchscreen interface and compact design. Altogether, it's high-powered and easy to use.
It also has 1 GB of memory and prints at a whopping 25 seconds per A1/D plot, making it a great option for large format printing and one of the best high-volume printers on the market.
If you're looking for a somewhat larger printer, our DesignJet T650 can handle rolls or sheets up to 36 inches wide. It's highly suitable for maps, posters, technical drawings, or renders, and it's also one of HP's most efficient models. It uses 95% less ink than comparable models from other brands. This allows you to print up to 100 extra A1/D plots per month. Meanwhile, the HP Bright Office Inks have up to 31% higher line accuracy.
With the DesignJet T650, your firm doesn't have to worry about wiring the most frequently used devices directly to the printer. The HP Smart app allows you to manage the printer from virtually anywhere.
3. Epson SureColor P20000
When it comes to the best high-volume printers, the Epson SureColor P20000 is built for heavy use from day to day. It can even handle 1.5 mm poster boards that are up to 64 inches wide. Epson's UltraChrome PRO ink sets include nine colours for maximum accuracy, as well.
One of the most affordable large format printers on the market, the Canon imagePROGRAF TM300 can print maps, documents, and signage up to 36 inches wide. Canon aims this printer at smaller offices by making it 60% quieter than its predecessor. Because it uses Canon's LUCIA PRO inkjet cartridges, it's suitable for printing items that will be placed outdoors.
The most compact printer on our list is our DesignJet T230. Don't underestimate it based on its small size, however. It can handle A4, A3, A2, and A1 paper, as well as sheet and roll feed options. In addition, its eco-friendly casing is made from up to 30% recycled plastic, and HP Click software allows you to print multiple files with a single click.
Key Features of the Best Large Format Printers
There are a wide variety of factors to consider when you're selecting a large format printer, including:
The resolution of a large format printer should be one of the first things you look at. 300x300 dpi is the absolute minimum for large printouts. With anything less than that, your images become blurry and blocky in short order. Keep in mind that the larger the item you're printing, the more pixelated it will appear up close. Items such as banners that are meant to be viewed at a distance should be printed at higher resolutions; 1200x1200 dpi or higher is our go-to.
If you're looking for the best high-volume printers, it's a safe bet that you want one that prints quickly. Prioritise printing speed for high-volume applications with quick turnaround time, such as architectural plans and posters.
This consideration is rather obvious: you don't want to be printing your banner in two pieces and sticking it together with tape!
There are four main types of large format printer ink.


Aqueous ink is water-based and environmentally friendly, with no harsh fumes or special concerns regarding ventilation.
UV-cured ink starts out liquid but becomes solid after exposure to ultraviolet light.
Latex and resin-based ink is primarily used on paper, fabric, and other fibrous items. These processes mix an aqueous base with a resinous (or latex-borne) pigment.
Solvent ink has the most restrictions regarding its use. It tends to produce fumes that limit its usability in many applications.
Here's one more obvious consideration. What material will you be using? You want to choose the best large format printer that can handle the material you plan to print on.
A large format plotter will do you no good if you can't fit it inside your office. Think about not only the clearances required but also the process of moving your new printer in.
Usability is an important concern for large format printers. If everyone in your office is highly tech-literate, you may want to choose a more feature-rich printer, even if it's harder to use. On the other hand, if the entire firm will be using the printer regularly, selecting one built for ease of use is a better idea.
Will the printer's manufacturer stick around to answer any questions that come up regarding its use? Consider issues such as warranties and support hours.
The final consideration when it comes to the best large format printers is what your purchase will cost. Try to strike a balance between top-end features and affordability, and remember that buying a bargain-basement printer does you no good if you have to replace it in three years.
Conclusion: What Is the Best Large Format Printer for You?

Ultimately, the best large format printers are the ones that suit your company's needs best. Take inventory of what you're looking for, and find a printer that works with those requirements. If you're still not sure which large format printer is best for you, fill out our contact form, and our experts will be glad to set you up with a printing solution that works for you.

While we can't meet in person, why not to attend a live product demo or join live presentation from our experts.
To schedule it in advance, simply click the corresponding button below.