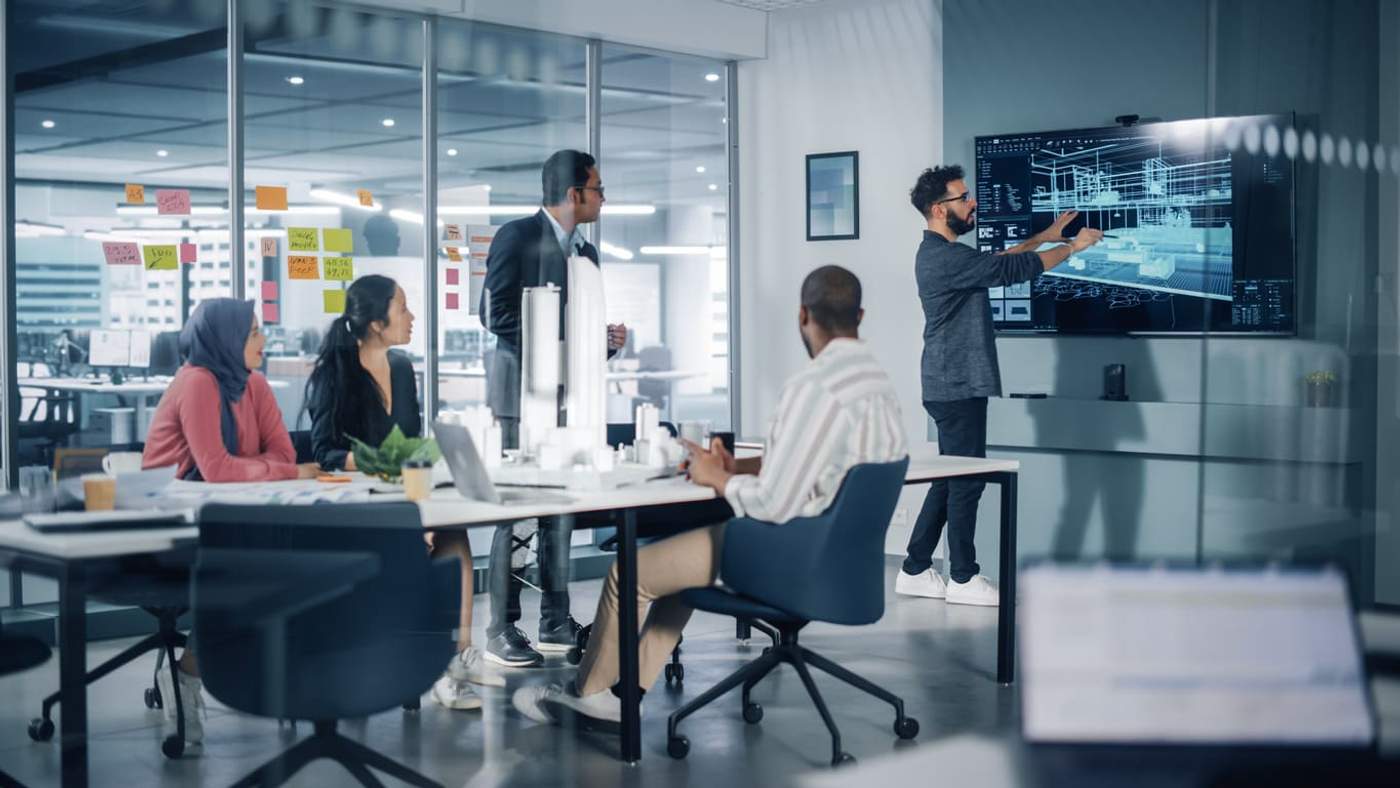 Green Building Benefits: The Best Eco-Friendly Practices

Green technologies include everything from solar panels to wind farms, but there are numerous smaller-scale green building practices generating much less public attention. Though less flashy at first glance, green building technologies are occurring on a wider scale. Also, green building benefits will have the biggest overall impact on ecologically sound construction practices.
What are these less commonly known green building benefits? How can AEC companies leverage them to improve natural health and wellness? In this article, we're going to look at the benefits of green architecture and how sustainable building practices can improve the long-term health of people and their living spaces.
What Is the Relationship Between Green Buildings and Construction?
Green building refers to both:
The quality of the structures and building materials, and
The practice of more resource-efficient design and construction practices.
Thus, there is an emphasis on how green buildings are a better way to a sustainable lifestyle through energy-efficient design and construction methods centred around cleaner energy.
Green building design and sustainable building materials have become quite sophisticated. These achievements have resulted from both cutting-edge technological innovation and a resurgence of traditional methods of harnessing energy more effectively.
Passive solar, skylights, and strategic placement of ventilation systems are just some of the options for creating a more innately energy-efficient design. They reduce the reliance on continually cooling or heating structures with electricity, as the building design itself regulates temperatures throughout the day.
By maximising natural daylight and ventilation, green building efforts benefit occupants through more sustainable living spaces. With non-toxic building materials, occupants also enjoy greater health and well-being, along with increased productivity and satisfaction.
When organisations go green, sustainable building benefits can best be achieved through greater collaboration between the architects, engineers, and construction teams. Once complete, personnel must apply more sustainable operations and maintenance procedures.
There's also a much greater emphasis on maximising site potential—and doing so bidirectionally. Stakeholders determine the location of green construction projects in two key ways:
How the environment impacts the building's energy efficiency
How the building impacts the local ecology
This is how green building practices can enhance the most crucial design factors from the beginning, such as water recycling and purification, renewable energies, and wise use of indigenous flora in their design. These green building efforts are already contributing to the widespread greening of the Earth, now well underway. Every new or traditional green building design choice AEC companies make now speeds up the natural greening process even further.
Five Key Benefits of Green Buildings on the Environment
Sustainable architecture improves the footprint left by companies reliant on continual development. Designing efficient buildings for green cities leads to far greater water and energy efficiency, along with improved ecosystem and human/animal health outcomes.
With these five key green building benefits, global populations are already becoming far healthier and more sustainable than ever before.


Greater Water Efficiency — Through the selection of low-flow faucets and toilets, indoor water use can be reduced by up to 40%. Also, processes such as bioremediation harness the natural water-filtration processes of plants.
Reduced Energy Use — By amplifying natural heating and cooling cycles with more wisely chosen materials and designs, the need for electricity is greatly reduced. Green rooftops can naturally cool interiors, and the use of renewable energy greatly increases with sustainable architecture.
Less Pollution — As more energy-efficient heating and cooling reduces electricity consumption, it reduces regional air pollution. Further, voluntary emphasis on zero or near-zero operations will reduce landfill waste.
Healthier Local Economies — According to the EPA, "clean energy" enhances job creation and local economies. Further, green construction increases the number of specialised jobs needed, creating greater demand for higher-value careers.
Healthier People — EPA research implicates toxic building materials (such as VOCs) for indoor air quality that's two to five times worse than outdoor pollution. Green construction leads to cleaner air, which enhances productivity and happiness amongst students, workers, and inhabitants.
Outdoor spaces themselves will become healthier. There are also growing numbers of experiments in applying the benefits of green architecture to on-site food production.
The Methods of Sustainable Construction

The rising popularity of sustainable architecture is creating pressure to reduce construction waste. Manufacturing sustainable construction materials also improves the health of workers who otherwise would be exposed to toxic chemicals. Construction management also plays a major role, as the demand for new, sustainable construction practices is on the rise.
The entire construction industry is facing pressure to change. Those involved in sustainable construction methods stand to gain enormous accolades. As the demand for sustainable building skyrockets, every aspect of the green design and construction movement is subject to innovative new practices.
One of the major issues is how well construction practices can move away from fossil fuels; reducing the need to transport materials further than necessary can help greatly in this regard. When sustainable development is done at the widest scale, construction fuel costs could be dramatically reduced. For city planning and multi-site developments, it's up to AEC companies and municipalities to organise their efforts to maximise the transportation involved in new projects.
Time will tell exactly which aspects of sustainable construction will be more and less energy efficient. But in the green building industry as a whole, it's clear a bright future is fast approaching and that green building benefits will continue becoming more accessible.
Facilitating Green Building Benefits Through Superior Design Technology
Don't let inferior design tools limit your plans for the future. HP's large format printers are uniquely designed with the precise needs of architects and engineers in mind. They can define even the finest details with incredible fidelity. Also, HP printers work with the widest possible range of design programs and technologies.
Our AEC-grade printers are also just as effective for general graphic design work. Your team can create photo-grade colours at the press of a button. We've also emphasised ease of use, meaning there's little-to-no learning curve; simply tap and print. Most of our business-grade printers also come with scanning, wireless, mobile integration, and other applications for a highly versatile, feature-rich printing experience.
To learn more or inform us of your printing needs, don't hesitate to contact HP's large format printing experts today. It's just one small way HP is working tirelessly to make sustainable building benefits a reality.
Download our eBook now and discover how innovation is streamlining workflows, producing prints of unmatched quality and increasing IT efficiency like never before.

While we can't meet in person, why not to attend a live product demo or join live presentation from our experts.
To schedule it in advance, simply click the corresponding button below.