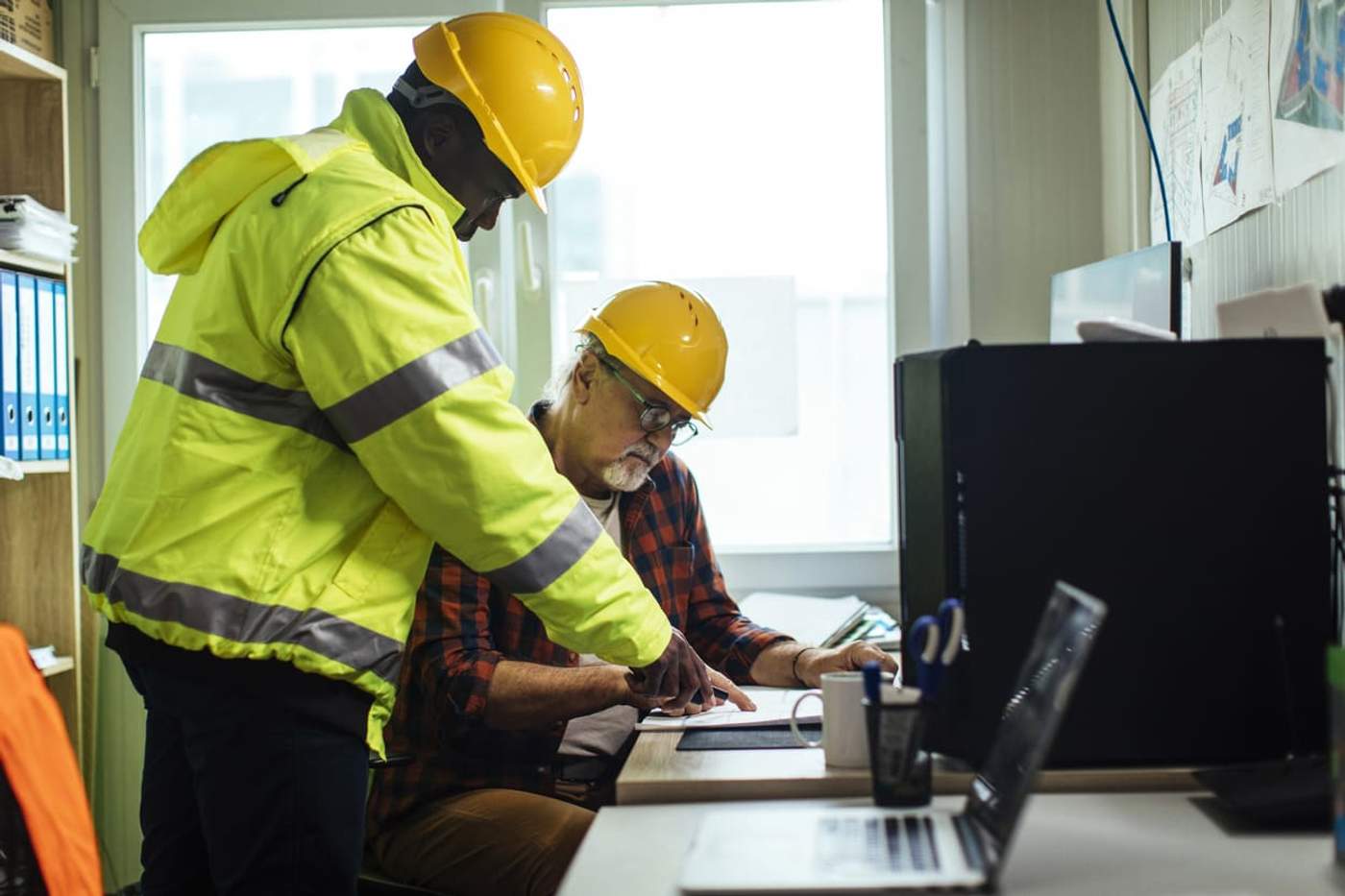 Cybersecurity in Construction: Current Risks and How to Protect Your Construction Company from Cybersecurity Risks

Cybersecurity in construction might not seem like a big concern, but studies show that construction is highly susceptible to cyberattacks. Due to the nature of interactions between contractors and subcontractors, it's easy for hackers to attack even the largest of construction companies, architecture firms, developers, and builders.
What are the risks of lax cybersecurity in the construction industry, and how can you prevent damage caused by a cyberattack? In this article, we'll look at how to stop cyberattacks before they become a problem and explore the five pillars of information security.
What Is the Importance of Cybersecurity in the Construction Industry?
Cybersecurity is obviously a big concern for financial companies and large corporations, but is it really something construction companies need to worry about? In reality, all types of businesses are a target for cyberattacks. However, the way the construction industry operates makes construction companies especially vulnerable to attack. Also, implementing effective cybersecurity in construction setups can be especially difficult.
Recent research shows that construction is the third most targeted industry for ransomware. So, why are hackers targeting construction companies?
The past few years have brought a flood of technology to the construction industry. In fact, 87% of construction companies are reliant on technology, but only 20% are knowledgeable about the cyber issues that could negatively impact their business. As a result, cloud-based platforms, devices, and endpoints are vulnerable to attack. Furthermore, the nature of construction projects requires users to communicate from a variety of locations. When information is shared between work sites, remote workers, and back-office personnel, construction companies become even more vulnerable.
On top of the vulnerabilities in the construction industry, devising a cybersecurity system without gaps can be an added challenge. Workers in the field, remote workers, and subcontractors use laptops and mobile devices to communicate and access company information. Endpoints like cloud-based printers and smart building features can allow hackers to access your company's computer network and sensitive information. To keep these devices safe, construction companies need an extensive cybersecurity system to protect all devices and endpoints.
How Construction Companies Can Mitigate Cybersecurity Risks

Revolutionary changes in the past decade have changed the nature of how construction companies work. Increased technology has also put the industry at a higher risk for damages caused by cyberattacks. To defend against these sophisticated attacks, construction companies must take steps to ensure all devices are secure.
- Ongoing cybersecurity in construction awareness training: When all employees know the dangers of modern cyberattacks and how to avoid them, you can develop a more secure organisation.
- Careful choices when purchasing devices: Not all IoT devices, like large-format printers, have the same security features. Shop around and compare security features on devices before making a purchase.
- Endpoint threat detection and response: Modern cybersecurity solutions should include the same level of security for cloud-based devices and platforms as those inside the local network.
- Maintain updates and patches: Updates and patches for devices and software are designed to eliminate vulnerabilities. They should be installed as soon as they're available.
- Access control management: By limiting access to sensitive data to employees who need it to complete their daily tasks, you have fewer potential data leaks.
What Are the 5 Pillars of Information Security?
When hackers target business devices and endpoints, it's not the devices that need protection. Instead, it's the sensitive information inside them. According to the Department of Defense Cybersecurity Model, these are the five pillars of information assurance for maintaining an information system's safety against man-made and natural threats:
1. Confidentiality: When protecting data, encryption is the most effective way to prevent theft.
2. Integrity: Viruses and malicious code are the most common threats to a system's integrity. To prevent damage from these threats, IT professionals use antivirus software and other tools to keep the network protected.
3. Availability: Users need to be able to conveniently access data stored in networks. Ransomware is designed to restrict availability for ransom. IT professionals block threats to availability using tools like firewalls and complex cybersecurity measures.
4. Authenticity: Authentication methods verify a user's identity before allowing access to sensitive data. Attacks that compromise passwords or login information can allow attackers to discreetly breach networks. So IT professionals must identify vulnerabilities and take action to eliminate them.
5. Non-Repudiation of User Data: When data is sent through a network, the system should be able to provide proof that the data was transmitted correctly. This information is called non-repudiation; it verifies the use of authorised users and processes for the transmission of data.
Good practices for cybersecurity in construction companies should include all of these elements.
How to Protect Your Large Format Printer From Cybersecurity Risks
Large format printers are an essential part of a high-functioning, modern construction company. Without the proper security measures and defences in place, they can also be one of the endpoints that make your company more vulnerable to attack. A recent study revealed that over 50% of internet-connected printers are unsecured and vulnerable to the malicious activity performed by hackers. It's vital to shore up defences against this cybersecurity risk in construction industry niches. Luckily, there are ways to secure your large-format printer and keep your network secure.
**- Secure your printing ports and limit your printer's wireless connections to your router. **Configure your network settings so that your printer only answers commands that come via specified ports on your network router.
- Use a firewall. A highly effective firewall can protect your printer from cybercriminals that try to access your printer from outside the network.
- Update your printer firmware to the latest version. Updates and patches are designed to eliminate potential vulnerabilities. Apply them as soon as they're available for consistently strong cybersecurity in construction.
- Change the default password. Most endpoints, like printers, have default administrator usernames and passwords, making them more vulnerable to attack. Change it to a strong, secure, unique password.
- Use attack detection software. Cybersecurity software with endpoint detection can empower you to identify and stop attacks.
- Encrypt your files. Encryption can make your sensitive data unreadable to hackers who breach your network.
- Track unauthorised use. Use a security solution that tracks network traffic and provides automated alerts when unauthorised traffic is detected.
The printer you choose can greatly impact your network security and your vulnerability to hackers. HP produces some of the world's most secure large-format printers and plotters. HP printer security features include:
- Firmware Whitelisting: This validates that only authentic HP code is loaded into the memory. It will stop the boot process and notify IT of compromises.
- HP Connection Inspector: This continuously monitors outbound connection requests and automatically forces a reboot to initiate repair.
- HP Security Manager Quick Access: Get a free one-hour printer security assessment with a skilled HP representative.
- TPM Slot: This accessory allows you to store admin credentials, certificates, and encryption keys.
- HP Sure Start: It detects and prevents the execution of malicious code, prompting self-healing for the BIOS.
- HP FutureSmart Firmware: Printers include upgradable firmware that can take on new features over time.
Prioritise Cybersecurity in Construction With the Right Processes and Equipment
Construction cybersecurity is a crucial part of business for all companies in the industry and will continue to be vital in the coming years. Your large format printer/plotter is an important part of your construction business, but it can also be a gateway for hackers to compromise your data. The experts at HP understand these vital concerns and develop highly secure printers to help businesses of all types maintain security. Contact us to discuss your large-format printing needs and best practices for cybersecurity in construction.
Download our eBook now and discover how innovation is streamlining workflows, producing prints of unmatched quality and increasing IT efficiency like never before.

While we can't meet in person, why not to attend a live product demo or join live presentation from our experts.
To schedule it in advance, simply click the corresponding button below.