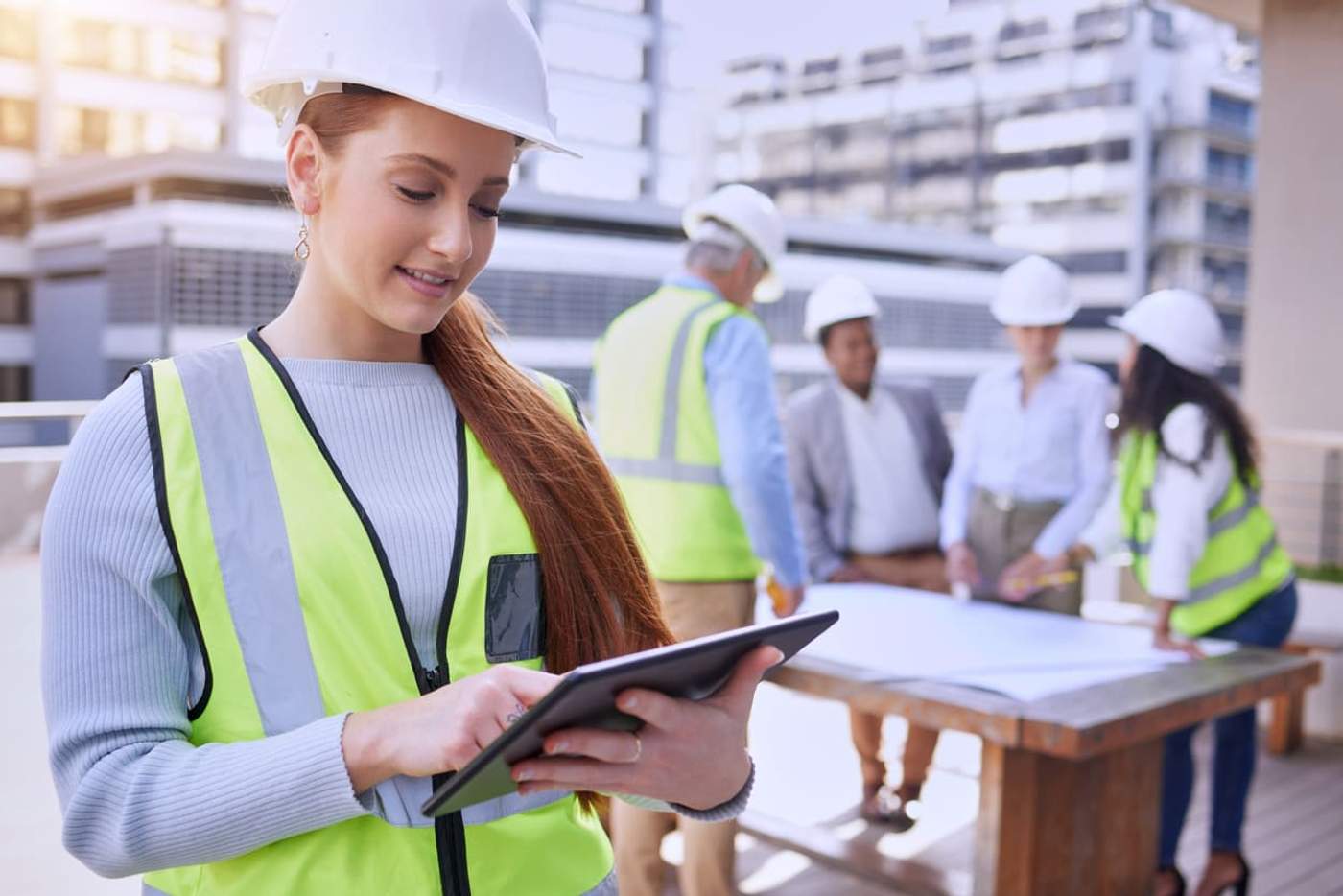 The Importance of Secure Cloud Printing for AEC Hybrid Workplaces

In the modern hybrid workplace, cloud-based resources like secure cloud printing are a must. You need online documents, tools, and dashboards to keep everyone coordinated and sharing files, whether they are in the office, on-site, or working at home. In AEC businesses, hybrid setups have always been the best choice; your work, by its nature, takes team members outside the office and on-site with clients and construction projects.
Cloud printing has become a powerful tool for AEC professionals, allowing for both printing cloud documents with portable printers on the go and printing remote documents directly to the office. But is your cloud printing secure? How exposed are your client documents or CAD data when sending to and from your cloud printer? A number of cybersecurity risks in a hybrid workplace are often only considered after the fact. Let's take a closer look at secure cloud printing and how to ensure your AEC operations are as secure as possible.
Cloud printing is the ability to send a print job over the internet. For those who have worked with traditional networked office printers, cloud printing is miraculously approachable. Using a simple app and dashboard, you can send print jobs to the office printer. Also, you can send print jobs to a mobile printer on-site when you need documents without a round trip. It is sometimes called universal cloud printing; you can use Google cloud printing, or you can choose a cloud printing service.
Cloud printing has become a leading trend in ecological construction and green business operations, as it streamlines printing for exactly when and what you need. While printing is still essential, you can reduce reams of paper to just a few on-demand sheets at a time.
The key elements to cloud printing are a printer connected to the open internet — not just the internal network — and software that can receive and manage remote print jobs.
Advantages of Cloud Printing in a Hybrid AEC Workplace
Cloud printing is remarkably flexible. In industries like AEC, where printouts are a necessary part of many aspects of the work, the need to haul large binders or pre-print all documents and diagrams has been a major slowdown and source of waste paper. Cloud printing allows you to streamline your printing needs with both the use of portable printers and the ability to send jobs to the office printer when collaborating on a large project. Check out these additional advantages of cloud printing:
Hybrid printing is one of the essential answers to flexible hybrid workplace design. In AEC, where "out of the office" is part of everyday operations, being tethered to the office printer has always been a burden. Cloud printing allows at-home professionals to send in their work to be printed as needed. It also enables those working on-site to print exactly the documents and diagrams they need without printing reams at the office or going without at a critical moment.
Your professionals can be in the office, out of the office, or across the country and still achieve the printing they need.
Mobile Printing to On-Site Portable Printers
Mobile printing has also revolutionised industries like AEC, where on-site documents are necessary for operations. Your team will no longer need to print everything beforehand. Instead, it can print adaptively based on on-site developments or client requests. With portable printers and secure cloud printing, you can access cloud-stored documents or receive a print job from a helpful colleague in the office.
Print to the Office From Anywhere
Your team will also be able to send print jobs to the office with cloud-connected printing. This way, live transactions and projects can generate the right printouts from the latest data when and where you need them. You can print information, photos, and reports from live on-site employees; even better, you can print them directly for use in design, planning, or client conferencing. When meeting a client at the office, using a cloud printing app means the necessary paperwork will be hot off the cloud printer as both parties arrive.
Scale Printing Capabilities
Cloud printing is also adaptive enough to scale easily in hybrid work. Every cloud printer can become part of a networked printing job. You can offload printing manuals by sending the print job to each office instead of a central print-off and distribution. For large jobs, you can use print management to employ every cloud printer in the network; for small-scale jobs, each printout will appear on the printer closest to the project.
Eco-Friendly Optimisation
Print optimisation is also among the green trends in AEC. Printing precisely what you need, when and where you need it, reduces paper waste by eliminating the need for just-in-case and extra-copy printing. The combination of cloud storage for documents and the ability to print on-site as needed makes cloud printers an ideal green operational upgrade for AEC businesses.
Of course, open access also comes with certain cybersecurity concerns. But secure cloud printing allows you to safely transmit private printed information without exposing your client and project details.
How Do I Make Sure My Wireless Printer Is Secure?

Cloud printing is extremely convenient for AEC operations, but accessibility like this must always be backed with security. The key to smooth and secure cloud printing is to use the right approach to both software protection and daily operation. Here are the essential ways to make any wireless printer and cloud printing system more secure.
Never leave the default passwords in place. These are the first tries for any hacker. Establish a company-wide password policy and change the passwords for every device and system you employ.
Configure Secure Wifi Networks
Each network connection in your cloud should have as much security as possible. First, harden your office network. Then provide resources and support to create secure wifi networks for each building site and in the homes of hybrid employees.
Use Secure and Updated Software
Use Individual Authorisation Management
Lastly, rely on cloud software that provides business-grade cybersecurity and platform support. Multi-factor logins, user authentication, and encrypted access are all great signs that you have chosen the right cloud printing software for secure AEC business operations.
Increase operational cybersecurity by using authorisation management. Give each employee and client a unique login and individually controlled permissions. Create logs to record who accesses files and sends print jobs through the cloud system. Also, use whitelist authorisation to ensure individual secured access.
If your AEC business is ready to advance your operations with secure cloud printing, contact us today. HP is proud to provide advanced cloud printing services with business-grade security standards, and we're here when you're ready to discuss the unique printing needs of your AEC hybrid workplace.
Encryption is your best last defence for any secure information like personal, payment, and proprietary details. Encrypted servers and using encrypted software ensure that even if hackers steal some data, they won't be able to read the result.
Download our eBook now and discover how innovation is streamlining workflows, producing prints of unmatched quality and increasing IT efficiency like never before.

While we can't meet in person, why not to attend a live product demo or join live presentation from our experts.
To schedule it in advance, simply click the corresponding button below.