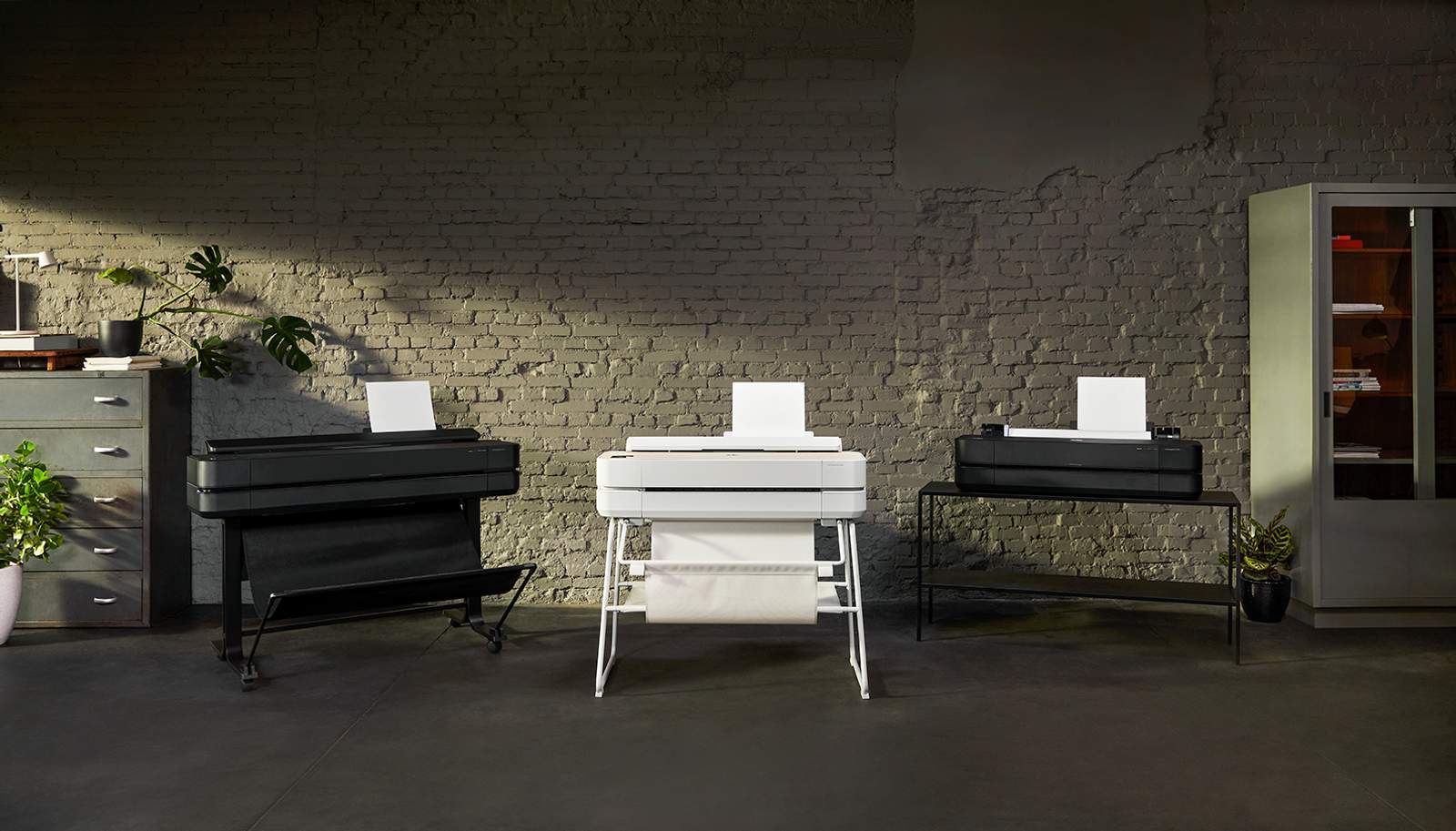 Top HP DesignJet Plotters With the Best Tech Innovation
Large format printers are essential if your company needs to print out large documents, posters and other marketing materials. It's even more crucial for architectural, engineering and construction firms which rely on precise and accurate technical printouts. Techgearoid puts it simply: These days, everything has gone digital and that includes blueprints. As processes become more digitised, so should your large format printer.
It's important to have a high tech and easy plotter that can keep up with modern times — you wouldn't want to be using the latest computer/software but an outdated plotter that is unable to support the level of detail that your software can produce. Or, a printer lacking the technology that makes it ink efficient adding more recurring costs for the company.
Oftentimes, the biggest challenge is not knowing how the latest plotter technology can impact work processes and workflows, hence, most companies don't know when is the best time to switch plotters or don't know where to start. A helpful tip from Techradar's review of the best large format printers is to find a size you need and determine your actual budget. To help you out, we've narrowed it down to our top five picks of easy plotters that use the latest plotter technology.
Easiest plotter for micro or small companies: HP DesignJet T200 series
If you're looking for simplicity, the HP DesignJet T200 series is the perfect plotter to consider. Not only will this compact plotter fit your office and budget, it's also the world's smallest plotter. It can be placed on a desk which can be especially helpful if you need all the floor space you can get in your office.
What makes the HP DesignJet T200 series an easy plotter to operate is its use of HP innovation such as the HP Click software. Via the software, you can send common formats like PDF, JPEG, TIFF, DWF, and HP-GL/2 files from a PC or Mac to print with just one click. You can also print multiple sizes automatically without having to set or switch the plotter media source. Don't be fooled by this compact printer's simplicity, it packs a punch by delivering outstanding printout quality thanks to HP Bright Office inks which give accurate lines and bright colours.
Sustainable plotter: HP DesignJet T600 series
For companies who want to reduce their environmental impact, the HP DesignJet T600 series is a good option to consider. These printers are made from up to 30% recycled plastic, and come with their own stand and output bin and a roll cover.
Tech-wise, the HP Click software helps optimise media usage and costs with features like automatic nesting, manual rotation, manual alignment and reorder pages. These will allow you to do more for less, which comes in pretty handy if you're a boutique firm or medium-sized enterprise that has to keep an eye on monthly maintenance costs. It also uses the HP Smart App which allows you to print, scan and share from your smartphone. You can even manage your plotter remotely—anytime, anywhere—allowing you to continue to work efficiently with your team no matter where you are.
Design meets function: HP DesignJet Studio
This easy plotter is the first net carbon neutral HP DesignJet plotter. It's a sleek and stylish large format plotter designed to offer a seamless end-to-end experience. You won't need to hide this plotter away as it offers a refreshed modern aesthetic with white and steel/wood finishing that can easily fit into your workspace. Designboom calls this revamped look a "very appreciated design approach". Need to de-clutter? No problem, the HP DesignJet Studio's integrated printer basket can be tucked away when not in use.
PC Mag included improved size, design, and materials as key factors to consider when choosing a business printer. The HP DesignJet Studio delivers all that by easily integrating in a modern office setting and to deliver modern business needs.
For medium to large offices: HP DesignJet T2600 MFP series
Getting a multipurpose printer means you won't need a separate printer, scanner and copier. The HP DesignJet T2600 MFP series is easy plotter to operate, thanks to its multifunction (scan, print, copy) and its 15.6-inch touch screen. This allows you to access shared folders to print and scan via its embedded web server where you can view and change your printer settings, access diagnostics reports and keep an eye on your ink consumption to optimise and improve printing.
It also uses ink spraying method for nozzle maintenance which uses lower amounts of ink as compared to the traditional ink purging method. This nozzle cleaning innovation means each ink cartridge can last you longer.
High volume production: HP Pagewide XL
When you're working in a fast-paced office with high print out volume, you'll need a high-performance plotter that can deliver high quality results. The HP Pagewide XL is a reliable plotter that's build to last and keep up with heavy workloads. Thanks to modern plotter technology, it has a fast print speed of four to six A1 pages per minute—perfect for large workgroups.
It uses HP SmartStream job preparation and processing software that helps manage projects and promises to help you finish jobs twice as fast. Since you'll be managing large volumes of printouts, ink efficiency is a key consideration and the HP Pagewide XL also has HP SmartTracker software that can analyse printing costs to help maximise ink efficiency across work processes.
Plotter technology has certainly come a long way. WIFI printing, ink efficiency, modern design and high-tech software all play a role in helping you get the most out of your plotter.
Want to get more insight and read more about how precision printing reduces delays and lapses in your next project?

While we can't meet in person, why not to attend a live product demo or join live presentation from our experts.
To schedule it in advance, simply click the corresponding button below.