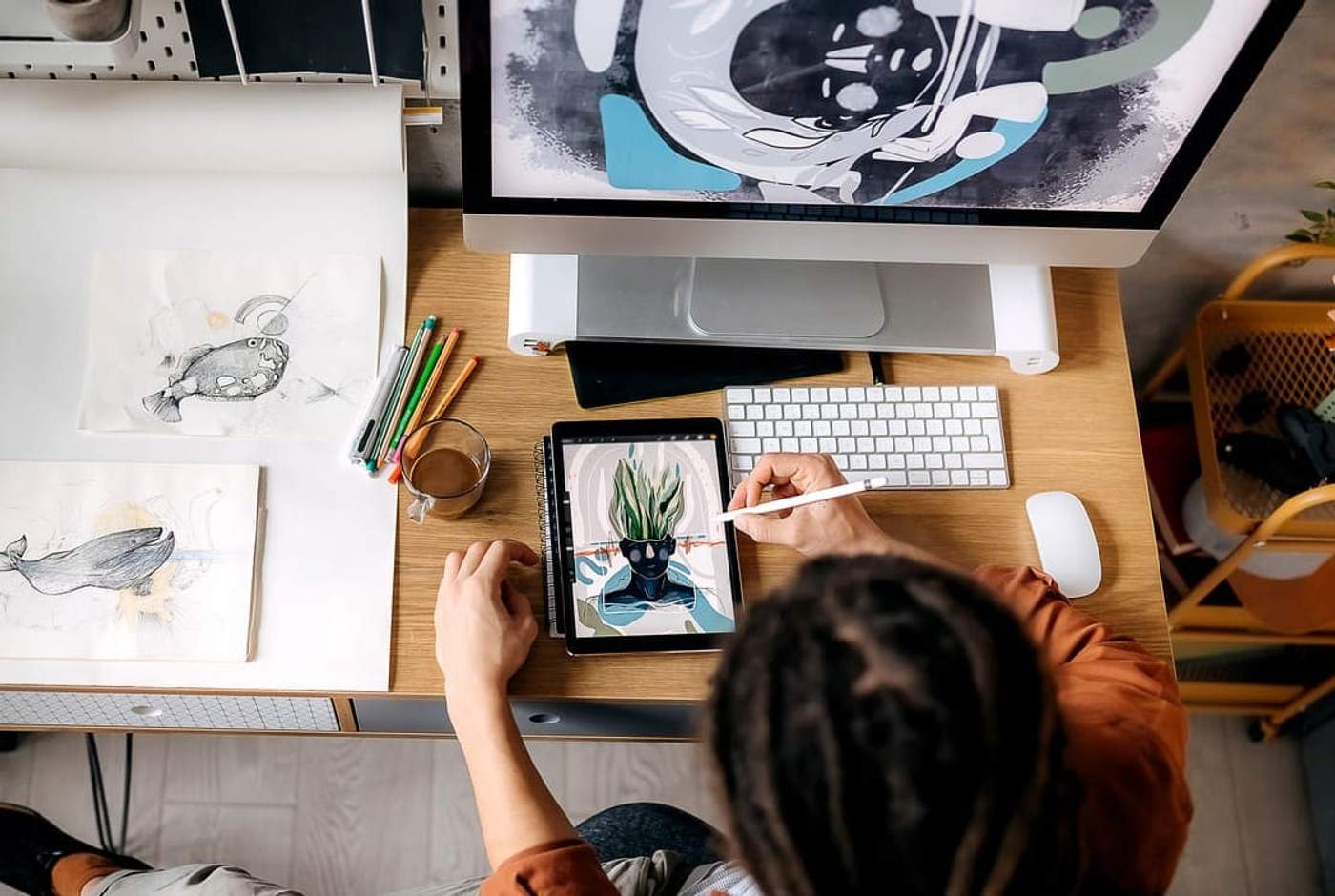 7 Ways Large Format Art Printing Can Grow Your Digital Art Business

The world of art has witnessed some remarkable transformations with the rise of digital art. With the rising number of artists embracing digital mediums to create stunning works of art comes a growing desire to monetise that art in the form of prints. Luckily for artists and art business owners alike, large format printers are perfectly equipped to help users attain this ambition through large format art printing.
From enhancing artistic expression to expanding your market reach, large format art printing can be employed in numerous ways to increase the profitability of your digital art business. In fact, there are at least seven ways in which large format printers can help revolutionise how you create, market, and sell your digital artwork, covering both the potential and opportunity for growth and success.
The Concept of Digital Art and Its Growing Popularity
Advanced digital technology has changed the art world, helping artists reach international audiences and develop unique digital art forms. While non-fungible tokens (NFTs), 3D prints, and even video fall into the realm of digital art, digital artists can grow a lucrative business in many other ways. Popular digital artwork often emulates techniques of oil or acrylic painting and photography. As customer behaviour evolves and brands increasingly seek collaboration with digital artists, the accessibility of printing technology will become more important.
Digital Art Businesses Need High-Quality Prints
Using digital technology, artists can create visual art, including digital painting, illustrations, photography, 3D modelling, and animation. Such artworks can then be used to develop wall art, comic book illustrations, adverts, banners, and posters through large format art printing. The ability to produce high-quality prints is an essential factor in customer satisfaction.
The Growing Prominence of Large Format Printers in the Digital Art Industry
As the digital art industry grows, demand for digital art that translates from virtual to physical without sacrificing quality is essential. Large format art printing gives digital artists the flexibility to meet the needs of their customers.
What Are the Seven Ways in Which a Large Format Printer Can Grow Your Digital Art Business?
The digital art industry is evolving rapidly. To adapt to the changing needs of their customers and produce works that can be used in a variety of environments, digital art businesses need versatile printing practices. Investing in a large format printer can help you grow your digital art business in these seven ways.
1: Large Format Printers Give You Access to Versatile Printing Options
Digital art methods can be used to create works that span from marketing banners to posters or fine art. Large format art printing enables art businesses to produce accurate replicas of a single print in a variety of ways.
Printing With Different Paper, Sizes, and Finishes
Different types of paper can impact printed artwork's appearance, vibrancy, and longevity.
The Advantages of Being Able to Print on Various Paper
Choosing the best paper for printing digital art depends on the desired outcome. The ability to print on various paper types and sizes will help you accurately produce the kinds of prints your customers seek.
Printing in standard poster sizes will allow you to provide your customers with prints that range from poster adverts to large wall art pieces.
Coated paper presents sharper and brighter images and designs while resisting dirt, moisture, and wear and tear.
Matte or semi-gloss photo paper can help you ensure digital prints will have a high level of detail.
The anti-reflective qualities of matte paper often make it a better choice for framing large prints.
Versatile Printing Options Mean Servicing Diverse Customer Preferences and Expanding Your Product Offerings
As a digital art business, you serve customers with diverse needs and preferences. Using a large format printer will allow you to offer a multitude of product offerings that span from fine art large format printing to business marketing services.
2: You Can Generate High-Quality Prints for Enhanced Artistic Expression

Large format printers aren't just larger versions of office printers. They use different materials, parts, and processes to achieve a specific result.
Large Format Printers Can Produce Prints With Exceptional Colour Accuracy, Sharpness, and Detail
Large format art printing uses more individual ink cartridges that go beyond traditional printing colours to create different shades and tones. As a result, the printed image is of much higher quality.
The Importance of Preserving the Integrity of Digital Art During the Printing Process
Digital art is often produced with layered details and rich colours. Specific printing processes and materials work to reproduce the artwork as intended by the artist.
Using High-Quality Printers Can Elevate the Artistic Expression and Impact of Digital Artwork
The use of a high-quality large format printer also allows you to print across a variety of materials and take advantage of modern technology for more accurate prints. The finish and texture of materials can bring out the layering and detail used in the process of rendering digital art. Large format printers also increase the precision of ink placement to increase clarity. As a result, prints yield the depth of the original piece to accurately portray or even elevate the artwork.
3: It Is Easier to Meet Client Demands and Customisation Requests
As the digital art industry evolves, large format art printing can be used for a variety of uses. Large format printers prepare you to meet the growing demand in a variety of ways.
Large Format Printers Enable You to Fulfill Specific Client Requests
Digital art allows you to use a single image for a variety of purposes. Large format printing enables you to supply customers with substantially more variety in artwork size and print materials.
The Advantages of Providing Personalised Prints
Over 50% of consumers want the opportunity to purchase customised products or services. Large format art printing allows you to meet personalised requests in these ways.
As a digital art business, you're poised to present customers with one-of-a-kind or limited editions of specialised works of art. The capability to produce fine art large format printing can help you stand out from the competition.
Digital art allows you to provide clients with artwork that fits precisely into their space. By providing custom sizes, you can then offer a unique bespoke experience.
Large format art printing has a range of uses, from photography or fine art to marketing. The ability to work across multiple media and have complete control over every aspect of an image allows you to offer unique options not found elsewhere.
Catering to Individual Preferences Helps Build Customer Loyalty
By meeting your customers' needs early and continuing to do so through high-quality large format art printing, you can build customer loyalty and maintain an edge over the competition.
4: Large Format Printers Help You Streamline Your Production Workflow
Digital art businesses need flexibility and versatility. Attempting to meet demands with a traditional desktop printer can be challenging. Investing in a large format printer can help you work more efficiently.
Large Format Printers Reduce the Reliance on Third-Party Printing Services
To meet unusual requests, digital art businesses may choose to outsource printing services. However, this can lead to extra costs and delays. Investing in a large format printer will keep your operations in-house, thereby allowing you more control over the quality and speed of services.
The Benefits of In-House Printing
In-house printing provided digital art companies with these distinct advantages that led to improved customer service.
The ability to complete print projects in-house means you won't need to depend on the availability of a third-party print shop. As a result, you can effectively meet customer deadlines.
Outsourcing can be cost-effective for singular projects, but routinely outsourcing large format print jobs can quickly get expensive. In-house printing can save you time and money compared to frequent outsourcing.
** Improved Quality Control**
When you invest in a large format printer, you choose the quality of the machine. You also have control over printer use, allowing you to invest in quality inks and materials and avoid mistakes in the printing process.
Direct Control Over the Printing Process Allows You to Maintain Consistency and Meet Tight Deadlines
As a digital art business, you have the knowledge and experience to provide customers with optimal results. Overseeing your own printing processes allows you to consistently produce quality prints. By eliminating your dependence on third-party printers, you can avoid wait times and meet tight customer deadlines.
5: Allows You to Expand Market Reach Through Large-Scale Prints
Large-scale prints can increase your advertising capacity and provide products for customers across a variety of sectors. As a result, you can better promote your brand.
The Impact of Large-Scale Prints in Attracting Attention and Creating a Visual Impact
Large format art printing enables you to create eye-catching posters and banners that help increase brand awareness and bring in new customers.
Large Format Printers Allow You to Produce Oversized Prints for Exhibitions, Galleries, Public Spaces, and Pop-up Stores
Using large print can make you stand out from competitors with marketing materials and products that serve various sectors. Producing oversized prints can attract attention and draw more customers to your artwork.
An Opportunity to Target New Markets
Digital artists have the opportunity to make income from a variety of different sources. When you have the right large format printer, you can target these markets.
Businesses depend on large format printing to create materials for stakeholders and internal meetings. Providing large format B2B printing services can help you stand out from the competition.
Fine art large format printing is an essential service for interior designers developing unique settings with wall art and other features.
The ability to produce posters, banners, and advertising materials from a single image or logo can allow you to create marketing materials to be placed in stores and other commercial spaces.
6: You Can Increase the Profitability and Business Growth
A large format printer is an investment that will allow you to expand your services and cut costs.
The Potential for Increased Profitability by Offering High-Margin Printing Services In-House
You can increase profits by offering quality printing services not provided by comparable local businesses.
Large Format Printers Can Contribute to Cost Savings by Eliminating Outsourcing Expenses
Achieving all your printing needs in-house will pay off over time.
An Opportunity to Scale Your Business and Explore New Revenue Streams Through Print Sales and Collaborations
When you provide niche services across multiple industries, you can increase profits with a variety of revenue streams.
7: Large Format Printers Will Allow You to Stay Competitive in the Digital Art Industry
The digital art industry is evolving rapidly. But investing in a large format printer will prepare you for unpredictable changes in the future.
The Competitive Advantage of Having a Large Format Printer in a Rapidly Evolving Digital Art Market
Providing large format art printing will allow you to provide distinctive services in a variety of markets. As a result, you can weather unpredictable industry slow-downs.
The Ability to Offer High-Quality Prints and Customisation Sets Your Business Apart
Large format printers are known for their capability to print across multiple surfaces and yield crisp, clear prints. The quality of your prints will make you known in your local community.
The Importance of Staying Up-To-Date With Printing Technology
Digital art depends on the latest technological inventions. Your print capability must be able to keep up to provide customers with quality products, so a high-quality large format printer will help you meet those goals.
Reach Out to HP to Discuss Your Large Format Printing Needs
A large format printer could be the advantage you need to scale your digital art business. HP invents technologies to help you stand out from your competitors. Looking for the right large format printer to help you grow your digital art business? Then get in touch with an HP expert today.
Download our eBook now and discover how innovation is streamlining workflows, producing prints of unmatched quality and increasing IT efficiency like never before.

While we can't meet in person, why not to attend a live product demo or join live presentation from our experts.
To schedule it in advance, simply click the corresponding button below.