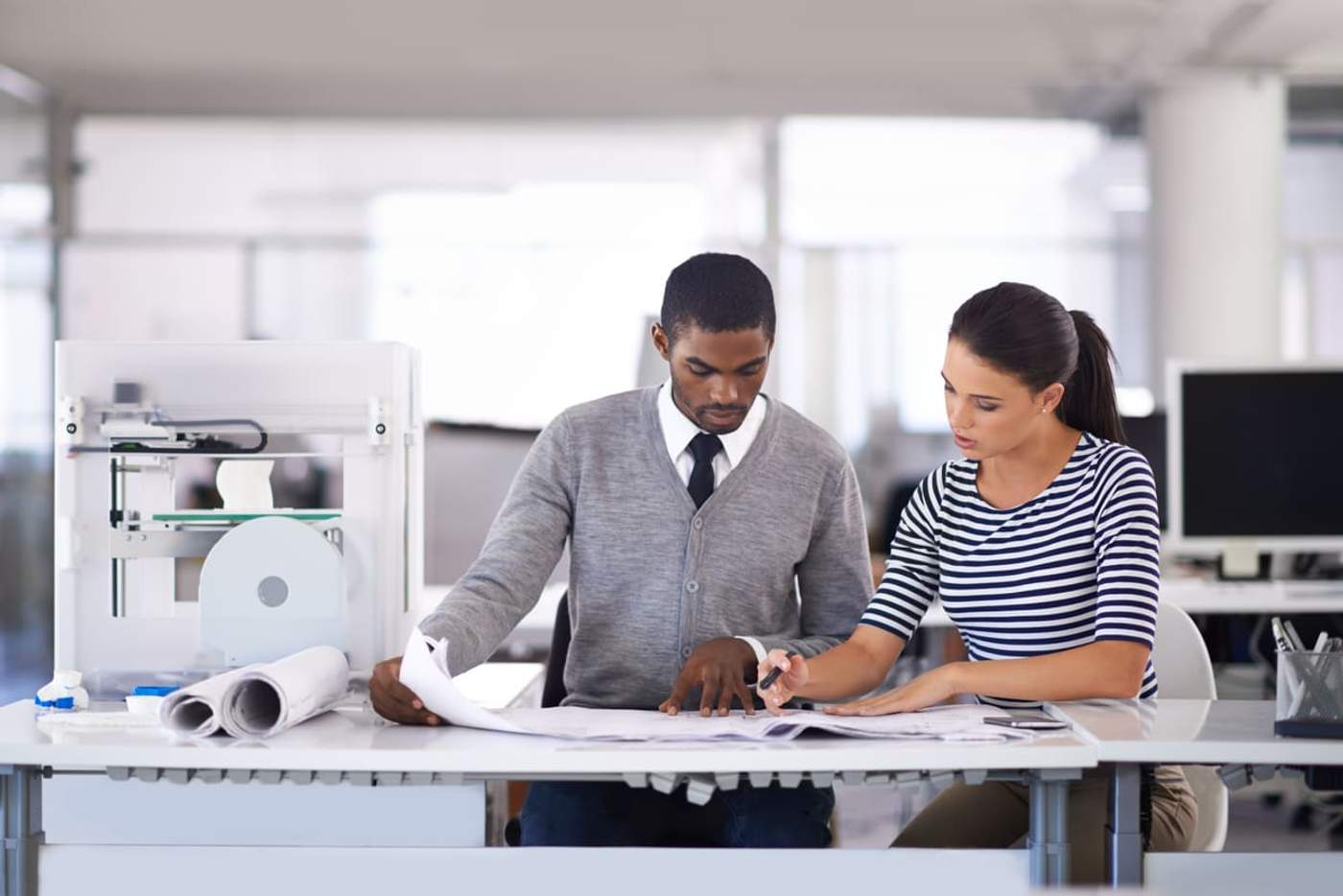 Common Problems With Large Format Printing and How to Fix Them

The smallest issue can ruin an entire print job, making it critical to ensure your large format printing systems work the way they should and that you adhere to all best practices. You might wonder precisely what common problems affect large format printers and how you can resolve them. Here, we'll explore these issues and the appropriate solutions to them.
You're likely to spend a lot of time and money on large format printing, and seemingly minor issues like clogged printheads can ruin large sheets of paper—many of them if you're not paying attention. You never want to find yourself in this position, so what can you do to prevent it? Let's take a closer look.
Some Common Large Format Printing Pitfalls
Large format printers may experience certain types of printing problems that are important to address and resolve. A few of the most common issues you might see with large format digital printing include the following:
One type of issue that many may experience with wide format printers is the wrong colour selection.
For example, printing jobs might not have colours that contrast enough with a light background. You'll want to use darker colours on these backgrounds for text and visuals.
Another colour issue could include using too many shades or using too many colours to the point where images and text become less clear.
Using RGB in Lieu of CMYK
While the red, green, and blue (RGB) spectrum is ideal for use with digital screens, print jobs should go by cyan, magenta, yellow, and black (CMYK). This is particularly the case for large format print jobs that can inaccurately convey your visuals and messaging if you use RGB, which is better for traditional, smaller print projects.
Also, RGB and white ink contain heavier particles and have higher densities. That can cause issues with clogging printheads. But CMYK colours won't cause this issue as often.
You'll also want to avoid using low-resolution graphics for large-scale printing projects. The bigger the project, the higher the resolution you'll want to ensure that the image looks great, whether close up or far away.
These are some of the many issues that can affect your printing projects. With the right solutions, you can overcome them and get the best results while avoiding certain problems with printer functionality.
What Are Some Solutions to Common Problems With Printers?

Once you set up your new printer, there are some common printer problems you may experience over time or even when you start using it for the first time. The following are some solutions you can implement to resolve various printer problems:
Check Various Parts of the Printer If Your Prints Aren't Coming Out Despite Having Ink
If you notice that your printer isn't printing properly even though it has ink, it could have to do with certain issues. If your ink cartridge has plenty of ink, try checking for:
Disconnected cartridges
The wrong paper size
Clogged nozzles
Any of these issues could be behind low-quality or incomplete large format printing jobs.
Set Your Printer to the Right Resolution
When your printer isn't printing brightly enough, you can try changing the resolution on your printer. It could also be a problem with your computer monitor being too bright. Try adjusting both and see if this makes a difference.
Take the Right Steps to Unclog Your Printhead
Sometimes your printhead might clog because of a buildup of dried ink. You can avoid this issue by using less dense CMYK inks, but you may still experience this printer problem at some point.
You can take the following steps to unclog your printhead in an HP printer or another type of large format printer:


Use a wet paper towel soaked with warm water to remove any dried ink from the printhead, which should be facing down.
Keep the ink cartridge face-down on a dry paper towel until the ink comes out completely.
Replace the ink cartridge and see if this resolves the issue.
Consider Managed Print Services
Another way to resolve and prevent printing problems is to use a managed print service. These services offer numerous benefits that make them ideal in many cases. They're ideal if you manage a business using multiple large format printers and will keep you on top of maintenance.
A few specific advantages of managed print services include the following:
Consistent support, maintenance, and repairs
Reduced costs through optimised printing processes
Proactive security that makes your printers less vulnerable to cyberattacks
What Are Printer Maintenance Techniques?
Whether you're using a conventional printer, a thermal printer, an ID card printer, or another type of large format printer, preventative maintenance will help avoid potential issues. To improve print quality and keep your printer in great condition, here are some large format printing tips to follow:
Invest in a Printer Maintenance Kit
One early step to make maintenance easy is purchasing a complete printer maintenance kit. These kits can give you everything you need to keep your printer from breaking down and requiring additional repair or replacement costs.
A kit could contain everything from fuser and transfer rollers to fan assemblies and separation pads.
Align and Clean the Printheads
Many printers include a software utility that enables you to align and clean printheads. Doing so will prevent clogging and other potential issues from developing.
Clean the Inside of the Printer
You should also clean the inside of the printer as needed, as dust from toner cartridges and pieces of paper can gather with frequent use. The key is to use soft cloths and water to gently clean the inside of the printer when it's unplugged.
To prevent paper jams and a reduction in print quality, you'll want to keep the feeder rollers clean. You can clean them using a lint-free cotton cloth and clean water or isopropyl alcohol.
Reach Out to HP to Meet Your Printing Needs
Looking for the right printing solution to meet your projects' requirements? HP is here with some of the best supplies available. Contact us today to discuss your printing needs.
Download our eBook now and discover how innovation is streamlining workflows, producing prints of unmatched quality and increasing IT efficiency like never before.

While we can't meet in person, why not to attend a live product demo or join live presentation from our experts.
To schedule it in advance, simply click the corresponding button below.