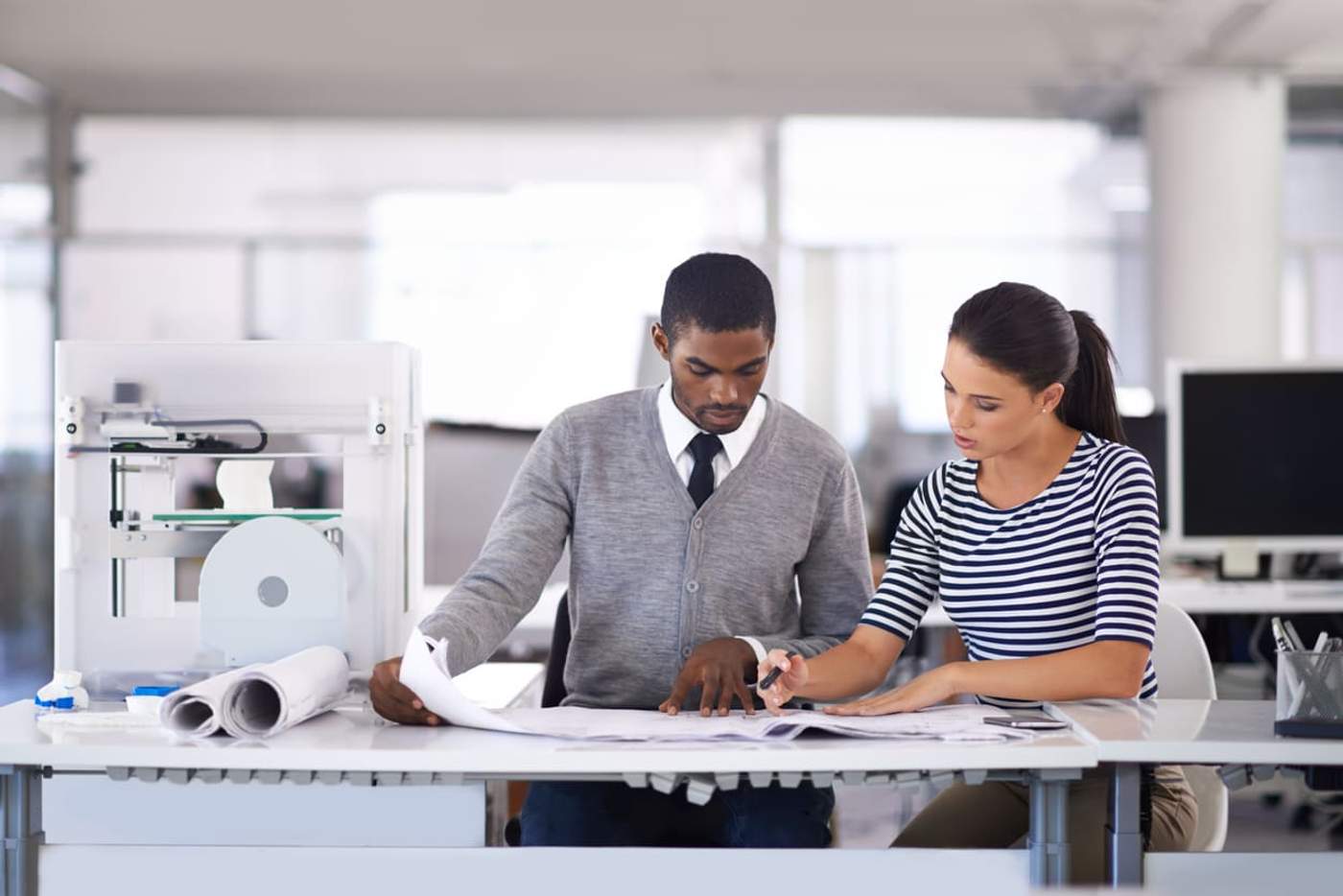 How to Choose the Right Plotter Printer for Quality GIS Output

When it comes to GIS applications, the quality of output plays a vital role in the accurate representation of spatial data. Thus, choosing the right plotter printer—in charge of producing that output—is key to achieving exceptional GIS data documents. The purpose of this article is to provide tips and insights into how one should proceed with choosing a plotter printer, out of the numerous plotter models available, for their GIS operations.
It goes without saying that the factors to consider are many and must be analysed with great care and precision so that the high-quality GIS output demanded is not compromised with a low-performing plotter. By learning how to make a purchase decision in regard to a plotter printer for GIS use and contemplating the best practices, professionals will be able to maintain their GIS operations with an effective printing strategy.
Understanding GIS Output and Its Requirements
GIS documents come in many styles and levels of detail. Some are charts drawn with clear and precise lines in a single colour. Others are high-detail maps representing layers of both measured and aesthetic data. Your GIS output may need to fit into a stack of printer paper or be large enough to hang on the wall. GIS output is also created through many different design programs and, therefore, saved in many different file formats.
AutoCAD Drawings - .dwg
ESRI Geodatabase - .gdb
Esri Layer file - .lyr
Esri layer package - .lpk, .lpkx
Shapefile - .shp
Geography Markup Language - .gml
Digital Elevation Models - .dem, .flt, .csv, .tif, .txt, .hgt
Keyhole Markup language - .kml
GeoJSON - .geojson, .json
Achieving Top-Tier GIS Output
Of course, when it comes time to print, you need a file format and printer combination that can handle the high level of detail, printing quality, and paper size that your GIS project requires. You may need to convert your GIS files into vector graphics like SVGs or PNGs and choose a plotter printer with the RAM, printer quality, and output capabilities needed to create top-tier GIS output.
Considerations When Choosing a Plotter Printer for GIS Output

When you are choosing a printer for your GIS office or personal use, there are many factors to consider.
Print Resolution and Line Precision Demands
Print resolution is measured in dpi, or "dots per inch". Plotter printers typically have a higher DPI than most commercial or consumer printers and a higher level of line precision due to the printing technology used. GIS documents typically require 150 to 300 dpi to achieve document accuracy.
Achieving Seamless Colour Gradients and Accuracy
Colour accuracy and the printer's ability to use gradients will impact some types of GIS documents profoundly. If you need an exact colour match from your document and to use gradients as a way to convey data, colour precision is essential.
Achieving Paper and Size Compatibility
Each model of printer can have a very different paper usage profile. Large-format printers, for example, often use rollers. The size of paper is determined by width, and these printers are great map printer machines. Printers must also be able to handle heavier paper, photo paper, or even design vellum, depending on your GIS needs.
Different Paper Media for GIS Output
Plain paper for simple prints
Thick/heavy paper for durable portfolios
Posterboard paper for presentation media
Photo paper for glossy high-detail printing
Vellum paper for tracing and design
Required Size and Dimensions for GIS Documents
GIS documents can be required in a wide range of sizes, depending on the intended use. This may range from typical letter paper to huge maps that must be printed on large-format rolls of paper and still tiled to create the full piece. Your GIS documents may be notebook-sized all the way to wall-spanning.
Print Speed and Productivity Requirements
Depending on the nature of your GIS business, you may need the ability to create a high volume of quality GIS documents. This means optimising your choice of printer for print speed.
Balancing Fast-Paced Printing With Quality Output
Printers always balance speed and quality. The fastest printers typically lose some level of precision. But highly precise printers can be selected and calibrated to print at more rapid speeds.
Connectivity and Integration Solutions
Networked and integrated printers can make it easier for GIS professionals to print from anywhere through their favourite GIS design software. Networked printers allow multiple GIS professionals to share a printer, while integration reduces the need for file conversion before printing.
Compatibility With GIS Software and Data Sources
GIS software creates complex, layered document files that often need to be converted and compressed before printing. However, printers that are compatible with GIS software integration make it easier to simply send a print job to the computer without the complex compression process. This does, however, often require high amounts of internal memory to contain the large file as it creates high-quality map prints.
Recommended Plotter Printers for GIS Use
Which plotter printers are best for GIS document printing? The DesignJet plotter series contains several different models that are tailored to specific printing requirements, including:
Simple printing
High-resolution printing
High-productivity printing
Designjet T250 — Small and Simple Printing
The DesignJet T250 is a 24" plotter printer offering large prints, but it's not the largest in the series. If you want fast, detailed prints of simpler GIS data like floor plans and circuit diagrams, the T250 is a robust, affordable, and desktop-friendly choice.
Designjet T650 — Multi-Feature Printing with Scan and Copy
The DesignJet T650 is slightly larger and comes with a wide range of printing features. It has a 36"-capable paper roll. Also, it can handle scanning and copies with one-click printing, which can streamline certain GIS office operations.
Designjet Z6/Z9+ — High-Res Coloured Printing
If you need stunning photo-quality prints on photo paper, the DesignJet Z9 or Z6 Plus are excellent choices as map printer machines, depending on the size that you need. With vibrant colour gradients, your colourful GIS documents will have perfect colour accuracy and clear high-res details. Paper sizes go up to 64 inches for particularly large and high-quality map prints, as well.
Designjet T2600 — Robust High-Productivity Printing
The DesignJet T2600 was crafted to be the ultimate office plotter printer. It scans, provides post-editing capabilities, and has its own touch screen for quick printer setting navigation. It can print folders of documents at one time and prints in extremely high detail from dual rolls of paper for an efficient GIS printing workflow.
Additional GIS Plotter Printers Considerations and Best Practices
What else should you look for in a GIS plotter printer to enable the best quality and speed for your GIS document production?
GIS User-Friendly Interface and Software Compatibility
Look for printers that have user-friendly software that makes it easy to print your documents. This includes both the printer's internal control options and compatibility with GIS design software.
Control Panel, Navigation, and Software Integration
Watch videos or try demos of printers to determine if you can easily navigate the internal printer settings.
Compatibility With Popular GIS Software
Check to see if your chosen printer is compatible with the GIS software your team uses most frequently.
Look for printers that have excellent support packages and responsive teams ready to help. This will ensure that if you run into trouble, your GIS projects will not be at risk.
Evaluating Warranty and Service Options for Plotter Printers
Check each printer's warranty and the service options that come with your plotter printer. Some printer brands offer limited to lifetime live support for your printer after purchase.
Reach Out to HP to Discuss Your Plotter Printing Needs for GIS Use
Are you looking for a plotter printer to become the primary source of printed GIS documents? HP is proud to be a favoured printer manufacturer for the GIS industry. Whether you are looking for quickly printed charts to use around the office or full-scale, high-detail GIS map printing, contact us to discuss your needs. HP pros will help you identify the perfect printer for your GIS purposes.
Download our eBook now and discover how innovation is streamlining workflows, producing prints of unmatched quality and increasing IT efficiency like never before.

While we can't meet in person, why not to attend a live product demo or join live presentation from our experts.
To schedule it in advance, simply click the corresponding button below.