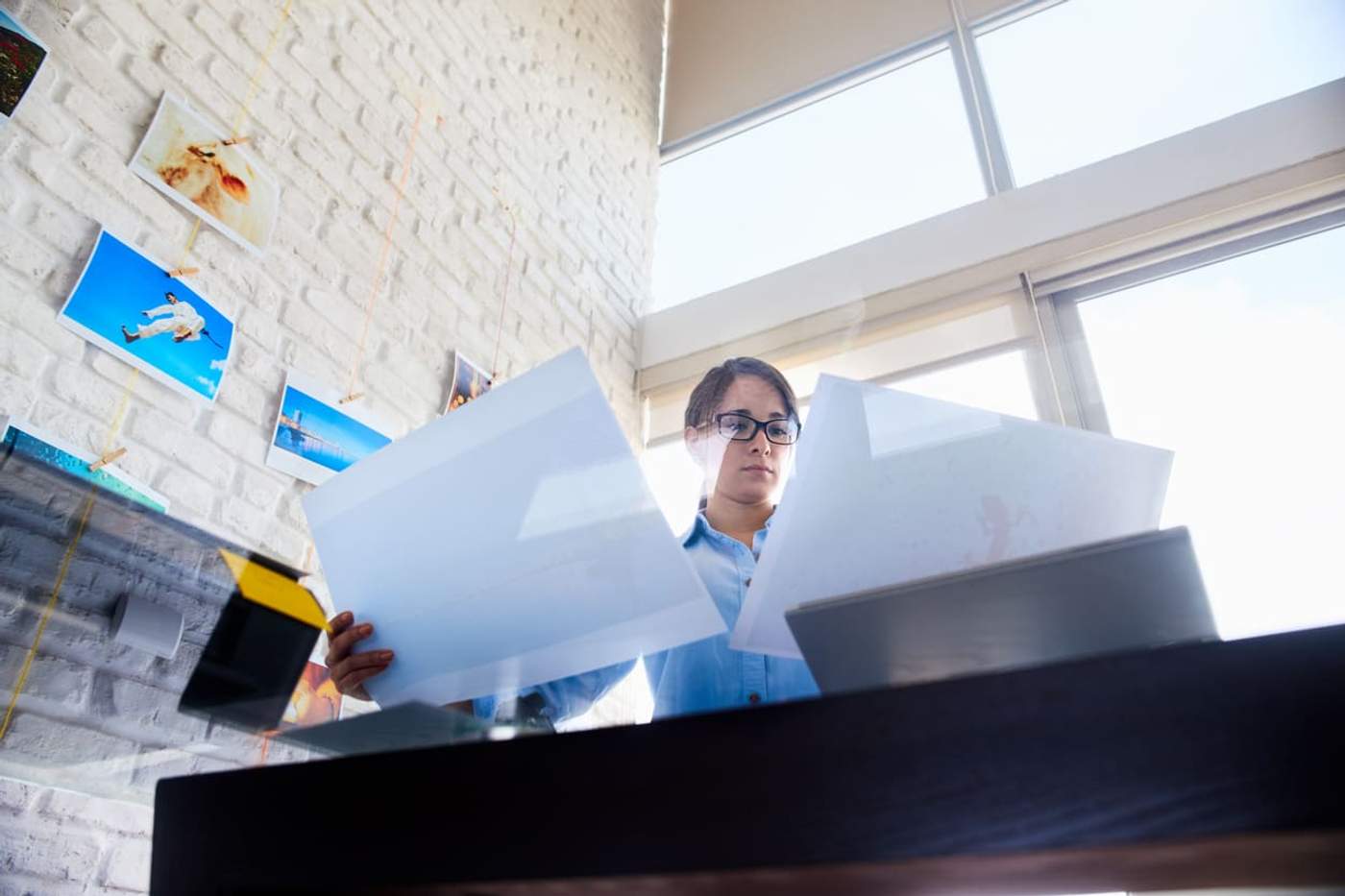 Best Large Format Printers for Photographers

Large format printers have become an essential part of the photography industry. Many photography professionals today rely on these printers because they contribute to the modern photo printing process. They're also widely available and accessible, allowing photographers to easily convert digital images into high-quality, large-scale prints.
The necessity for large format printers in the photography industry makes it crucial for photographers to purchase the right large format printer to meet their unique requirements. However, with so many models on the market, it can be difficult to make the right selection based on factors like features and cost.
In this article, you'll learn about large format printers' applications in the photography industry and how to find the best large format printer for photographers. Specifically, we'll list seven large format printers that we consider to be the most reliable in this industry. Photographers can consistently produce professional-grade prints using top-performing functions with the right printer.
The Role of Large Format Printing in Photography
Large format printing is essential for photographers because of the unique benefits this type of printing offers.
The Need for High-Quality Prints in Photography
Photographers need prints that offer the best quality through reliable, high-resolution printing processes. Large format printers can print images in some of the highest achievable resolutions with accurate colours to give photographers top-quality prints with every project.
How Large Format Printers Help With Achieving Professional-Grade Prints
The best large format printer for photographers will provide professional-grade images while eliminating the need to outsource printing. With the right investment, you can own a high-quality printer that helps you repeatedly produce superior images in larger sizes.
Top Factors to Consider When Selecting a Large Format Printer for Photo Printing
When looking for the best large format photo printer, there are certain key factors to consider, such as:
Capacity to Scale an Image and Print in High Resolution
One of the main factors to look for in the ideal large format printer is the ability for you to scale images as needed. Many large format printers today can print sizes of around 33 cm or wider, with some capable of printing billboard-sized images.
In addition to scalability, look for a printer that can print in the highest resolution to ensure consistently great image quality with each print.
The Colour Gamut and Print Accuracy
You should also seek a large format printer that has the right colour options and can accurately print each image. For example, you might want prints with a high level of accuracy when printing the colour yellow, in which case you would want a printer with a variety of reds and greens that can mix to form a range of yellows.
Type of Ink Technology Used
The type of ink technology your printer uses could also factor into your decision. For instance, many of these printers today use inkjet technology that provides great results and peak performance with every project.
Connectivity Options and Paper Media Compatibility
Your printer should also be able to connect with computers, smartphones, and other devices to allow for convenient printing with your existing tech setup. Additionally, your printer should be able to print the specific image format you want to use in photo editing and printing software.
Workflow Integration With Common Photography Software
The best large format printer for photographers will also work with your photography software to allow for seamless workflows. This software could include everything from Adobe Photoshop and Lightroom to Pixlr, Luminar, and other popular types of software.
What Are the Best Large Format Printers for Photographers?

When you're searching for the best large format photo printer for you, here are our top picks based on the options and quality they offer.
The HP DesignJet Z Series printers are among the most dependable HP large format photo printers available, with multiple options in this line to give you what you need for each print job.
Expansive ink pigment systems of up to nine pigments
HP's dual drop technology produces a combination of large drop sizes for robust area fills at fast speeds.
Achieve smooth colour transitions with HP Pixel Control.
Large 300ml ink cartridges
Professional photo print quality
Automatic roll feeds
Touchscreen displays
Wireless printing option available via HP Click and HP Smart app for iOS and Android
Main Advantages to Photographers
Depending on your needs, you can choose from multiple printers in the Z Series that can meet your needs, each with different specs that can help you meet your specific requirements as a photographer. These printers are particularly helpful in producing top-quality professional-grade prints.
Limitations of This Printer
Printers lack driver colour controls.
Another great option on the list of the best large format printer for photographers is the HP DesignJet T650, which offers all sorts of benefits for photographers.
2400 x 1200 dpi for superior resolution
Prints multi-size A3/B and A1/D or A0/E prints automatically, without manually switching the media source
One of the most compact plotters available in the industry
Many printing options available, including ethernet, Wi-Fi, USB, and HP Click
Main Advantages to Photographers
This printer is ideal for printing all types of photos with professional-level quality, along with architect and engineering drawings and many other projects. It's easy to use and efficient, with excellent printing capabilities that make it ideal for many photography projects.
Limitations of This Printer
Doesn't include a scanner
The HP DesignJet Studio is a popular large format printer that's available in either 24" or 36" models.
Fast print speed of 26 sec/A1 page
The ability to print on thicker media
1 GB of memory
First net carbon-neutral HP DesignJet plotter
Aesthetically pleasing wood or steel finish
Main Advantages to Photographers
This printer is easy to use and highly accessible, with the ability to print high-quality photos. It can also print very efficiently, depending on the level of quality of your print. Additionally, it's easy to set up and allows for simple control using a convenient touchscreen. That's why it features on many lists of the best large format printer for photographers.
Limitations of This Printer
Touchscreen is relatively small
Tends to tremble when printing, like many printers of its kind, but you can mitigate this with the sturdy stand
4: Epson SureColor SC-P5000
Using the Epson SureColor SC-P5000, you can print top-quality images with 99% colour accuracy with solid-coated Pantone colours.
12-inch max paper width
Ten inks
Can print 16" x 20" prints within four minutes
Main Advantages to Photographers
One of the main advantages of this particular printer model is its ability to print high-resolution images with superior efficiency. It also has reliable sealing to prevent dust and other debris from compromising print quality.
Limitations of This Printer
Large size and weight that make it more of a permanent fixture once set up
High initial cost, as it's one of the most expensive options of the best large format printer for photographers
5: Canon ImagePROGRAF PRO-300
This Canon printer can give you top-quality images and holds ten ink cartridges, including monochromatic inks, along with a Chroma Optimizer allowing for the application of glossy finishes.
Holds ten inks for optimal versatility
Smaller and lightweight without any drop in resolution
Print matte and gloss with equal ease
Main Advantages to Photographers
You can print images in high resolutions of up to 4800 x 2400 dpi. Also, the size and weight of this printer make it more convenient without any worry about quality depreciation.
Limitations of This Printer
Sometimes experiences lagged print times
Smaller 13" paper width makes it somewhat more limited in print size
6: Epson SureColor SC-T2170
For a printer with the ability to print up to 24" in unlimited lengths, consider the Epson SureColor SC-T2170.
Fast printing of D-size and A1 prints within 43 seconds
Ample connectivity options, including Wi-Fi and compatibility with smartphones and tablets
Compact design for setting up on stands or desks
Main Advantages to Photographers
This printer is ideal if you need to print larger, high-quality images with efficiency. If you have the space for this 3' by 1 1/2' printer, you may find this to be a reliable solution.
Limitations of This Printer
Potentially high maintenance costs
Doesn't feature an output tray
7: Canon PIXMA iP8720/iP8750
For a more cost-effective option, you might want to consider the Canon PIXMA iP8720 or iP8750.
A wide range of connectivity capabilities, including compatibility with Wi-Fi, USB, Google Cloud Print, and more
Maximum resolution of 9600 x 2400 dpi
High-quality prints
Main Advantages to Photographers
With plenty of options for connectivity and the ability to print in high quality, this printer is a decent pick for photographers. It's also one of the more affordable options for someone on a tight budget.
Limitations of This Printer
Lower cost means compromise, including the ability to hold only six inks and lower colour precision.
Reach Out to HP to Meet Your Large Format Photography Printer Needs
When you're searching for the best large format printer for photographers, HP's large format photo printers can give you everything you need. When you turn to us, you'll be able to choose from a range of reliable large format printers and plotters based on your unique printing needs.
HP Offers Reliable Customer Support and Available Maintenance Services
Not only can you find the best large format printer for photographers with HP, but you'll also have access to top-tier customer support and maintenance as needed to keep your printer running the way it should. Regardless of the issue you might be facing, we're here to help resolve it.
If you have any questions about our large format printers or want help with finding the best model for your photography practice, then contact us today.
Download our eBook now and discover how innovation is streamlining workflows, producing prints of unmatched quality and increasing IT efficiency like never before.

While we can't meet in person, why not to attend a live product demo or join live presentation from our experts.
To schedule it in advance, simply click the corresponding button below.