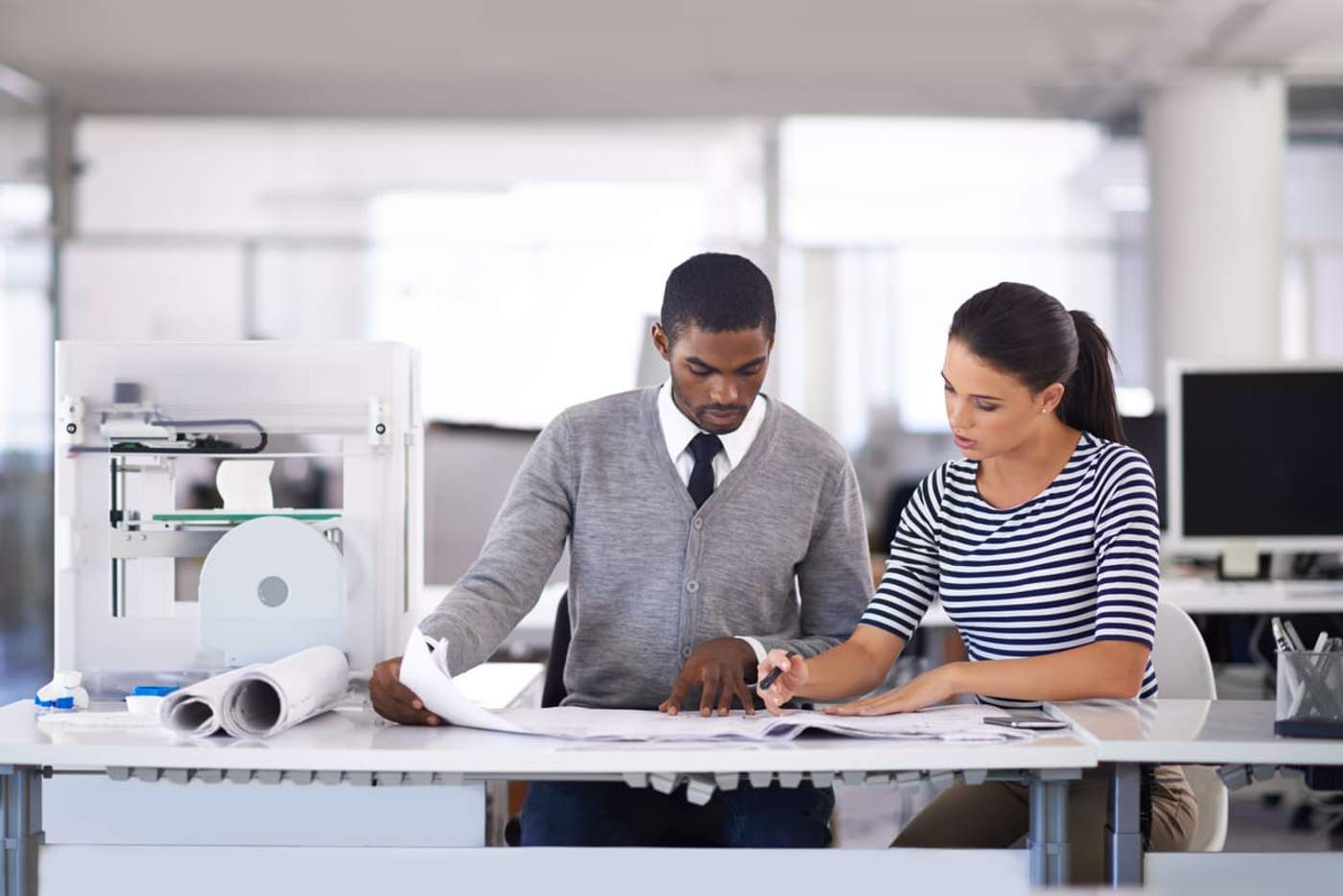 Best A0 Plotter: Top Types of Plotter Printers for A0 Prints

Buying an A0 plotter is a significant and long-term investment. As an AEC professional, you expect your plotter or wide format printer to last for years while giving you the best print quality, performance, and ease of use. Above all, it has to provide you with value for your money. But with all the different plotters and wide format printers on the market, how do you pick the right model and brand while ensuring that you get value for your money? Let's look at all the factors you need to consider when buying the best A0 plotter for your needs.
How to Choose the Best Large Format Printers for You
Plotters have come a long way since the old flatbed pen plotters. Modern large-format printers are packed full of features and functions to suit AEC firms. To help you decide which wide-format printer will best suit your needs and budget, you need to look at several features, models, and brands.
Large-format printers are largely classified by features like:
Print media width: 24" to over 60"
Paper size: A0 (33.1 x 46.8 inches), A1 (23.4 x 33.1 inches), B0, B0+, and so on
Sheet-fed or roll-fed
Type of inks including dye-based inks, pigment-based inks, or both
Printing technology, which is usually inkjet, but it can also be a flatbed or drum plotter
As an AEC professional, you probably want the best A0 plotter that can print CAD and architectural drawings quickly, accurately, affordably, and on a wide range of paper sizes. Here are some of the things you need to consider when choosing an A0 plotter for AEC firms.
Print quality affects how accurate and detailed your blueprints, drawings, and renders can be. When every little detail matters, you need a plotter that delivers the tightest line accuracy; line accuracy is the margin of error between the printed line and the line position on the original file. Line accuracy should be as small a percentage as possible in the best A0 plotter, usually 0.1% or less.
You also need to look for the guaranteed minimum line width. This is a measure of the lightest line a printer can print. The lower the minimum line width, the more accurate and detailed your prints can be without distortion.
If you have to wait for a printer to warm up to print that urgent drawing, you're wasting time and money. Print speed is important, especially when you're sharing with several other AECs in your firm or have a high print volume.
Printing speed isn't just how much time it takes to push out an A0 sheet. The end-to-end printing speed also covers preparation time and operations such as loading paper and collecting finished prints.
These small operations quickly become important when you have complex printing needs, such as when batch printing or printing on different sizes of paper from multiple devices. These factors introduce new levels of complexity. But the right plotter can save you a lot of frustration, stress, time, and money.
Speaking of frustration, one of the prime features to look for in a plotter for an AEC office is the printer's ease of use. We all know that printers can be temperamental, so it's important to find one that's reliable, simple, and compatible with different modelling software and file formats.
The best A0 plotter options out there feature cloud connectivity. Also, they are compatible with a wide range of design and drafting software. From simple 2D drawings to complex 3D models, the printer model you choose should be able to handle all the printing tasks your firm normally handles.
Other functions can make life easier for an AEC professional, such as:
More storage to handle large files
Batch printing, especially when dealing with PDFs
Remote access so that you can get documents printed without having to be in the office
Scanning function
Easy paper and ink loading
Stacking and collation of finished prints
Features like these may not be essential, but they're the icing on the cake. These smart functions are the difference between a good plotter and one that's truly responsive to your needs.
Top-notch security is non-negotiable when choosing the best A0 plotter. You may not know it, but printers are a prime target for cybercriminals. When you're regularly printing architectural drawings, blueprints, and other potentially sensitive drawings, protecting your organisation and your clients should be a priority.
A good plotter should have inbuilt security features such as user authentication (PIN, password, or biometrics), a secure network connection, and a secure boot process. The latter ensures that even if someone plants malicious code in the printer, it will always reboot from a clean version of its software.
Also, whitelisting ensures that only authorised devices, files, and software interact with the printer before automatically triggering a restart. The printer can recognise trusted devices from their digital signatures to verify authenticity.
A0 Plotter Printer Price and Operational Costs
When you have found a plotter that checks all your boxes, the final question is whether its price and operational costs fall within your budget. Plotters can be expensive, and firms trying to stretch their dollars may find premium plotters a hard investment to justify.
However, for a device that you trust to serve you reliably for five, ten, or fifteen years, the best A0 plotter is worth more than its price tags. More than that, you should consider how much it will cost you to operate the printer in terms of paper, ink, energy, and maintenance costs.
It always pays to conduct a cost-benefit analysis of different printer models. Then you can choose one that gives you the best value for your money. Ideally, you should be able to install data tracking and reporting software to oversee your firm's printing activity so that you can monitor your spending per week, per month, or per quarter.
What Is the Best A0 Large Format Printer?

Every AEC firm's printing needs will be different. However, some A0 large-format printers have consistently outperformed other brands and models in the industry to become the go-to option for the biggest firms in the AEC industry.
HP DesignJet large-format printers and plotters have been around for decades. First introduced in the 90s, they have continued to evolve with improvements in technology to become the world's most beloved large-format printers.
HP DesignJet Series Plotters Are Perfect for AECs
There are many reasons why the printers under HP DesignJet in Malaysia are perfectly suited to printing architectural drawings, including:
High-quality drawings with up to 0.01% line accuracy (31% more than competitors)
Up to 65% bigger colour gamut based on internal tests for more vivid drawings
One-click printing thanks to HP's Click software that works with PDF, JPEG, TIFF, DWF, and HP-GL/2 files
Fast printing: The Designjet T650 36" printer model delivers a print speed of up to 25 sec/page on A1; 82 A1 prints per hour
Prep-to-print times up to 102% faster compared to other brands, based on in-house testing
Advanced security features are embedded, making HP DesignJet printers some of the world's most secure.
Automatic sheet feeding, cutting, and collating, allowing you to handle different sizes of printing jobs remotely with our HP Mobile Printing app
Depending on the model you choose, you will be able to enjoy these and many other features. Prices of different large format printers can vary considerably, from about 82,600 INR for the low-end models to ten times more for the biggest, high-end plotters.
For example, the HP DesignJet wireless plotter printer is one of our best and biggest printers for large A0 printing jobs. Despite its comparably small physical footprint and elegant finish, the T830 features advanced functionality and is one of our fastest, most secure, and most capable large-format printers. You can pick it up for a little over 318,000 INR, but prices can vary.
The HP DesignJet T650 is also a large-format wireless printer perfect for A0 printing. It features sheet feed, roll feed, an automatic feeder, and automatic cutter functionality, among other features. You can get the HP T650 for about 159,000 INR, but costs can vary.
Find Out More About HP Plotters for A0 Printing
Finding the best A0 plotter printer for your firm can be overwhelming. Even among the top-rated HP printers in Malaysia, there are many options to choose from, all of which are designed to meet the needs and price points of different AEC users.
Download our eBook now and discover how innovation is streamlining workflows, producing prints of unmatched quality and increasing IT efficiency like never before.

While we can't meet in person, why not to attend a live product demo or join live presentation from our experts.
To schedule it in advance, simply click the corresponding button below.