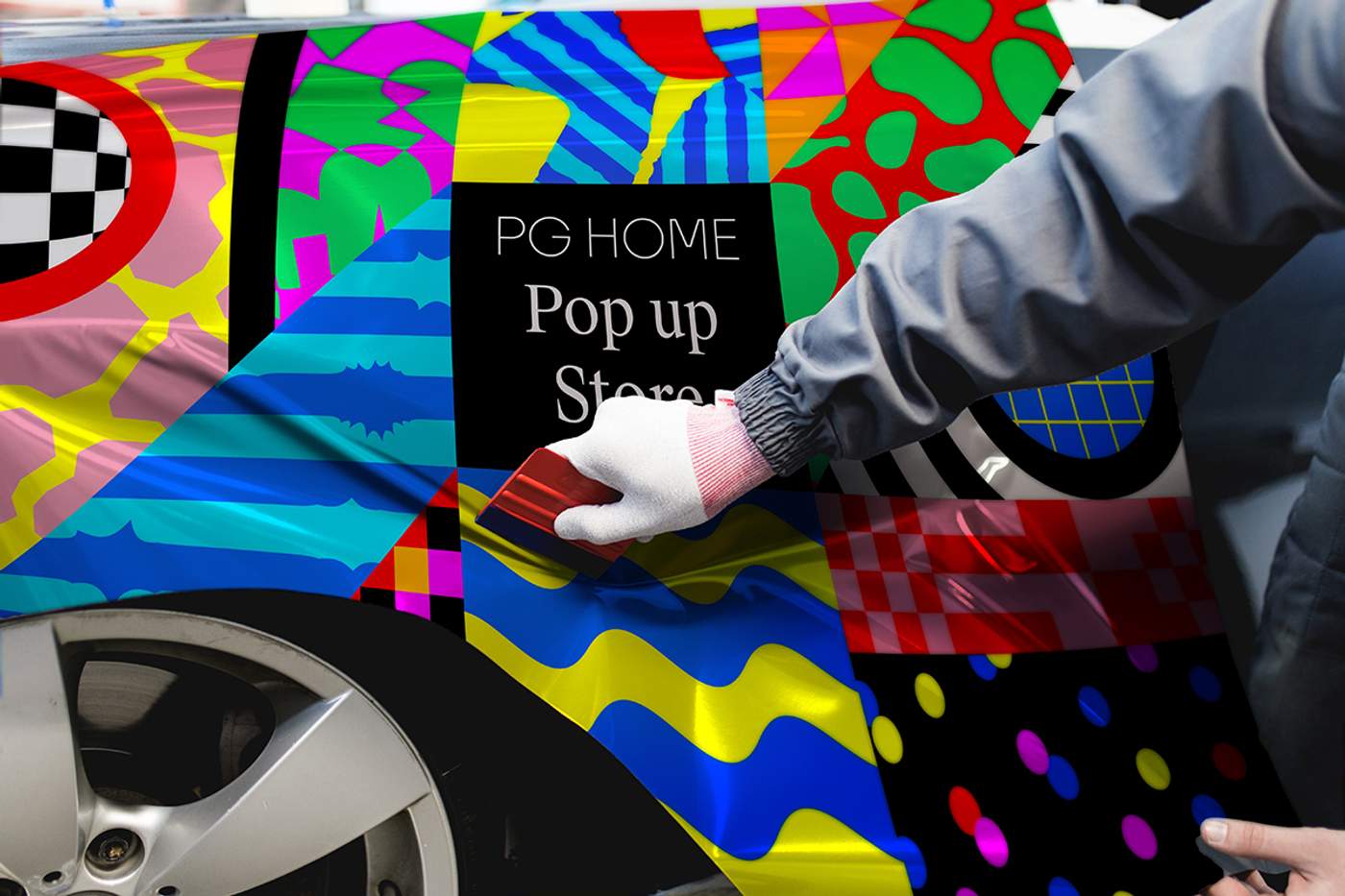 Accelerate the production and installation of vehicle graphics with cutting edge printing solutions

The market for car vinyl printing and vehicle wrap printing services is buoyant; the growth in e-commerce and home delivery has driven demand for branded vehicles on the road.1
While this presents a big opportunity, today's customers want personalization, flexibility, sustainable options, and fast turnaround times. For vehicle graphics specialists to take advantage, they need to invest in new technology to speed up delivery, differentiate themselves through outstanding design, and reduce their environmental impact—as well as finding more skilled installers to take on the extra work.
The good news is that car wrap printer and ink technologies are evolving, enabling printers to overcome these challenges, transform into modern digital-first businesses, and build a solid base for future growth. HP Latex is one of these technologies, so what sets it apart from the rest?
HP's creative approach to printer technology innovation is creating a fast, bright and efficient future in vehicle graphics
For vehicle graphics specialists, time is money. If they can deliver high-quality graphics to clients faster, they can say yes to more jobs. To help save time, prints come out of HP Latex Printers, completely dry, and ready to be laminated and installed immediately, saving the time required to degas prints. HP Latex enables you to confidently take on same-day and quick turnaround jobs with excellent results.
Media waste is another big cost-base for graphics printers; inks cracking during installation is a common problem. HP Latex Inks are highly flexible and easy to work with, allowing you to work with the most difficult surfaces and shapes. And, because they are fully compatible with all major vinyl brands from monomeric, polymeric, and cast, you can guarantee highquality printed vinyl wrap sheets with most materials. When applying a printed vinyl onto a complex shape, like a wing mirror or spoiler, the inks will stretch without cracking or losing saturation–even when printed with white inks. This shows how using a Latex Printer for vehicle wraps can save time and money spent on re-prints.
It's time to unleash your creative instinct with the whitest white ink2

Traditionally, white ink has been difficult to work with, and so it's largely been avoided in custom car wrap printing. But inks have moved on: HP Latex White Ink is the whitest white3 ink on the market. It adds the possibility to print vibrant white on colored, metallic, and transparent media, adding incredible effects, with all the flexibility of our other inks— without fading or turning yellow.
HP Latex inks are water-based and designed to avoid the hazards associated with ecosolvent, UV and UV-gel inks.
Working with advanced printing and ink technology—such as HP Latex series—can help you say yes to more (and more challenging) jobs.
Are you ready to step into the future of vehicle graphics? Explore more here!

1 Insider Intelligence, Ecommerce Industry Statistics, https://www.insiderintelligence.com/insights/ecommerce-industry
2 Whitest white based on ISO/DIS 23498 compared to top sellers competitive alternatives using UV technology between $100,000 and $200,000 USD as of February 2022. Test performed on black opaque self-adhesive vinyl(L:2.35 – a:2.73 - b:4.26) with 260% Spot printmode using HP 883 3-liter White Latex Ink Cartridge. Visual opacity = 94.7%
3 Whitest white based on ISO/DIS 23498 compared to top sellers competitive alternatives using UV technology between $100,000 and $200,000 USD as of February 2022. Test performed on black opaque self-adhesive vinyl (L:2.35 – a:2.73 - b:4.26) with 260% Spot printmode using HP 883 3-liter White Latex Ink Cartridge. Visual opacity = 94.7%