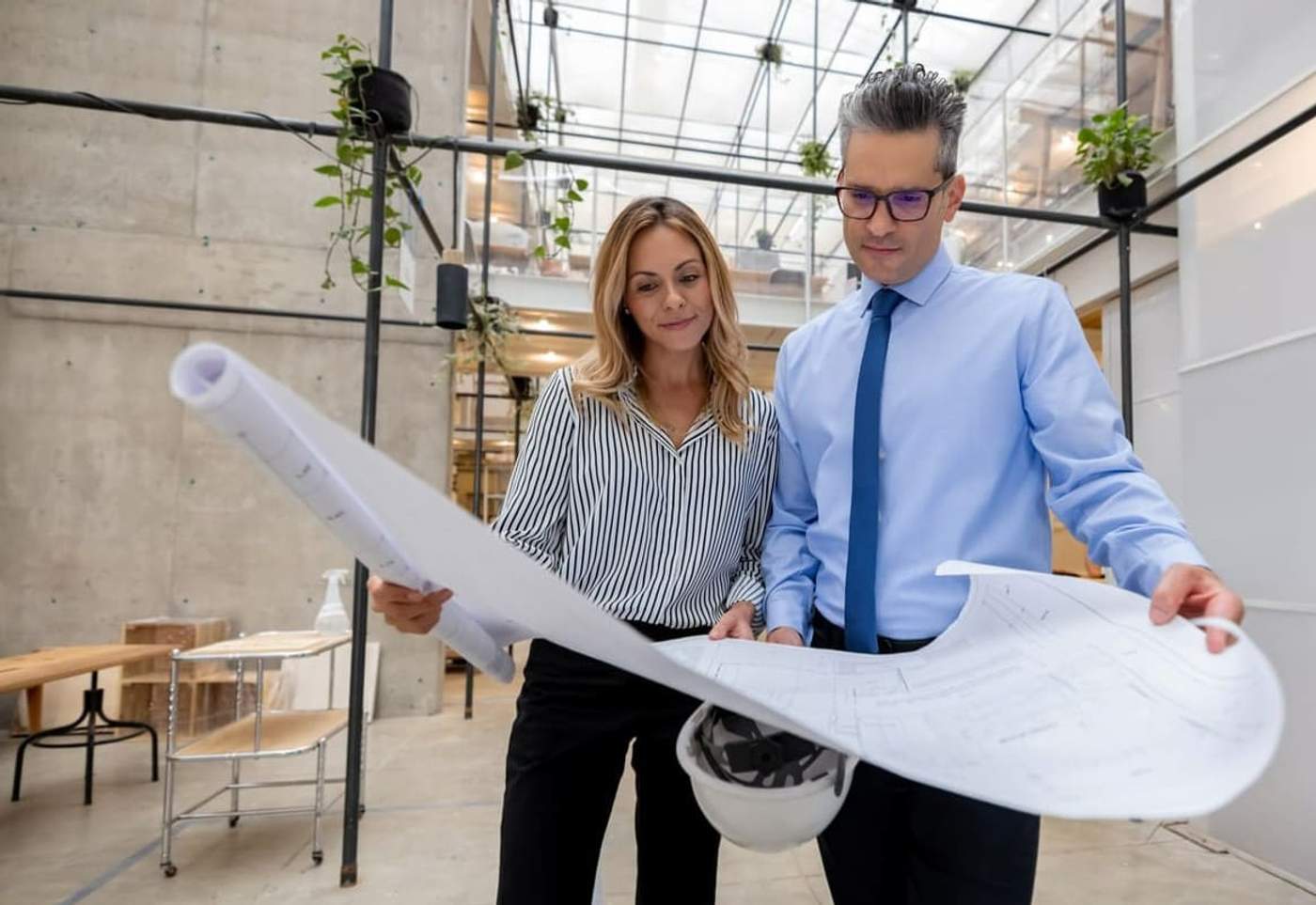 When Should Firms Bring Their AEC Printing In-House?

The most efficient and reliable printing services are essential in the AEC sector, which has consistently advanced the level of sophistication required of printing technologies and services. Rather than master an outside trade, many firms have traditionally opted to outsource printing, especially for bulk large format printing services. These AEC printing trends are shifting as more companies weigh the pros and cons of in-house printing vs. outsourcing.
It raises numerous questions. But in the end, there's a single transition point where the benefits of in-house printing eclipse those of outsourcing. Here, we'll outline the most critical factors for AEC professionals considering taking on their own large format printing needs.
The Advantages of Bringing AEC Firms' Printing In-House
It's important to consider large format printing costs holistically. When will upfront spending be offset by long-term costs? Those costs must include both long-term printer maintenance and materials. On the reverse are the enormous cost savings of downtime resulting from matters outside your control.
Increased Process Control
Sometimes, costs involve less tangible factors, like stalled projects or printing errors (or, even worse, disrupted worksite operations). Upstream from all of this is AEC printing quality, and nothing improves process controls like maintaining in-house services, including printing.
One of the biggest drawbacks of relying on outside printing resources is scheduling difficulties. Rather than leaving you at the mercy of external forces, in-house printing ensures your timeframes hinge only on your efforts.
On-Site Printing Capabilities Enhance Confidentiality and Security
Another major factor is securing sensitive data. Even beyond the physical aspects of security, your firm must continually manage NDAs and other legal matters with outsourced printing. Bringing it all in-house eliminates these issues entirely.
When Should AEC Firms Consider In-House Printing?

Most firms choose to outsource printing until they've scaled up. They need time to grow and acquire resources before they can even consider the alternative. When that time comes, it's natural to take a closer look at how going in-house can improve processes, quality of work, and cost efficiency.
If Your Employees Have the Technical Skills to Operate a Large Format Printer
Does your firm have the time or experience necessary to run and maintain its own large format printers? However, don't let this stall you for long. Most issues can be resolved by tasks as simple as changing the printheads or troubleshooting error codes. By working with the best in the industry, you'll have all the help you need to run your in-house large format printers smoothly and efficiently.
If the Print Demand and Project Volume Become Too High
Major production runs can push the limits of any printing professional. If that professional is you, it's easier to take an exact read on current and near-term workflow realities. This also helps you time material purchases and collaborations with greater accuracy.
If the Initial Investment Required for In-House Printing Is Lower Than Outsourcing
As printing technology improves, so too does cost efficiency. Large format printers from previous years may be well within reach of even small or moderately-sized AEC firms. Over the longer term, you still may encounter times when outsourcing specific projects is temporarily more cost-effective (e.g., lower staffing periods). These needs will diminish the more your in-house printing workflows improve.
Understanding Project Size and Print Volume
Why It Makes Sense to Outsource Printing for Smaller Projects
For leaner teams, it's likely few technical considerations will sway you from the need to keep everyone running at peak efficiency. Managing a printing process could be a distraction you're willing to pay to avoid.
Why Large-Scale Printing Projects Justify Bringing AEC Printing In-House
Of course, those "little" costs quickly add up, especially if it becomes an ongoing necessity. That's why the debate over in-house printing vs. outsourcing should be held when immediate workloads are low.
With a clearer, unhurried vision, it will become more obvious where the threshold between time and cost savings truly is. For most AEC firms, that threshold is much lower than they think, and in-house printing becomes more cost-effective well before large-scale projects become a regularity.
Printing Complexity and Special Requirements
As far as training is concerned, large format printers and printer plotters sometimes need to be adjusted for different types of prints. The same is true for digital files, which must match all of the following:
Printer settings
Ink and paper type
Monitor settings
Large Format Printing Is Complex and Requires Specialised Plotters
If your prints depend on distinct colour separation, wide colour gamuts, and other factors, you'll need to learn a bit as you go. With the most advanced technologies, however, the learning curve is much softer.
Customised Materials and Unique Finishes
Printing has become a lot more complex than standard RGB and CMYK colour variants. Some printers go as far as using multiple types of blacks and multiple versions of the same colours. Even if you don't go that far (and especially if you do), you'll need to carefully match specific types of paper to your ink and file type.
Depending on your needs, you may require photography-grade printers, such as for prints designed to drum up public support or demonstrate proof of concept in full, vivid detail.
Specialised AEC Printing Requires Customisation That Is Best Found In-House
These and other more specialised considerations require ongoing customisation. This is not only more efficient with in-house printing – it's often the only way. Can you recall the last time you needed to work more closely with your outsourced printer professional than initially thought? It was likely due to an unanticipated need for tighter customisation and quality controls.
In-House Printing Allows for Better Quality Control to Meet Specific Project Demands
Specific projects require specific settings. This is actually the most crucial point for those torn between in-house printing vs. outsourcing. All other factors amount to greater or worse efficiency. But when it comes to quality control, it's a matter of possibility vs. impossibility.
Nothing compares to AEC printing that's fully under your watch. The ability to control every detail of a print from start to finish results in equally fine-tuned workflows – and that will also benefit the boots on the ground dependent on print quality.
Maintaining Confidentiality and Intellectual Property
Along with greater security, in-house printing ensures your intellectual property is under full control. This may include such matters as speciality printer and file settings (often itself the result of invaluable creative effort), not just hard legal and security issues.
In-House Printing Provides Better Control Over Sensitive Project Documents
AEC contractors working with government and especially military contractors know that tightening confidentiality can alter an entire firm's operations. Even firms working with clients in highly competitive industries have similar needs. When you can advertise full in-house control of your printing process, it will bode well for future contracts.
Less Risk of Data Breaches and Unauthorised Access
With in-house AEC printing, there's hardly ever a question about who had access to certain documents. Even for data breaches, you'll have access to your own network – not so with a third-party partner.
The Importance of Time and Flexibility in the AEC Sector
In-House Printing Set-Ups Can Provide Greater Flexibility to Meet Tight Deadlines
With greater printing oversight comes greater scheduling control. There's no need to risk missing crucial deadlines and straining vendor relationships. Imagine holding the reins on large format printing just as firmly as any other business process. The benefits will cause a ripple effect throughout company operations. Also, your team will feel a greater sense of command over their time and resources.
In-House Printing Can Better Accommodate Last-Minute Changes
Outsourcing your printing services means even small changes often require retreading enormous amounts of ground. Such external pressures can keep you from making adjustments based purely on the excellence of work. Master your own printing processes instead, and remain confident that any design change, correction, or quality control is only dependent on you.
Future Considerations About In-House AEC Printing
What Does Future Growth and Expansion of an AEC Firm's Printing Needs Look Like?
As you can see, many of the arguments for in-house vs. outsourced printing begin with basic cost factors, yet many more land squarely in the realm of quality and efficiency. At times, outsourced printing may be necessary for young, growing firms or even enterprise operations seeking temporary help.
When that's the case, there's never anything wrong with reaching out for help. Just ensure you depend on the most capable professional printing services in your market. For the greater share of long-term printing needs, however, it's almost always in your interest to secure in-house printing capabilities.
Anticipating Future Requirements
What does your firm's growth trajectory look like? It's likely that, at some point, transitioning to in-house printing is a solid investment. Even before then, consider: could investing in large format printing equipment now result in much faster growth? It's a question worth asking your most consistent stakeholders. Also, in our experience, it's best asked sooner rather than later.
Reach Out to HP to Discuss Your Large Format Printing Needs
Every AEC firm's large format printing needs will be different, and their needs will change over time. Still, in-house printing is considered a better and more secure strategy the vast majority of the time. In some industries, it's even the de facto standard.
Contact an HP sales expert to learn more and start taking bold actions for AEC printing independence. Having spearheaded most of the world's current printer technology, we're always eager to learn more about what our partners in the AEC industry need to achieve greater success.

While we can't meet in person, why not to attend a live product demo or join live presentation from our experts.
To schedule it in advance, simply click the corresponding button below.