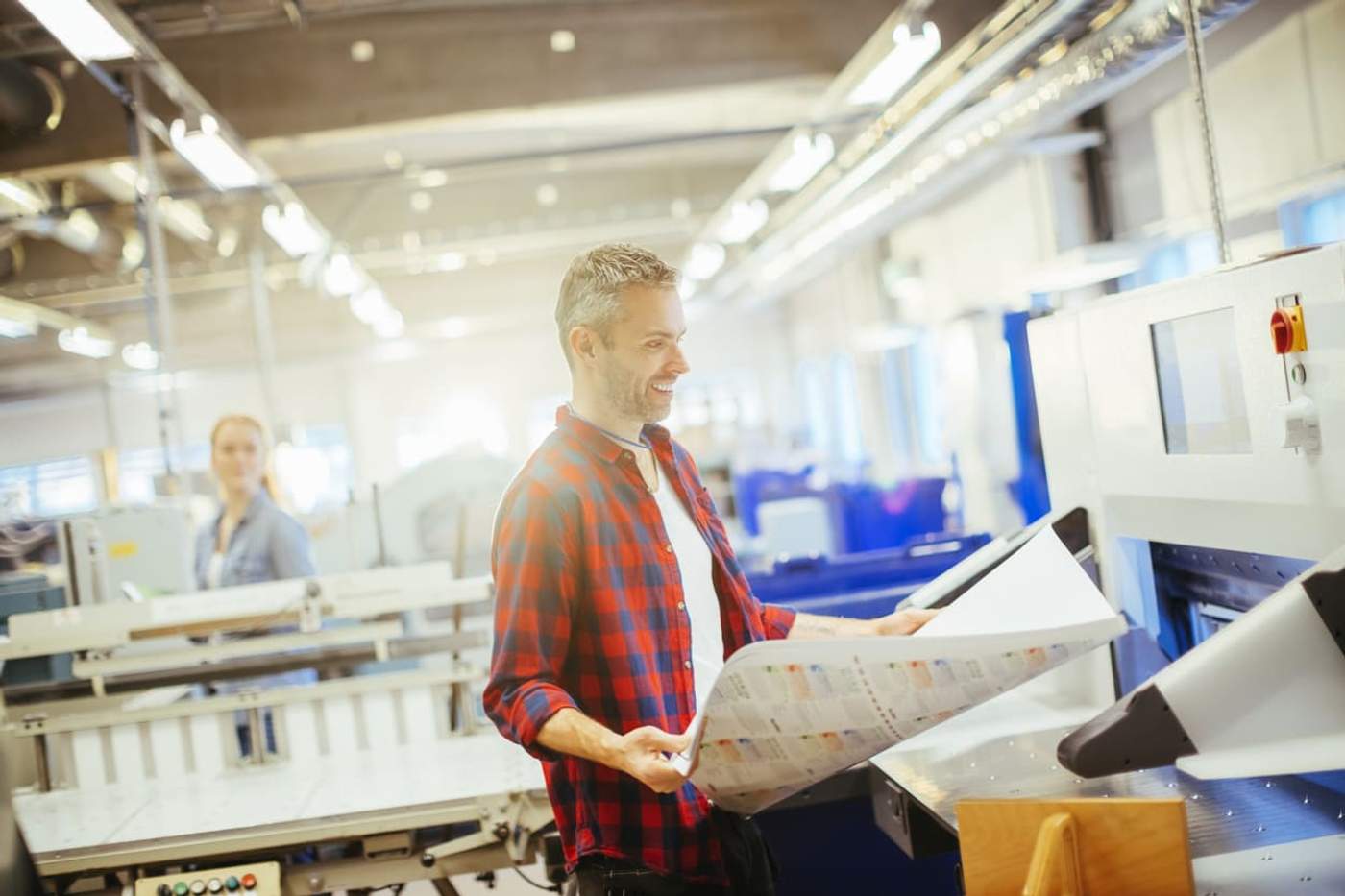 What Is RIP Software? How to Use It for Printing

Raster Image Processing software, commonly known as RIP software, is an integral tool for any printing professional looking to deliver the finest quality of prints with the sharpest detail and colour variance. But what actually is RIP software, and how does it work? Even experienced employees, who have worked in the printing industry for many years, may find their knowledge about this topic limited.
There is a fair bit to uncover, even about the basics of RIP software. It is also equally important to know how RIP software differs from other regular printer drivers and how it performs to fundamentally improve your images. With the help of this article, expect to advance your understanding of RIP software and explore our expert tips, plus advice, on using it to fully capitalise on its benefits.
RIP software is a type of software that offers more control over your print production. It optimises digital images for printing by converting them from their native file formats into high-resolution raster images. With RIP software, you'll have control over every element of your workflow, from image editing to colour accuracy and overall print quality.
You can use it to adjust your image's colour, brightness, and contrast and handle other advanced printing techniques. On a technical level, there is so much you can do with RIP software to generate better prints.
**The Role of RIP Software in Printing **
RIP software aims to make printing easier, faster, and more accurate. It bypasses all other programs, allowing your computer to communicate directly with your digital printer. A computer-aided design operator will have access to pre-designed products and an option to create unique, customised print designs. If you would like to produce high-quality prints, RIP software can help you in the following ways:
Easy manipulation of print (scaling, rotating, cropping)
Creation of a more efficient printing process
Automation of duplicate tasks like the placement of multiple files on a single sheet
Ensuring consistency across multiple printers
Creation of presets depending on your needs
Accurate control over the print's colours
Image print RIP software eliminates the complexities of printing while ensuring you achieve superior printing quality.
Key Benefits of RIP Software
One of the key benefits of RIP software is its speed in processing your prints. The entire process happens within minutes, allowing your company to meet customer demands while retaining high quality. You can process multiple files, easily manipulate your prints, and create presets that speed up your printing process.
RIP software allows you to produce high-quality products by giving you complete control over the print files. You can adjust your print's scaling, opacity, colour correction, dot size, and other features to meet the desired print quality. This is especially crucial when printing large format prints. RIP software can resize your images while maintaining their quality.
RIP provides efficient functionalities and features that significantly optimise your company's printing workflow. It supports the simultaneous processing of multiple large files and ensures accurate prints and consistency across various printers.
Therefore, using RIP for your daily printing tasks means fewer reprints, reducing the wastage of paper and ink. This results in more efficient production that saves time and money.
How to Properly Use RIP Software for Printing
RIP software is essential in the production of high-quality printed products. It can be easily installed and used with different printers, including large format printers. Here is how to properly use RIP software for printing and enjoy the numerous workflow benefits.
Prepare Your Files for Printing with RIP Software
Image print RIP software offers an intuitive interface that makes it easy to prepare your files for printing through the following steps.
After you launch ImagePrint RIP software, you can set up your print parameters:


Select your Printer
Set the Page Size, Quality, Roll/Sheet and Media Type
These settings may vary depending on the printer you're using.
Select Your Media Outlet Profiles
You can take the following steps to select a Printer Profile for the paper you'll use:


Ensure you have an internet connection
Expand the PRINTER PROFILE section of the Dashboard
Click on Profile Valet
Use the Ink section to select the type of black ink the paper should use
Under the Colour section, select either colour or greyscale
Choose the brand of paper from the Brand section
Select the name of the paper
Select the Quality and Display Lighting
Click on Download and Apply to download the profile
Click on Choose by Profile to choose from already downloaded profiles.
Configure Your Colour Management Settings
After acquiring the printer profiles, configure your colour management settings:


Expand the Printer selection area.
Select either ImagePrint manages colours or Printer manages colours.
Send Your Files to a Printer Using RIP Software
When you're ready to print, you can send your file to a printer by:


Click on the Print button at the top of the Dashboard.
Click OK to confirm your print settings.
Monitor the Printing Process
You can use Spoolface to control and monitor the printing process through the following steps:


Click on the Printer icon on the top right to open the Job Manager.
Look at the top Active side to see the job that's printing.
Monitor the job's progress in the Job Progress area on the right. It'll also show any errors or warnings that may arise.
Once it's done, it'll move to the bottom Saved side.
Monitor the printer's current status at the bottom left corner. Error codes will appear here in case the job runs into a problem.
What Are Some of the Advanced RIP Software Techniques?

RIPs offer a wide range of advanced features that enhance the printing process while improving the final product's quality. These features include:
Colour management: Image print RIP software allows you to create ICC profiles, modify ink capacity, and offer linearisation control. You'll have superior colour management features to help you create accurate prints.
Halftoning: Creates halftone patterns to ensure high-quality production of continuous-tone images
Automation: Automate the printing process, including repetitive print jobs such as smart cropping, sizing, multi-page layout, tiling, and more.
Scaling: Scale images without losing resolution.
Job management: Manage print jobs such as scheduling and tracking.
With RIP software, you can effortlessly produce high-quality prints that meet and exceed your expectations.
Ensure Print Quality and Production Efficiency by:
Nesting allows you to combine multiple files into one print job. RIP software will automatically organise images, shapes, and objects to maximise your print material. It will calculate and figure out the best positions to place them. This ensures efficient use of the space on your print, reducing the wastage of materials.
RIP software includes tiling features, allowing you to print larger images without cutting off design elements. When an image is larger than your media size, tiling breaks it into specific sizes your printer can handle. Tiling separates the design image into multiple pieces that can then be printed on multiple pages. Tiling is crucial when you get a job too wide for your printer.
When printing your work, RIP software utilises the imposition feature to combine various print works and print them simultaneously. This minimises the printing time and significantly reduces paper waste by maximising the number of orders per impression and thoroughly filling the print sheet. Proper planning and positioning allow your work to be printed effectively and in an orderly fashion.
Reach Out to HP to Learn More About RIP Software
RIP can greatly affect your printing processes and output quality. It enables creativity, streamlines production, and improves workflow while reducing costs. Therefore, if you would like to increase efficiency and improve profitability, consider investing in RIP software and a high-quality large format printer.
At HP, we have the right printing solutions for your business. We can help you utilise powerful RIP software to produce high-quality printed products with our top-notch large format printers. Contact us today to learn more.
Download our eBook now and discover how innovation is streamlining workflows, producing prints of unmatched quality and increasing IT efficiency like never before.

While we can't meet in person, why not to attend a live product demo or join live presentation from our experts.
To schedule it in advance, simply click the corresponding button below.