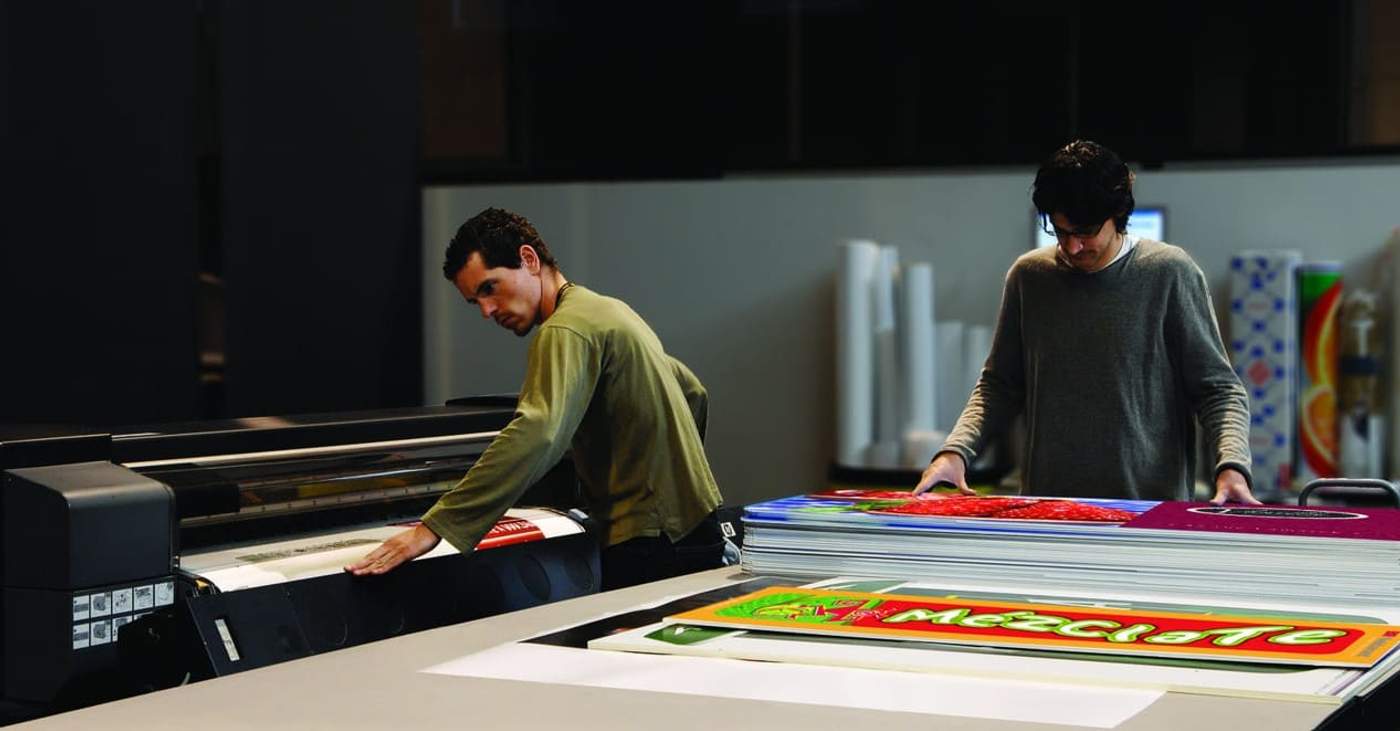 Print Shop Marketing Ideas: How To Generate More Commercial Printing Business

Operating a commercial printing shop is a big undertaking — and not just due to the technical details. Professional printing shops of any scale must continually parse and refine their marketing knowledge. Then they must take actionable steps to keep their company competitive. Part of exploring new print shop marketing ideas involves answering numerous questions, including:
How do you drive sales and win customers?
Which printing services should you provide?
What about pricing?
How do print businesses develop an online presence — and should you use social media to generate interest?
In this article, we'll explore these and other finer points of marketing your commercial printing business in full, vivid detail.
How Do You Get More Customers for Your Printing Business?
Ensuring your printing business captures more market share requires knowing the common challenges print entrepreneurs and enterprise businesses face. Whether your printing business consistently meets your market's basic printing needs or provides more complex screen printing, architectural prints, or 3D printing services, it's important to continually consider how to attract more customers to your printing business.
Here are five tried and true print shop marketing ideas to promote your online printing business and improve revenue.
#1—Refine Your Direct Mailing Materials and Online Image
Every printing shop's customer base is well-versed in graphic advertising or design. So creating eye-catching direct mail campaigns can make a deep impression. Take extra time to ensure your print marketing materials demonstrate the highest quality possible. Similarly, polish your online presence, and spare no expense in getting the graphics just right.
Customers judge commercial printers according to how keen their advertising aesthetics are, so a highly refined brand image is essential. Even something as nuanced as finely crafted custom graphics on social media pages will go a long way towards proving you have a sharp eye for detail.
#2—Upgrade Your Equipment
Putting the best foot forward and attracting new clients may require upgrading your printing equipment, especially if you're running a small business. For budgets that include both marketing and equipment upgrades, it's prudent to prioritise the latter so digital printing materials demonstrate maximum quality.
This is also the easiest way to expand your printing services. If your competitors offer standard products, investing in state-of-the-art 3D printing technologies ensures your market base sees you as an innovator who invests in better services for them.
#3—Standardise and Refine Your Workflow
Even the best print shop marketing ideas won't help you maintain operational efficiency. Creating a logical, efficient workflow will minimise errors and maximise efficiency. This could be as simple as moving equipment ergonomically around your facility or as involved as overhauling system-wide software.
This is one point in particular that can seem never-ending. So take it step by step. Plan each new adjustment as thoroughly as possible before making radical decisions. Don't hesitate to continually evaluate your plans. Also, be open to modifying them as you discover better-efficiency tools, both for hardware and software. Along the way, be sure to include your company's efficiency advantages in your marketing materials.
#4—Maintain Consistent Printing Supplies
Keeping a stockpile of essential printing supplies will secure operations further into the future. Product consistency is vital for print businesses, in particular; securing brand loyalty and generating repeat service depends on regularly meeting your clients' demands. In the commercial printing field, you can be sure those demands will be aesthetically uncompromising.
For small businesses operating on thin margins, there's nothing worse than delivering finished products that don't match the image proofs. Keeping the same type of ink, printing substrate, and other printing materials on hand should be a top priority. By stockpiling printing supplies early, you'll also maximise purchasing power. This could position you to price your services lower than the competition and fuel new marketing campaigns.
#5—Clean and Maintain Your Equipment
Regularly cleaning your print heads and inspecting the printer for dust and debris will reduce printing inaccuracies and mitigate potential jams. Because the vast majority of print marketing and other commercial printing jobs are made in bulk runs, any small mechanical error will be replicated numerous times. This is particularly important for blueprint printing services, which typically involve much higher-cost jobs and materials.
Rather than risk spotting costly errors too late, develop the habit of periodically inspecting your equipment. Your staff will become better acquainted with their work tools, and you'll promote a company culture of close attention to detail.
How Do You Get Customers to Buy Your Product?

Exploring new print shop marketing ideas must be done at different stages of growth. When you've firmly defined your market role and established which printing services you'll provide, reflect deeply on how to get customers to buy your products and services.
To increase sales, printing specialists should consider several key questions when crafting their printing shop business plan. Ask these questions:
Should You Spend a Lot on Sponsorships?
It depends on the scope of your business, including how large and dispersed your market is. For example, a purely online shop covering a large geographical region may require more advertising partners to spread the word. On the other hand, local shops in metropolitan areas are more likely to generate all the foot traffic they need just by location alone.
Establish your sponsorship budget partly according to how big or small your total advertising budget is. If standard marketing efforts aren't panning out, don't be afraid to explore sponsorships. Also, see if you can offset sponsor services with complimentary printing services.
Does Your Audience Expect an App?
Creating a custom app may generate a significant ROI if you already have a large following of existing customers. For print shops with highly innovative services (and especially those operating entirely online), an app could be the way to go.
But it's on the higher budgetary end of these print shop marketing ideas. Research the costs of a custom app and assess what needs it would fulfil before investing too much time or energy in app development. If you have a large budget, an app could be a great way to attract prospective customers. But for smaller and more basic print shops, there are generally much easier ways to target customers.
How to Create a Facebook Business Page
Many businesses find that actively maintaining a business profile through Facebook is incredibly easy and effective. Follow these instructions for creating a Facebook business page. Also, invest quality time in crafting your profile's graphics, as yours is a visual business.
Where Are Best Practices in Local Marketing Heading?
At the same time, Facebook marketing is losing some ground to other popular social platforms. So, companies will likely need to spread their online marketing efforts out. Modern digital marketing professionals focus on creating "omnichannel" marketing and communication systems to provide a cohesive customer experience.
Whatever variety of marketing platforms you choose, invest in tools to manage and oversee your marketing environment — both digitally and in print.
How Much Do Your Printing Services Cost?
As mentioned, consistency is key. New customers and repeat buyers alike will want to be sure they're getting reliable quality prints for a consistently great deal. However, new products can be challenging to price. It may be helpful to conduct trial runs in limited markets for any given service, then extrapolate its performance to scale, setting pricing structures accordingly.
Overall, base your prices on healthy revenue margins that keep you competitive while incentivising higher-quantity orders. "Preferred customer" or "repeat buyer" discounts may help encourage more business. But be sure you're not needlessly reducing prices for only marginal gains.
Tapping Into Your Customers' Visions With These Print Shop Marketing Ideas
These are just several of the print shop marketing ideas that have proven valuable to established print shops and new entrepreneurs alike. To capture maximum market value, you'll need a synthesis of both fine business acumen and reliable equipment.
Graphic designers, physical publications, and the architecture and design industry will always need premium printing services. If you're looking to bolster operations with cutting-edge printing equipment, don't hesitate to contact us today. Our large format printing experts are standing by to discuss your commercial printing options, blueprint printing services, and printing shop business plan.
Download our eBook now and discover how innovation is streamlining workflows, producing prints of unmatched quality and increasing IT efficiency like never before.

While we can't meet in person, why not to attend a live product demo or join live presentation from our experts.
To schedule it in advance, simply click the corresponding button below.