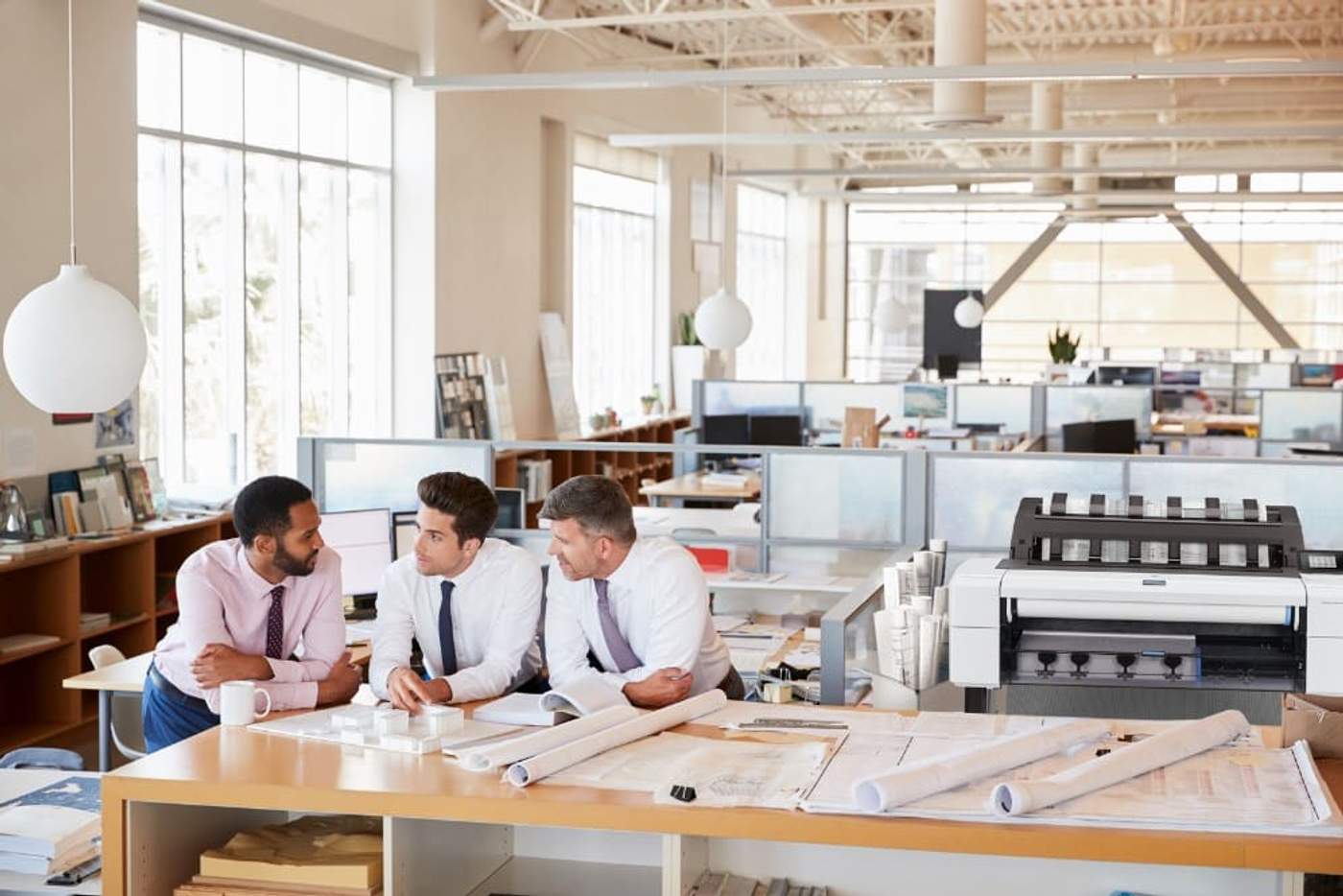 Plotter vs Printer: Why You Need a Plotter for Printing Drawings

If you're printing larger materials such as maps, blueprints, and engineering diagrams, a conventional printer may not do the job. In most cases, these materials require large-format printing, and small-scale printing simply can't capture the level of detail that these projects often demand. To help achieve the best results, you may want to use a plotter. Whether you're a hobbyist, architect, or engineer, you can use a plotter to create top-quality prints with consistent ease and efficiency. At the same time, plotters can minimise errors and ensure precision with every project. You might wonder what the differences are in terms of a plotter vs printer. Let's dive into these differences to help you determine which equipment you're better off getting.
Difference Between Plotters and Printers: Which Is Right for You?
One of the first questions you're likely to ask when deciding to purchase a plotter or printer is, "Plotter vs printer—what's the difference?" Considering they're both printers, the confusion around these devices is understandable.
The principal difference of a plotter vs printer is the size of paper they can use. Traditional printers can create large prints comprising multiple sheets of paper. But you can use large rolls of paper with a plotter, allowing for increased accuracy for scaling and ratios.
Plotters work by printing graphics and text based on points along X and Y axes. They're highly versatile and can work with larger print media, making them ideal for printing blueprints, maps, and other larger print jobs. They also work differently from traditional printers, using laser printing technology to print on paper instead of ink and toner. Additionally, they print in vector format. This is different from printers using raster or bitmap formats in their use of coordinates to form dots and connect them with a line. This vector format improves the quality of larger prints.
Business Benefits of Using a Plotter for Printing Large-Format Drawings
When considering a plotter vs printer, it's important to consider the benefits of plotters compared to other types of printers.
Superior Quality and Precision
Plotters produce high-quality larger prints because of the vector format these printers use. If you're thinking about getting a plotter or laser printer, keep in mind that the latter uses different formats and technology that don't work as well with larger prints. The dot placement seen with plotters is consistently accurate, allowing for superior quality and precision.
Versatility in Paper Size and Type
Plotters work well with large print sizes as they can handle large rolls of paper. But they also work with smaller paper sizes. So whether you want to use large rolls or cut sheet paper, your plotter can likely work with it.
Greater Control Over the Printing Process
Today's plotters provide the security you need with each project. You have increased access control with reliable plotters, ensuring your plans or other print projects don't fall into the wrong hands. You also have more control over the project itself, with the ability to perfectly replicate your digital graphics in print form.
Enhanced Graphic Capabilities and Detail
The quality you get with a plotter is unmatched. Regardless of the scope of your project, the technology plotters use enables them to produce top-quality graphics and capture every detail.
The Drawbacks of Using a Printer for Large-Format Drawings

Before deciding on a plotter vs printer, you should also weigh the potential cons of using a traditional printer for large-format projects.
Reduced Printing Speed and Quality
One downside of using a printer rather than a plotter is decreased efficiency and quality. The right large-format plotter will have all the supplies needed to print a large number of high-quality prints and can work continuously for long periods of time.
Prone to Paper Jams and Mechanical Issues
The average printer uses technology that makes the equipment more vulnerable to jamming and technical issues. This can set your projects back and result in costly downtime.
High Cost of Ink or Toner for Large-Scale Printing
While plotters use dot placement and vector formats for printing, other printers use ink or toner to function—both of which are less efficient. You may wind up spending a lot more money on refilling ink or toner, especially when printing larger projects.
Increased Maintenance Requirements and Costs
How to Choose the Right Plotter for Your Needs
When choosing between a plotter vs printer, there are several factors to look for based on your unique needs.
For example, what type of project are you printing? Professionals working with large projects will have higher standards. Your ideal business printer should be able to work with vector graphics and produce high-resolution images, which professionals often require in the architecture, engineering, and construction (AEC) industry.
You can also choose from different types of plotters. For instance, drum plotters work by using a drum to hold paper or other print materials. The drum then moves below a fixed pen that performs the drawing. Alternatively, you may consider a flatbed plotter, which prints images on a flat surface and is better for larger projects than drum plotters.
Ultimately, the right plotter will come down to the materials you're printing on, their size, and the number of colours you need to print.
Investing in a Plotter: What You Need to Know
Before settling on a plotter, make sure it includes the features and capabilities you need. For example, does it meet your specifications and work with your computers' operating systems?
Keep in mind that buying secondhand may not be the best idea, either. While purchasing used or refurbished plotters might initially save you money, they could result in higher maintenance costs and replacement components. Instead, consider buying from trustworthy brands to get the most from your purchase.
Why a Plotter Is Essential for High-Quality, Large-Format Drawings
The combined quality, efficiency, versatility, and reliability of today's plotters make them ideal for printing large-format projects of all types. The key is to know where to look for the perfect plotter vs printer products.
Reach Out to HP for a Large Format Printing Plotter
For high-quality plotters that can complete nearly any print job, turn to HP. To find the perfect solution, contact us today, and we'll put you in touch with one of our experts.
Download our eBook now and discover how innovation is streamlining workflows, producing prints of unmatched quality and increasing IT efficiency like never before.

While we can't meet in person, why not to attend a live product demo or join live presentation from our experts.
To schedule it in advance, simply click the corresponding button below.