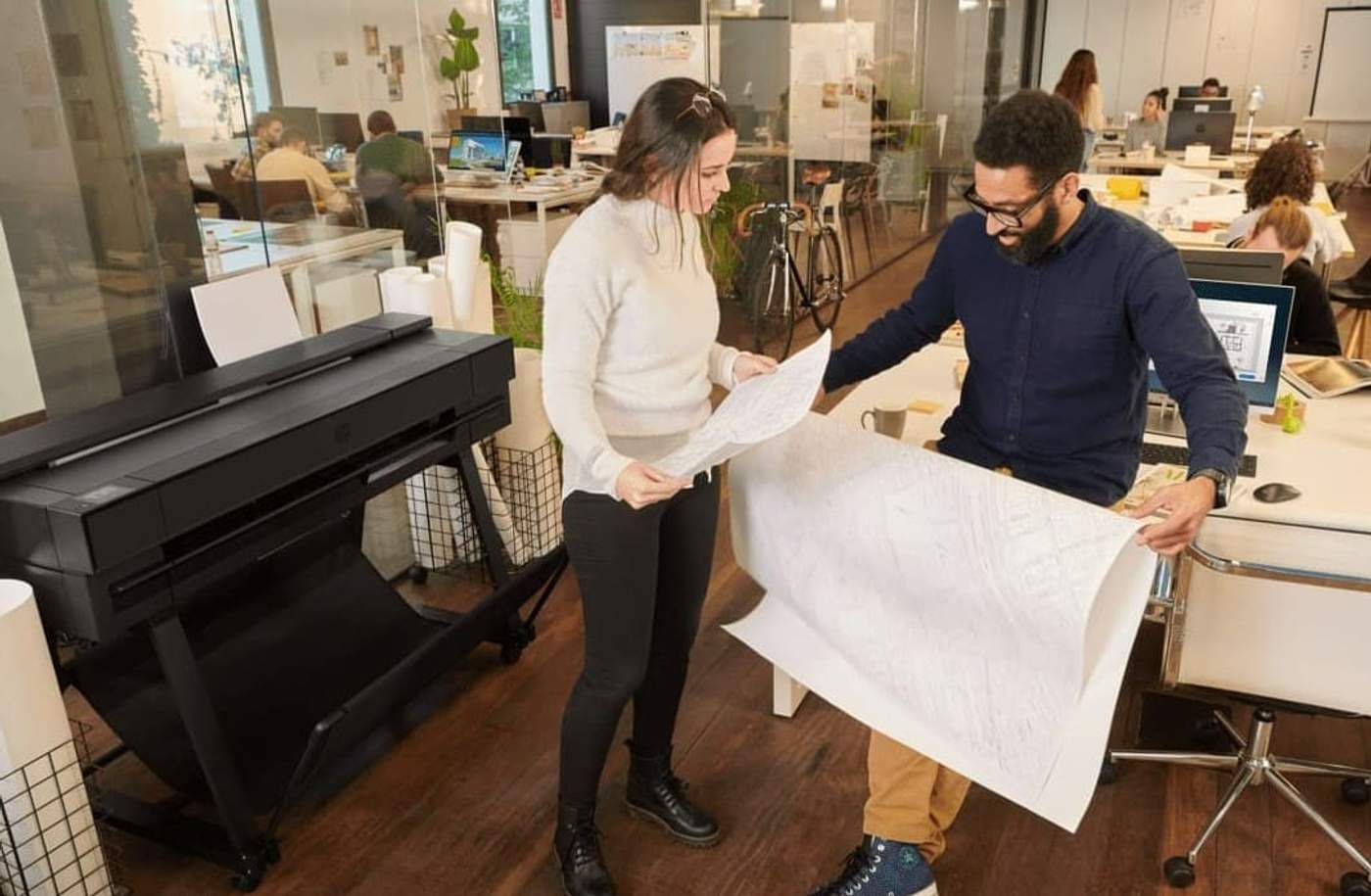 New Large Format Printers: A Complete Product Guide for HP DesignJet T850 and T950

HP proudly announces two new launch printers, the DesignJet T850 and T950 series—the culmination of decades of innovating and setting the standards for large-format printing quality and precision. Architecture, engineering, and construction (AEC) printing, in particular, stands to benefit from these new large format printers due to their seamless adaptation to workflows and a wide range of efficiency tools.
This guide will cover everything you need to know about HP's new DesignJet T850 and T950 printers. We'll cover each model's unique features, plus their wide range of applications in the AEC industry. We'll also help you service and optimise your equipment so you receive the cleanest and clearest possible blueprints and other technical drawings.
Introducing The Latest DesignJet T Series Printers
The DesignJet T850 and T950 are new large format printers from HP. Both come in single and multifunction (print, scan, copy) versions. At their fullest capacities, the T850 and T950 Series can dramatically improve fidelity, boost efficiency, and maximise precision in a variety of AEC large format printing needs.
The DesignJet T850 outputs up to 90 36-inch prints per hour, even with razor-sharp precision. The Multifunction T850 supports a wider range of your print team's in-office or network-controlled duties, with both document and large format print capabilities. The T850 also supports HP Flex Ink cartridges up to 300 mL and features numerous efficiency tools, including:
Scan-to-email
One-click personalised workflows
Waste-reduction measures
Like the T850, HP's T950 Series can support both large format and document printing needs. It provides significant efficiency gains of up to 120 large format prints per hour. An in-built stacker tray holds finished documents, and the T950 and T850 each incorporate state-of-the-art network security functions.
Uncovering the Key Features of the DesignJet T850
High-Quality Printing Across Multiple Sized Documents
With support for A1 through A3 paper size, the T850 enables easy switching between large-format and document printing.
No More Roll to Sheet Changing Required
The new printer can use both paper rolls and sheets, depending on the operator's instructions.
Support for 300-mL ink cartridges means fewer interruptions between large-scale print jobs.
Less Maintenance Required
Along with an innately low-maintenance design, the T850 also runs a factory-installed ink-maintenance procedure and features several automated ink-saving protocols.
Exploring Key Features of the DesignJet T950
Integrated Input Tray Keeps Pages Sorted by Size
An integrated paper tray keeps each page type neatly separated for smooth and jam-free printing on A3 through A1 paper.
Better Print Speed to Advance Workflow Efficiency
At up to 21 seconds per page and 120 pages per hour, the T950 boasts ultra-fast large-format print speeds. With a 300-foot roll, you can set and run huge print runs in one pass.
Comes With a 40-Page Stacker for Easier Collection
Unlike the T850, the DesignJet T950 comes equipped with a 40-page stacker for the swift, one-stop collection of document-sized prints.
Uses Flex Tech, Pigment Inks
Based on HP's Thermal Inkjet technology, Flex Tech inks and other DesignJet ink and media support the finest line qualities. They feature smooth, vivid colours and eco-friendly materials. They are specially formulated with the needs of blueprints, maps, and technical drawings in mind, and they function equally well to produce vibrant posters and signage.
How Do the T850 and the T950 Differ From the T730 and T830 Printers?

While based on many of the breakthrough technologies that made the T730 and T830 printers possible, the T850 and T950 Series provide several key advantages. The new large format printers in the DesignJet lineup are faster, more durable, and easier to use while also pushing the boundaries on what's possible with network printing solutions.
1. Improved Printer Performance and Output
These new launch printers achieve greater speeds and print quality thanks to more streamlined and effective paper and ink management. They also have optimised print resolutions of up to 2400 x 1200 dpi.
2. Better Reliability and Durability
With a more durable design, the DesignJet T850 and T950 are built with long-term performance in mind. They require fewer maintenance procedures, many of which are automated, and the physical form of the printers covers a wider, more stable base to reduce vibration.
3. A User-Friendly Interface
Whether printing documents or large format prints, using the front-loading scanner, or integrating either new printer with your other graphics and printing technology, the T850 and T950 Series are made for ultimate user-friendliness. The interfaces are simpler and easier to navigate, but without compromising on the settings that AEC professionals depend on to fine-tune their prints and calibrate the plotter printer with their software and other equipment.
4. Easier Connectivity and Software Integration
The DesignJet T850 and T950 Series also mark a shift where the best new large format printers integrate with the vast majority of enterprise-grade devices and software, as a rule.
Top Applications and Uses of the T850 and T950 Series Across Industries
CAD Drawings Used by Architects and Engineers
From the project design phase to the final build, architects and engineers need a fast, easy, and reliable way to convey their plans clearly and accurately. HP's newest launch printers make every line, colour variation, and detailed font clear with granular resolution and long-lasting inks.
Map Production in the GIS Industry
The GIS industry covers a wide range of unique mapping needs, all with their own colour palettes and textures that only the most advanced inks can reproduce in full.
Technical Illustrations and Diagrams Used by Construction Firms
Before committing physical resources to each new stage of construction, firms depend on a wide range of technical drawings and diagrams. Those diagrams must present the final vision with crystal clarity and depth so technicians know how every design element interacts.
Posters, Visual Displays & Roll-Up Banners & More
Construction sites and other industrial or commercial applications often require numerous types of signage to convey instructions, safety reminders, and other important messages.
By selecting new large format printers built to handle the most detail-oriented high-resolution prints, you can be sure they'll meet virtually any other large format printing need. Consider these applications:
Schools and universities are constantly hosting new events and attempting to reach hundreds or thousands of students at a time with their message. The highest quality and most durable new printer plotters can simplify at least one aspect of these enormous ongoing tasks.
Photographers, graphic designers, and other visual artists can reproduce their works with stark, vivid appeal using high-fidelity large format prints. Most artists know the value of using the highest quality tools of their trade, and it's important to extend such considerations to their final prints, as well.
Infographics & Presentations
Professionally made charts, graphs, and other infographics help AEC firms and any other business deliver their most important messages to shareholders, investors, and each other.
What to Know About Maintenance and Support
Being the culmination of HP's ongoing technical advances in large format printing, the T850 and T950 both feature the latest in-built maintenance features, including:
Touch-free ink maintenance procedures for extending ink lifespan and keeping plotter heads clean
Auto-schedule printer on/off function (for reduced energy waste)
Extensive DesignJet support services on all new DesignJet printers
Limited warranty coverage on T850 and T950 models for true worry-free operation
Reach Out to HP Today and Enquire About the DesignJet T850 and T950 Printer
With the DesignJet T850 and T950 Series, HP's line of efficient large format printers reduces the guesswork and uncertainty that come from less versatile alternatives. These new printers streamline both the efficiency and quality of the prints themselves. A host of user-friendly design features extends that efficiency to multiple workplace functions.
If you have any questions about the DesignJet T850 and T950 Series, contact HP. Discover for yourself how these new large format printers simplify the most urgent needs of AEC firms and other large format printing operations.
Download our eBook now and discover how innovation is streamlining workflows, producing prints of unmatched quality and increasing IT efficiency like never before.

While we can't meet in person, why not to attend a live product demo or join live presentation from our experts.
To schedule it in advance, simply click the corresponding button below.