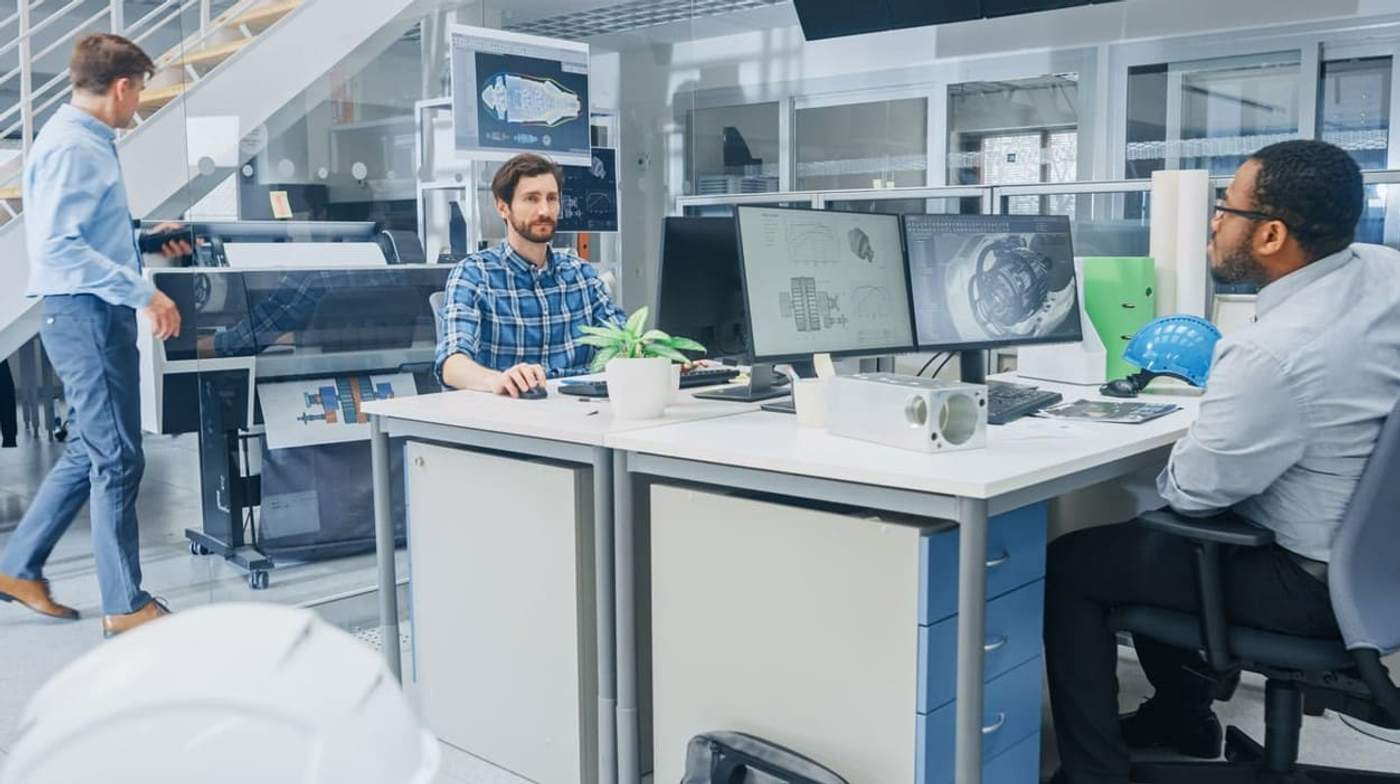 Computer aided design (CAD)
How CAD Automation Can Increase Efficiency for Engineers

CAD automation is rapidly changing the face of the design and drawing of blueprints and plans, and it's not slowing down. CAD automation truly is the future of the engineering field, and we need to be ready as it becomes more prevalent.
Learning how to use CAD automation is no longer a luxury. Instead, it's an essential part of the job. In this article, we discuss what CAD automation is, what it means for engineers, and what the future holds.
Why Is CAD Useful in Engineering?
Traditional manual drafting processes are time-consuming, complex, and prone to error. Essentially, a draft is a theory. While the creativity of engineers has resulted in manufacturing marvels, mistakes sometimes occur along the way. Inaccuracies in design are spotted during the execution or manufacturing stage, but that's when changes can become costly.
When computers automate the design process, they can detect inaccuracies sooner. Then professionals can make changes before the execution/manufacturing process begins. Computer Aided Design (CAD) is the use of computers for designing models of physical products. Computer Aided Manufacturing (CAM) is the use of computer software to control machine tools in the manufacturing of modules. CAD replaces manual 2D and 3D models with renderings and vector-based automated CAD drawings that come together to form 3D models. CAM transforms designs from CAD automation engineers into end products.
By introducing CAD automation tools to the design process, CAD offers many promising benefits for engineers, architects, and other construction professionals. It:
3D CAD modelling enables the designer to visualise the mechanical elements and components of a blueprint in three dimensions from the beginning of the design phase. This capability allows the designer to see potential flaws in the design plan. They can also incorporate required changes early in the process.
The importance of detail-oriented design can't be overstated in the requirements of modern construction. 3D CAD software utilises thousands of built-in templates for mechanical components to be used in mechanical designing efforts for precision and accuracy while saving time.
Presents Powerful Displays
Construction is a competitive industry where architects and design professionals must prove their capabilities to win projects. 3D CAD modelling enables the designer to produce high-resolution visual images of every design component. They can then demonstrate the visual and functional features of a design.
Federal, state, and local building requirements are important in the design and build process. Compliance with such standards is a legal requirement; it ensures the design is of the highest quality and meets all safety standards.
Minimises Lost Documents With Digital Backups
Conventional drafting methods require extensive manual documentation and large collections of physical files, which can be easily misplaced. 3D CAD software features built-in documentation options that are highly flexible. Automated drafting in CAD allows you to document dimensions, geometrics, material specs, and more.
Allows You to Make Changes With Ease
In manual drafting, editing blueprints or other designs is a challenging task that can be time-consuming and requires redrawing. With 3D CAD software, lines and dashes are automatically redrawn during editing to eliminate potential inaccuracies.
How Engineering Firms Can Become More Efficient With Design Automation

A traditional design process usually includes hours of repetitive drafting and modelling tasks to succeed. Design automation is the automatic completion of design work by software. With software that lets you capture and reuse engineering knowledge and intent, CAD automation helps reduce errors. It also reduces the time spent on tedious, repetitive modelling tasks and streamlines development processes.
Finding a design automation solution implemented to meet your organisation's needs is key to becoming more profitable and competitive in the engineering industry. However, the process requires finding the right software to meet your needs and integrating the software with your existing applications. To find a solution that meets your needs, conduct an analysis of your firm's needs. Then implement software that can work with your existing applications.
With a properly installed automation solution, your company can develop a process that eliminates mistakes and saves time compared to manual drafting processes. With fully integrated software, professionals can use the same data to:
Complete parts or building designs
Generate bills of materials
Pass them on to the company's ERP system
With thousands of built-in design templates, engineers can shave hours off of design time for each mechanical component. With the ability to automatically generate proposal drawings to specifications, engineers can supply proof of design to improve customer service, generate immediate proposals, and reduce turnaround time.
What Is the Future of CAD Automation for Engineering?
It's common for individuals to look toward the future of automation with trepidation. However, with a blend of robotics, machine learning, and artificial intelligence, automation takes care of mundane tasks we'd rather avoid wasting time on. Experts estimate that the population will exceed 10 billion people by the year 2050, requiring the AEC industry to double productivity to meet demand. Automation has the potential to enable the AEC industry to safely meet the global and infrastructural needs of an increasing population.
Automation already helps designers speed up their processes with the use of software that automates parts of the design process. When AutoCAD software works with other applications, it allows engineers to interact with design models before they are built. Ultimately, this can improve safety, functionality, and the building's effect on the environment. Automation in the manufacturing industry is evolving rapidly to automate the production of building components and other critical systems.
Automation in the AEC industry has the potential to streamline building processes in ways that cut costs, improve safety, and produce better results. The use of automation can eliminate many dangers on building sites and eliminate costly mistakes that require extensive redrafting and delay construction projects. As these technologies continue to evolve, experienced engineers, architects, and designers will be required to utilise their knowledge in the industry to bring automation in engineering up to its full potential.
Highly capable printers and plotters are vital to success in the engineering and construction design industries. Contact us today to discuss your printing needs.
Download our eBook now and discover how innovation is streamlining workflows, producing prints of unmatched quality and increasing IT efficiency like never before.

While we can't meet in person, why not to attend a live product demo or join live presentation from our experts.
To schedule it in advance, simply click the corresponding button below.