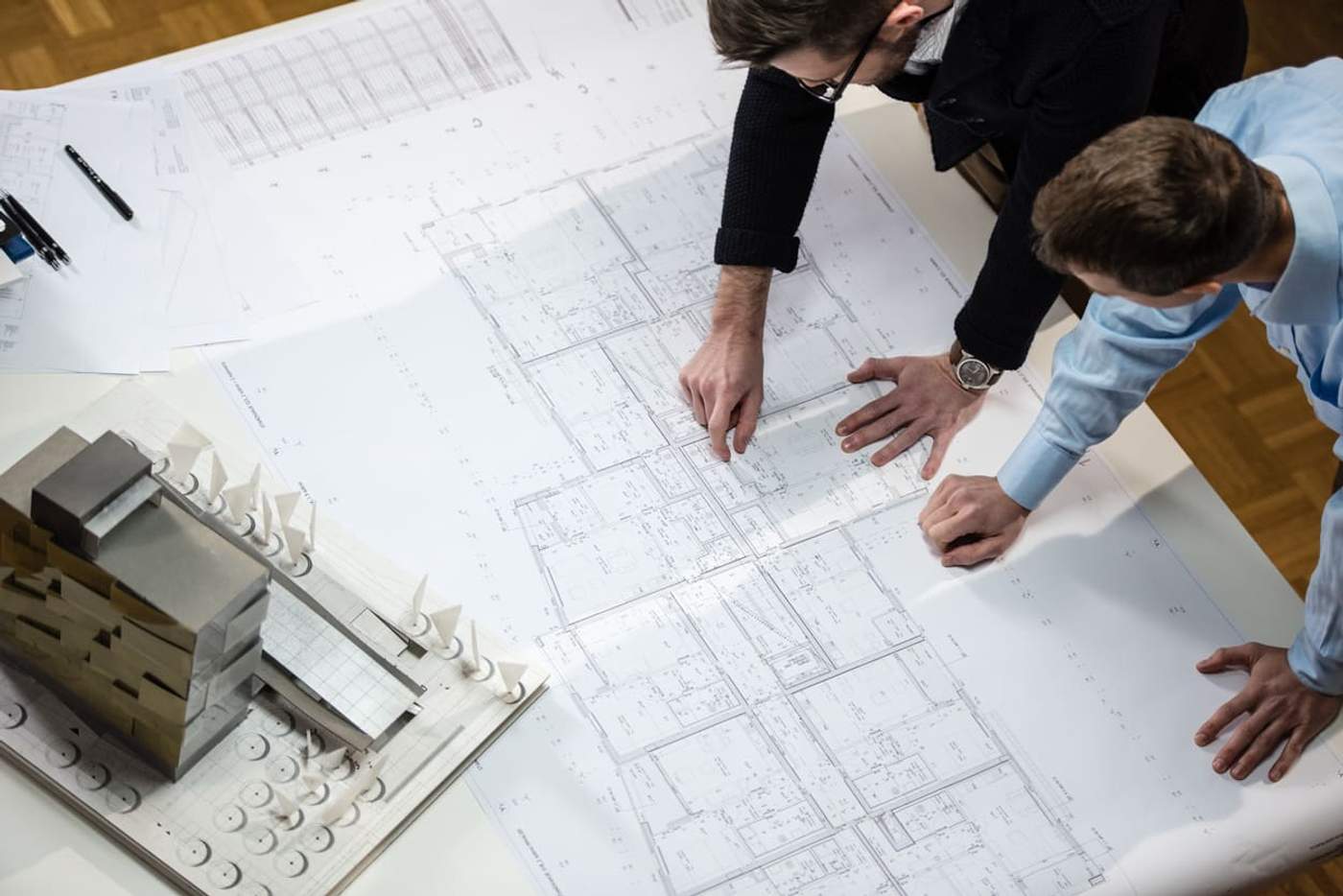 Elements of Large Format Printers to Consider When Printing Blueprints

When printing blueprints, there are a lot of factors to consider. Regardless of your firm's size (or the blueprints themselves), you want to create high-quality prints. So, what printer is used for architectural blueprints? Here is a list of the considerations that should go into selecting a new plotter printer for blueprints.
There are a lot of factors that have an impact on the image quality of your blueprints. Questions to ask yourself when considering image quality include:
What is the printer's maximum resolution?
With blueprints, you have to pay attention to even the smallest details. A high-resolution printer will prevent you from losing important information in the process of printing. We recommend a minimum of 2400 x 1200 dpi for printing blueprints. Nearly all HP large format plotters can achieve this level of resolution.
What type of ink or pigment does the printer use?
We'll talk more about your choice of ink later on. But, for now, you should know that pigment-based ink is superior when bringing out the tiny details on your blueprints.
When it comes to printing blueprints, time really is money. Selecting a fast large format printer can make the difference between a satisfied client and a former client. At the same time, you don't want to make sacrifices regarding the quality of your blueprints, so for the highest-volume firms, we recommend getting multiple printers.
HP's selection of large format plotters provides unparalleled speed. Printers in the HP DesignJet Studio series and the HP DesignJet T-600 series can produce full-size (A1/D) plots in as little as 25 seconds.
When you buy a plotter printer for blueprints, your firm needs to consider the amount of space allotted for the printer. This includes any necessary clearances; generally, we recommend giving your large format printer at least 30 centimetres (or about one foot) of space on each side.
The paper size that your printer uses is also of primary concern. Most architectural blueprints in Australia and New Zealand can fit onto A1 or A2 rolls or sheets. The smallest of our large format printers are found in the HP DesignJet T-200 series. These clock in at 60 centimetres (24 inches) wide, making them suitable for even the smallest offices. However, if your firm is looking for something a little larger, the HP DesignJet Z9+ series has large format printers that are up to 112 centimetres (44 inches) wide.
There are two main types of ink used in printing blueprints: pigment-based ink and dye-based ink. Dye-based ink tends to cost less and is easier to find. However, if you are looking for the sharpest detail in your blueprints, you want to use pigment-based ink instead.
But what ink type is best for architectural blueprints? The final choice is entirely up to you.
If you want to print your blueprints out to show directly to clients or to put on display, or if you will be printing a lot of GIS maps or similar, then pigment-based ink may well be worth the investment. But if you want to get your blueprints down on paper as quickly as possible, dye-based ink may be your best choice. Larger firms may want to combine the technologies and have one of each type of printer.
One thing to consider when selecting a printer for architectural blueprints is the printer's ease of use. Who in your firm will be using the plotter? Is everyone at the firm as technology-savvy as the person making the purchase? You don't want to be saddled with something that only works right during a full moon.
HP's suite of software for large format blueprint printers is among the easiest to use in the industry. It enables anyone at your firm to print multi-page files with the ability for true print preview. However, keep an eye out for printers that work with the Adobe PDF Print Engine, which allows you to print complex files with the press of a button.
When it comes to finding a printer for blueprints, you should consider not only the initial cost of the large format printer but also the long-term costs of operating it. Some of the other questions you should ask yourself when making room in your budget for a new plotter printer for blueprints include:
How much will your printer's ink cost, and how often will you have to buy replacement cartridges?

As we mentioned earlier, the cost of the pigment for a large format printer can vary based on the type of ink used. Your firm may be able to save money on printing blueprints by selecting reused cartridges; many printers in the HP DesignJet Series offer this as an option.
Will you need to invest in specialised software for your whole architectural firm?
To get the most use out of a printer for blueprints, you will also need to install compatible software. HP's software is easy to use and free to download. Also, it allows your whole firm to print from anywhere your Wi-Fi signal can reach.
All in all, the initial cost of a large format plotter should be one of many concerns but not the only thing that your firm thinks about. However, HP also has a wide selection of high-quality large format printers for firms with more limited budgets. The HP DesignJet T230 is one of our favourites in this regard: it represents a perfect mixture of power and cost-efficiency, and it's the world's smallest large format printer. This leads to not only a low initial price but also less ink usage and even reduced carbon dioxide emissions.
Putting It All Together: Choosing a Large Format Printer
Every architectural firm will have different priorities when selecting a printer for blueprints, and there is no one-size-fits-all solution. This is why it's so important to know what your needs are. If you're having trouble choosing a new printer, don't hesitate to reach out to us. Our experts will help set you up with the best large format printer for your specific needs.

While we can't meet in person, why not to attend a live product demo or join live presentation from our experts.
To schedule it in advance, simply click the corresponding button below.