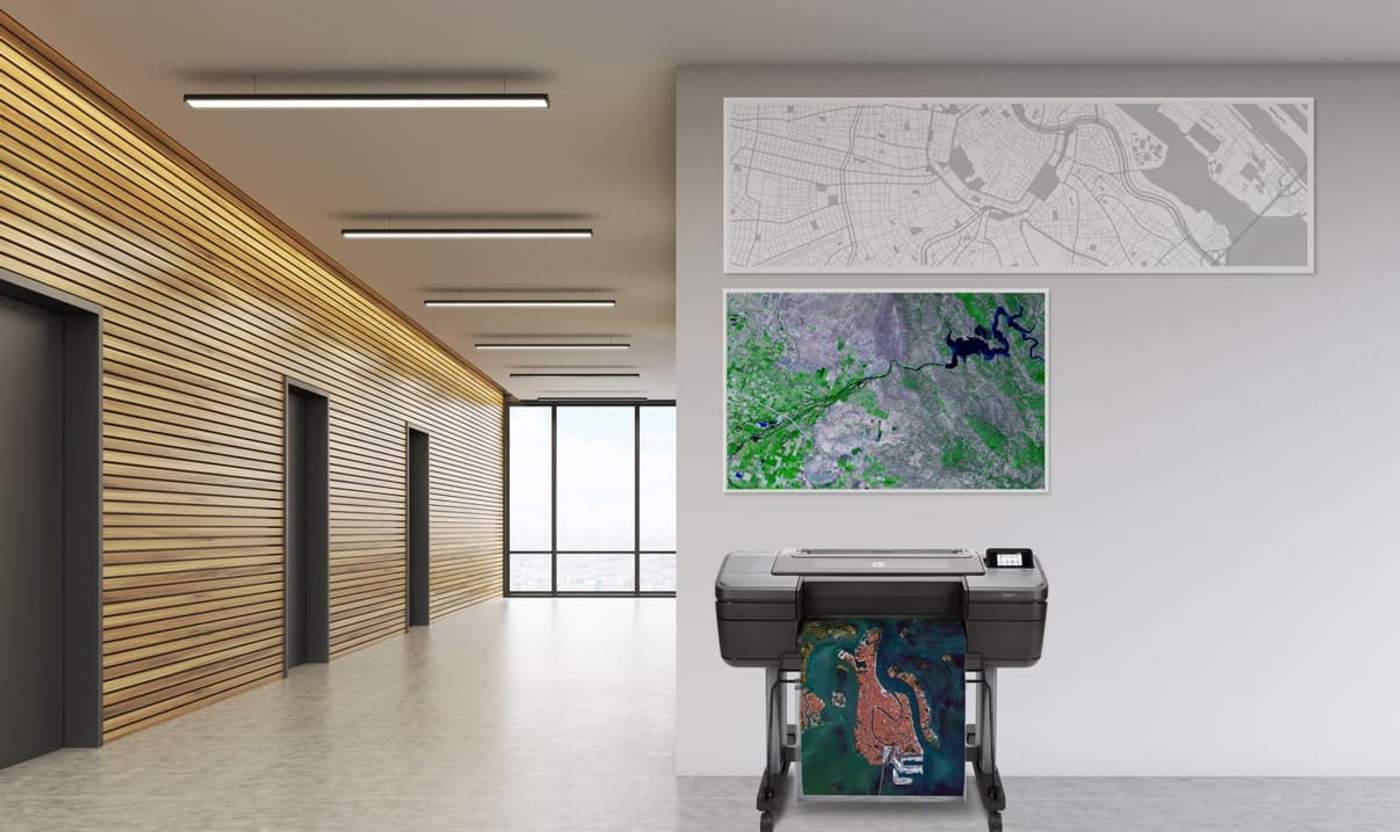 5 Benefits of Using Large Format Printers to Create GIS Topographic Map Documents

GIS topographic map documents serve an important purpose in various fields, providing valuable insights into the terrain and supporting informed decision-making by topographers. These maps fuel the industry-wide requirement for topographic data to be transformed into high-quality prints because they make it much easier to effectively interpret this data to achieve results.
In this context, large format printers offer a range of advantages. With their ability to produce high-resolution output, accommodate different size requests, and render data with precision, large format printers are a top choice for creating any GIS topographic map.
Moreover, large format printers excel in replicating data on various paper media, thereby offering multiple visual representations of topographic data and underscoring the value of these printers in enhancing the quality and effectiveness of topographic mapping endeavours.
What Are Topographic Maps?
Topographic maps in GIS represent elevation over a geographic area. These maps use elevation contour lines or shading to display precise elevation differences, along with other surface features like roads and settlements, lakes and rivers, mountains, and coastlines. Topographic maps are the result of detailed surveys and satellite images. They often help with large-scale projects like land development and ecological conservation efforts.
The Connection Between GIS and Topographic Maps
GIS (Geographic Information System) is a system, typically software, that experts use to create, manage, and analyse maps with highly detailed layers of data. GIS combines location data like roads and settlements with a wide range of locational information. Topography is an essential part of GIS mapping, as topography is often represented in a layered GIS map. GIS software is also often used to create functional topographic map prints.
The Importance of Accurate Representations in Topographic Map Data
While often beautiful, topographic maps are not just for artistic display. They are the result of science and tools of scientific pursuits. Therefore, accurate representation is essential for any topographic map in GIS. The exact contours, heights, and depths represented by topographic maps in GIS are used to make and implement plans that either must work with or alter the exact topographic details.
Understanding the Role of Large Format Printers for GIS Topographic Map Printing
GIS topographic map files are not just digital features. They are very often printed to serve as guides and visual aids for the operations of other businesses. Large format printers make it possible to prepare large-scale maps for industrial or ecological use. Maps created using topographic information often benefit from having a larger version of the map mounted on a wall or set on a tabletop. The larger size then makes it possible to see refined detail in any given space, even on a large format printer.
The Benefits of Using Large Format Printers for GIS Topographic Maps

In fact, large format printers have a wide range of tools that can help a GIS office print high-quality larger maps. These include:
1. High-Resolution Output
Large format printers enable the production of topographic maps in GIS with exceptional clarity and detail. It accomplishes this through line-to-line drawing instead of scanner-like inking and a far higher resolution as represented by a high dpi number (150 to 300).
2. Increased Map Size Options
Large format printers make it much easier to print large-sized maps of various sizes. Paper rolls allow you to choose your base size and make maps as long or tall as desired. Using tiling, you can create maps of nearly any size to allow for broader geographic coverage and more detailed visualisations.
3. Detailed Rendering of Elevation Data
Large format printers have the internal memory and dpi accuracy to represent highly detailed elevation data correctly. With the right file conversion, you can easily showcase subtle variations and fine details on your terrain map.
4. Precise Colour Representation
Colour representation can be essential in GIS topographic map creation. You want the colours created by the printer to closely match colours as they appeared in your design software. Large format printers excel in maintaining colour fidelity through a wide scope of pigment and highly accurate application.
5. Durability and Longevity
Due to your options in selecting both ink and paper media, it is possible to print enduring, long-lasting, and fade-resistant prints. Specialised archival inks and media in large format printers are highly valuable for GIS documents that are put to use by other teams—often in high-use locations and heavy-duty projects.
Best Practices for Creating GIS Topographic Maps With Large Format Printers
When creating your GIS topographic map files and documents, large format printers are your best option. But the default settings might not be what you're looking for. This means that, by understanding large format printers, you can create higher-quality maps with more detail and durability per inch.
Optimising Your Topographic Maps With Large Format Printer Settings
These are the settings that should help you create high-quality, high-detail GIS topographic map documents. These come down to resolution, colour calibration, and paper media settings.
Resolution determines the dimensional ratio of your map and the level of detail achieved in auto-scaling. Adjust the resolution of your map to set the size of the map that will be provided.
GIS software can include extremely specific colours to help you note differences in map detail. You want your colours to be as crisp and accurate to the original data as possible. To achieve this, simply calibrate the colour until they aptly match your design intention.
Naturally, your choice of paper also matters. But this isn't just the difference between festive paper colours. Large format printers can handle most items that come on a large roll. You can choose paper that does not bleed when the ink is applied and will maintain durable integrity even if one print is used over multiple products.
Techniques to Enhance Map Legibility and Visual Appeal
Topographic maps are often so busy that making the notations clear and visually appealing can be difficult. There are several software tools you can use to improve this element of quality in your topographic map prints.
Creating the right size and style of labels for your map can increase legibility, navigability, and overall appeal. Clear block letters tend to improve clarity on functional topographic maps.
Symbols are also incredibly useful when improving the information and readability of your map. Symbols can denote important landmarks or common features.
Scaling the notations, symbols, and keys of your maps must be done carefully, especially when you are scaling up your image to provide better data for large-scale printing.
Reach Out to HP to Receive GIS Map Printing Solutions
Printing topographic maps is an important part of GIS topographic developments. HP large format printers provide the precision and adaptive features you need to print high-quality topographic maps. Contact us for GIS map printing support at any time.
Download our eBook now and discover how innovation is streamlining workflows, producing prints of unmatched quality and increasing IT efficiency like never before.

While we can't meet in person, why not to attend a live product demo or join live presentation from our experts.
To schedule it in advance, simply click the corresponding button below.