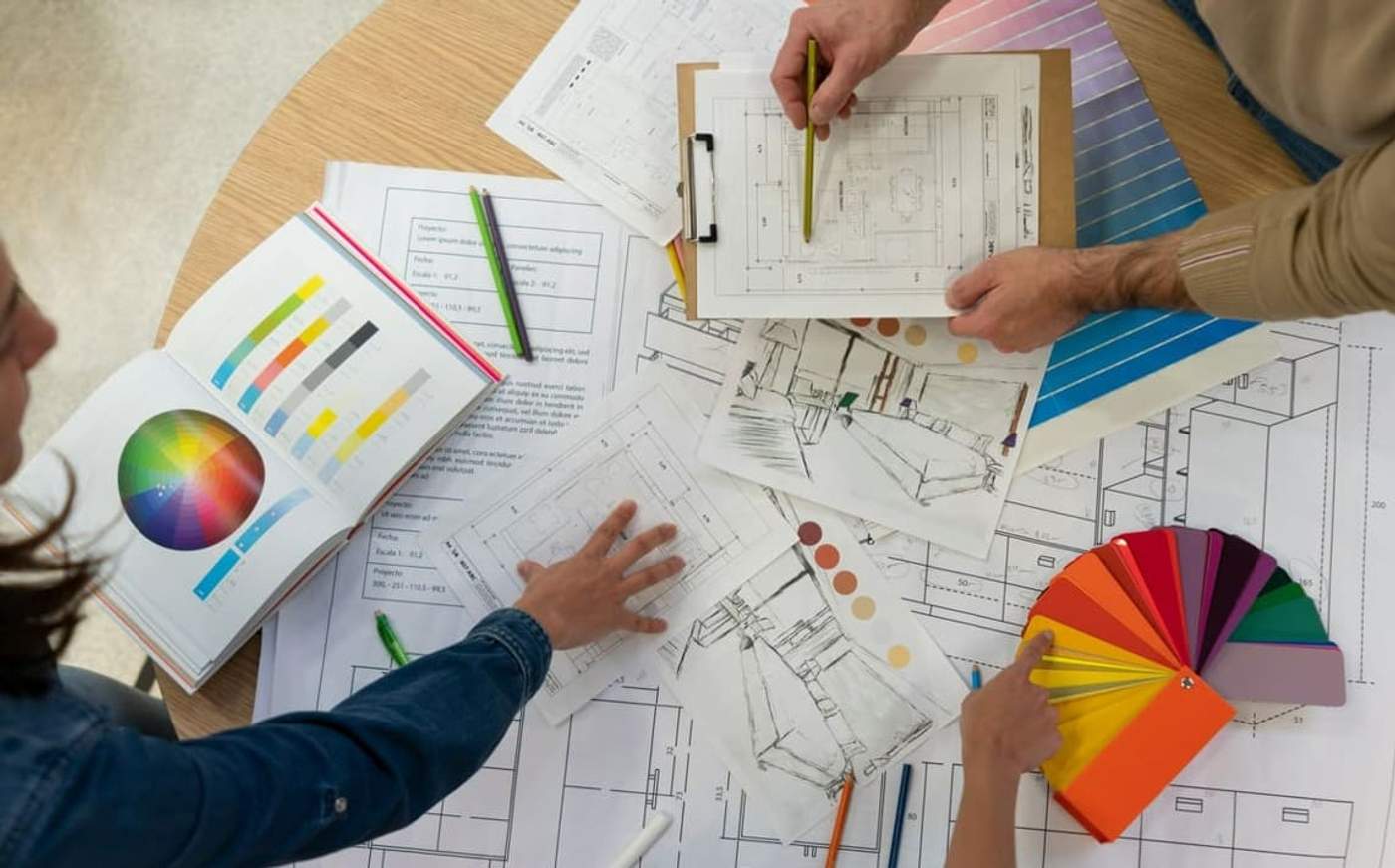 The Importance of Colour Accuracy in Printing for Architects and Engineers

Accurately communicating designs through print media is at the core of architectural engineering. Because colour is a primary means of conveying meaning in AEC drawings, inaccuracies can result in design misinterpretations and costly construction errors. Take a moment to explore the significance of colour plotter printer accuracy and how it impacts the work of architects and engineers. We'll also provide tips for achieving greater colour accuracy between prints and digital imaging.
What Is Colour Accuracy in Printing, and Why Does It Matter?
Colour accuracy refers to how closely the colours of physical prints match the colours seen on a monitor. Displays and colour plotter printers use additive and subtractive processes, respectively, which are fundamentally different. To address these differences, digital imaging systems and colour plotter printer systems make use of:
Colour management systems
Colour schemes & gamut range
Internal colour settings
By mastering the challenges of achieving greater colour accuracy, architectural designers will become comfortable using the full palette of colours available to them and most efficiently translate their vision.
How Can Colour Accuracy Impact the Outcome of AEC Projects?
AEC drawings frequently associate specific meanings with each colour. Like the legend of a map, an architectural design often relies on colours just as much as symbols to make crucial distinctions between design elements.
The differences become even more nuanced between different types of architectural drawings, where one colour can mean something very different in an electrical or plumbing schematic.
Further, what if both systems are included in the same drawing, and differentiating between different shades of that colour had a significant impact on related construction processes? The answer to all of these challenges is to improve colour accuracy. It begins with a solid understanding of colour management systems.
What Are Colour Management Systems?
Differences in how various screens and colour plotter printers display colour require a method for bridging these gaps. Colour management systems allow AEC professionals to maintain as much consistency as possible by adjusting device settings, not for pure aesthetics, but for improved "agreement" between the colours displayed on a screen and the colours of a final print.
How Do Colour Management Systems Achieve Colour Accuracy?
A colour management system will adjust colours according to a given device's unique display requirements and settings. This results in more reliable representations of those colours when printed. It achieves this by tracking the colour characteristics of any given device in the imaging chain and then calculating and accommodating these differences.
How Should Architects and Engineers Use Colour Management Systems?
Depending on your AEC graphics program, it may be as simple as selecting an option for "optimise colours for printing." There's also automated software made to adjust colour settings, which can also interact with networked printers.
Which Colour Management System to Use
There are three major colour management systems:


sRGB
Adobe RGB
NTSC
The latter two have wider colour gamuts—the distinction between different colours—but it's only as accurate as your printer's capability to produce the same colour range. Large format colour plotter printers can usually be outfitted with wider varieties of inks to accomplish this.
For less colour distinction but much more nuanced gradients, sRGB is a good choice, and it's often easier to reproduce using standard print materials. This comes at the cost of more obvious, vivid colour differences, but it can improve accuracy when you don't want to expand ink varieties.
If your AEC drawings require a sharp distinction between two similar colours, then experiment with a wider gamut. Just don't forget that the plotter printer's gamut ultimately determines which colours can be reproduced.
The Challenges of Achieving the Correct Colour Accuracy and How to Resolve Them

Output Variation on Different Printing Devices
Many colour plotter printers today are built to use different numbers and types of ink, which are also altered by the type of paper used. Each plotter printer's settings are also usually calibrated to a highly specific work environment, requiring knowledge of the colour management system used on any given device. Therefore, it's necessary to continually monitor and adjust printing processes for more accurate colour output.
Some of the more advanced large-scale colour plotter printer options provide an in-built colour inspection system, which is capable of automating every step of the process, including:
Image registration
Colour profiling
Colour control & calibration
Real-time adjustments to colour density & balance, gamma, and grey balance
Incorrect Lighting Conditions
For colour accuracy, it's not in your interest to make images look as good as possible on the display. It's more important that the digital files tightly match the printed output. This requires granular control over your monitor's colour management system and consistent workplace lighting conditions.
Set your monitor brightness to 120 candelas per square meter (the ISO industry standard) before setting all other colour calibrations. This provides a consistent baseline during digital editing. When you've calibrated the colours of your monitor and colour plotter printer, look for ways to maintain consistent workplace lighting, regardless of the time of day.
Ink trails can occur due to warped paper or clogged ink cartridges. Even third-party inks may cause ink trails when clean because the colour plotter printer was designed to control ink output with a specific line of products.
Use only OEM inks, and ensure your paper feeds evenly. Also, be sure your paper type is compatible with the particular ink. Glossier paper may increase the chance of smudges and trailing, which blurs colours together.
No matter what, there are variations in eye structure, which even the most perfectly calibrated colour plotter printer can't address.
The only solution is to simply enhance print quality across the board. Increasing the colour gamut may help by ensuring the colour range occupies a wider range. On the printer side, a higher gamut often requires a great variety of ink.
Professional photography printer plotters are often made to accommodate more ink varieties, providing crisper resolution and a wider colour spectrum. The drawback is that photo-grade printers take much longer for each print. In this case, using the highest quality printing materials is your best bet.
Reach Out to HP to Discuss Your AEC Printing Needs
As a worldwide leader in advanced architectural printing solutions, HP has been innovating the field of large format colour plotter printers. Our products are built to provide the widest range of colours to enhance colour accuracy and improve communications amongst AEC professionals.
Do you have any questions about which colour plotter printers or materials can help you achieve more accurate prints? Then visit the HP Virtual Booth or contact an HP-authorised sales representative.

While we can't meet in person, why not to attend a live product demo or join live presentation from our experts.
To schedule it in advance, simply click the corresponding button below.