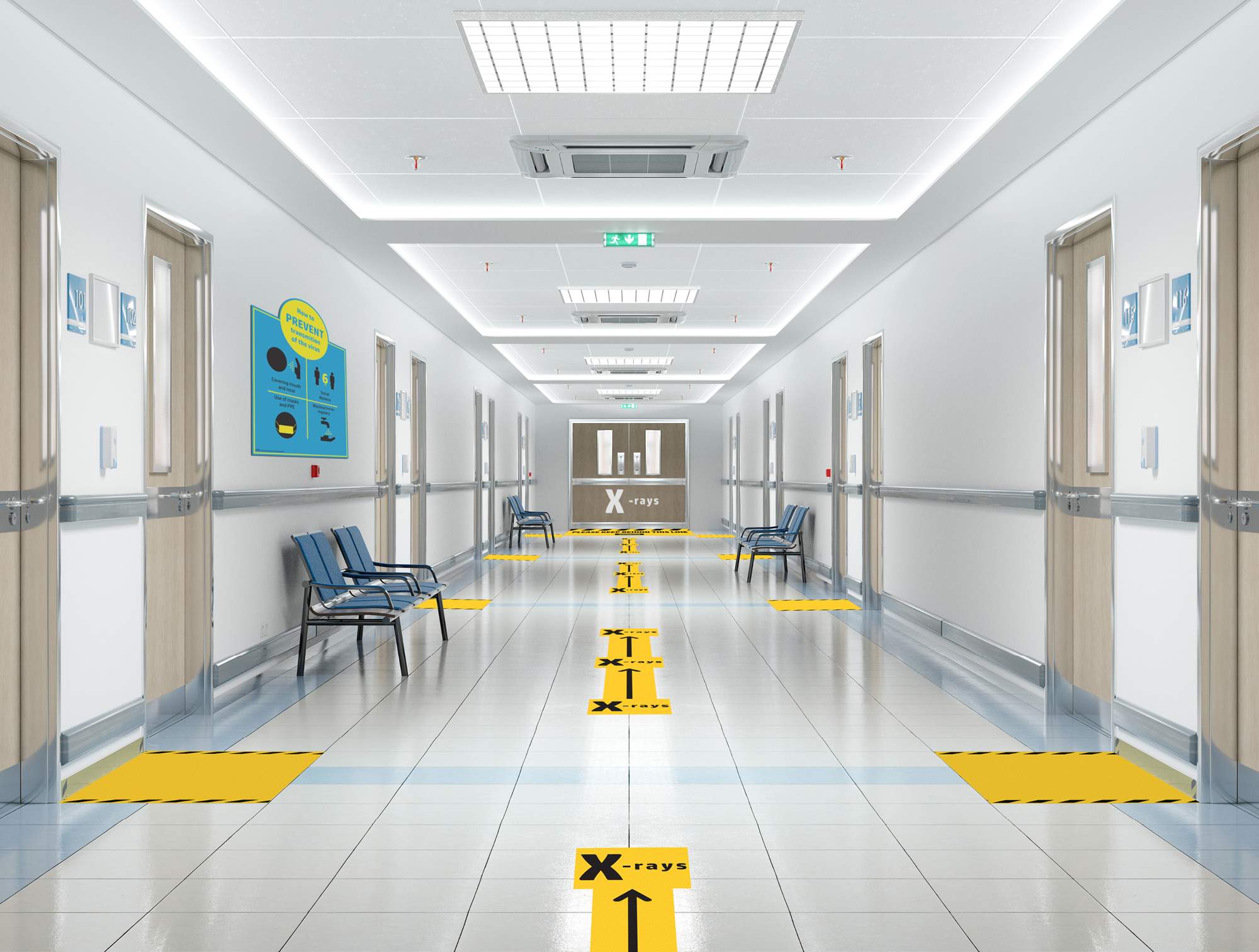 The 10 dos and don'ts of wayfinding floor signage
'Wayfinding' 1 is the practice of solving navigational problems for individuals and crowds in complex spaces. Successful wayfinding systems are the result of targeted data collection and behavioral research, conveyed through durable, clear waypoints.

That's where floor signs come in. Large-format print businesses can help simplify the world around us with clear signage that can be adhered to a range of floor surfaces. Unlike other banners and signs, floor prints don't need to consider wall placement or height: they can be installed on most existing flooring materials.
We've brought together a list of the ten key things you need to know–or avoid–when producing wayfinding floor prints:
Do #1: Put the user's needs first
The effectiveness of a wayfinding system is measured by how quickly it can help its users find what they are looking for, 2 according to the Society for Experiential Graphic Designs.3
Durability, adhesive quality, and material choice are all important factors, but first and foremost, the sign needs to direct people to the places and services they need.

Make sure your designs include the key information users need to build a clear mental map of their surroundings. Things that can help the user adjust to the built environmental include:
Directional arrows

Consistency in terms of:






naming for places and amenities
icons
visuals and graphics
colors

References to key landmarks, such as buildings, open spaces, or prominent features
Do #2: Consider color clarity
Branding is a critical part of the overall experience, and color can improve brand recognition by up to 80%. Wayfinding signs need to blend in with the aesthetics of the surrounding area, while also being vibrant enough that people can easily spot them in a busy location.

The two elements that matter most are color accuracy and color consistency:
Accuracy means getting the colors 'right': i.e., as close to what the designer originally intended. To get accurate colors across your prints, you need to make sure you're choosing printers and inks that support ICC color profiles: standardized color gamut's that make sure you're displaying the same colors as the designer saw on their calibrated screen. HP Latex printers and inks, for example, feature custom ICC profiles for thousands of substrates.
Consistency means getting the same colors–both across the elements of a single print and across all the prints in a run. Calibration is the solution: it should be perfected whenever you install a new printhead or start a run with a new substrate.
Do #3: Choose durable materials
Wayfinding is critical in high-traffic areas, such as shopping malls, sports venues, and tourist attractions. It all starts with the type of substrate you select. There are three commonly used vinyl types in floor signage printing:
Cast vinyl: The most flexible vinyl, but also the most expensive. Cast vinyl is preferred when dealing with complex and curved surfaces. It begins life as a liquid and is molded (or 'cast') into shape, resulting in a more durable product that's perfect for outdoor applications.
Calendered vinyl: This comes in two options: monomeric and polymeric vinyl. Monomeric vinyl is the most cost-effective option but can often result in more brittle products than cast and polymeric options. Polymeric vinyl adds plasticizers to alleviate these durability issues, but costs slightly more.
This makes monomeric solutions best for short-term applications, and polymeric vinyl good for longer-term but indoor usage.
Self-adhesive vinyl needs to be laminated with a special coating designed for flooring to create longlasting and durable signs and protect the ink from external scratches, water, and reactions with UV light.

Do #4: Prepare for the right floor type
Material durability isn't the only important consideration when it comes to creating long-lasting floor signage: your print also needs to stay adhered to the ground to avoid unsightly folds and tears.
Important information, such as directional arrows, can be obscured if prints are damaged, and extremely loose signs can become trip hazards. For the best performance, you need to make sure you're using the right kind of adhesive for your customers' flooring type.
While most floor signs are suitable for tiles or concrete, only some will properly adhere to wooden or carpeted floors. For these more textured surfaces, you need to assess the size of the indents or weaves and find a strong enough adhesive to keep it attached.
For applications where the print could see heavy foot traffic, you should be looking to use solventbased adhesives. Materials such as self-adhesive vinyl feature solvent-based glues and will stay adhered to the floor even in the most demanding conditions.

Do #5: Embrace productivity
Wayfinding systems can be complex, particularly for large areas such as hospitals, museums, and tourism venues. This means that your output will likely require large runs of similar signs, giving you plenty of room to make operational efficiencies in your production line.

HP Latex prints are instant drying. This supercharges your workflow by giving you prints that are ready to laminate as soon as they leave the output tray.
Don't #1: Make your designs overly complex
Legibility is a key factor when using wayfinding systems. Research from wayfinding consultancy The Velvet Principle shows it's best to keep your designs bold and effective, using clear iconography in place of words where possible. 4
You'll need to use bold, clear fonts to make sure your signage is suitable for the visually impaired. In addition, many busy tourist venues, hospitals, and airports will have users who speak a wide range of languages–so the directions need to be as simple and universal as possible.

Don't #2: Use hazardous or unsustainable solutions
Many complex spaces are designed for people of all ages, including children and sometimes pets.
Others, such as hospitals, need to consider the needs of older and more vulnerable people.

In both these instances, you need to select inks with no-hazardous air pollutants (HAPs) to make sure health and safety is a top priority. Water-based inks, such as HP Latex,5 are odorless6–making them perfect for wayfinding applications in more sensitive locations such as hospitals and schools.
Don't #3: Create unnecessary waste
Where possible, you need to be using sustainable materials: recycled plastics, PVC-free polymers, and FSC-sourced paper.

Sometimes, using vinyl is unavoidable, whether that's for durability, cost, or practicality. In these instances, it's more important to make sure you're cutting down on the number of products you produce by delivering permanent, long-lasting solutions for your clients.
Remember to think long term. One cast vinyl sign can outlast several laminated card solutions, which ultimately makes it the more eco-conscious choice across the lifecycle of the wayfinding system.
Don't #4: Forget to make your signs anti-slip
When placing items such as wayfinding signs on the floor, you need to consider the health and safety implications. The Health and Safety Executive gives all materials an 'anti-slip' rating, from R9 to R13 7 (with R9 being the least slip resistant, and R13 being the most). For most indoor, dry applications, you need to make sure your floor signage complies to at least an R10 rating. Outdoor venues should be aware that when wet, signage requires an R13 rating.

Finally, it's worth considering that less is sometimes more. You don't have to cover every square foot of floor space to have an effective wayfinding system. Remember: a single, well-placed graphic can make more of an impact than using too much dense information.

So, there you have it: the 10 dos and don'ts of creating your own effective floor-adhered wayfinding systems. To start thinking about how to create your durable, sustainable, and impactful signs with HP, why not check out here? Discover how HP Latex Inks can deliver powerful and flexible performance for any location.
1.- SEGD, What is Wayfinding?, https://segd.org/what-wayfinding
2.- SEGD, A Framework for Evaluating Wayfinding Systems, https://segd.org/framework-evaluating-wayfindingsystems
3.- SEGD, https://segd.org/
4.- The Velvet Principle, Icons, Pictograms, and Symbols, https://thevelvetprinciple.com/icons-pictograms-andsymbols/
5.- HP, HP Latex Inks, https://www.hp.com/uk-en/printers/large-format/latex-ink-media.html
6.- Based on sensory evaluations conducted by Odournet done according to VDI Guideline 3882 where 832 and 873 inks were characterized as "weak" in odor intensity and "neutral" for hedonic tone. There is a broad set of media with very different odor profiles. Some of the media can affect the odor performance of the final print.
7.- The Health and Safety Executive, Assessing the slip resistance of flooring, https://www.hse.gov.uk/pubns/geis2.pdf

While we can't meet in person, why not to attend a live product demo or join live presentation from our experts.
To schedule it in advance, simply click the corresponding button below.