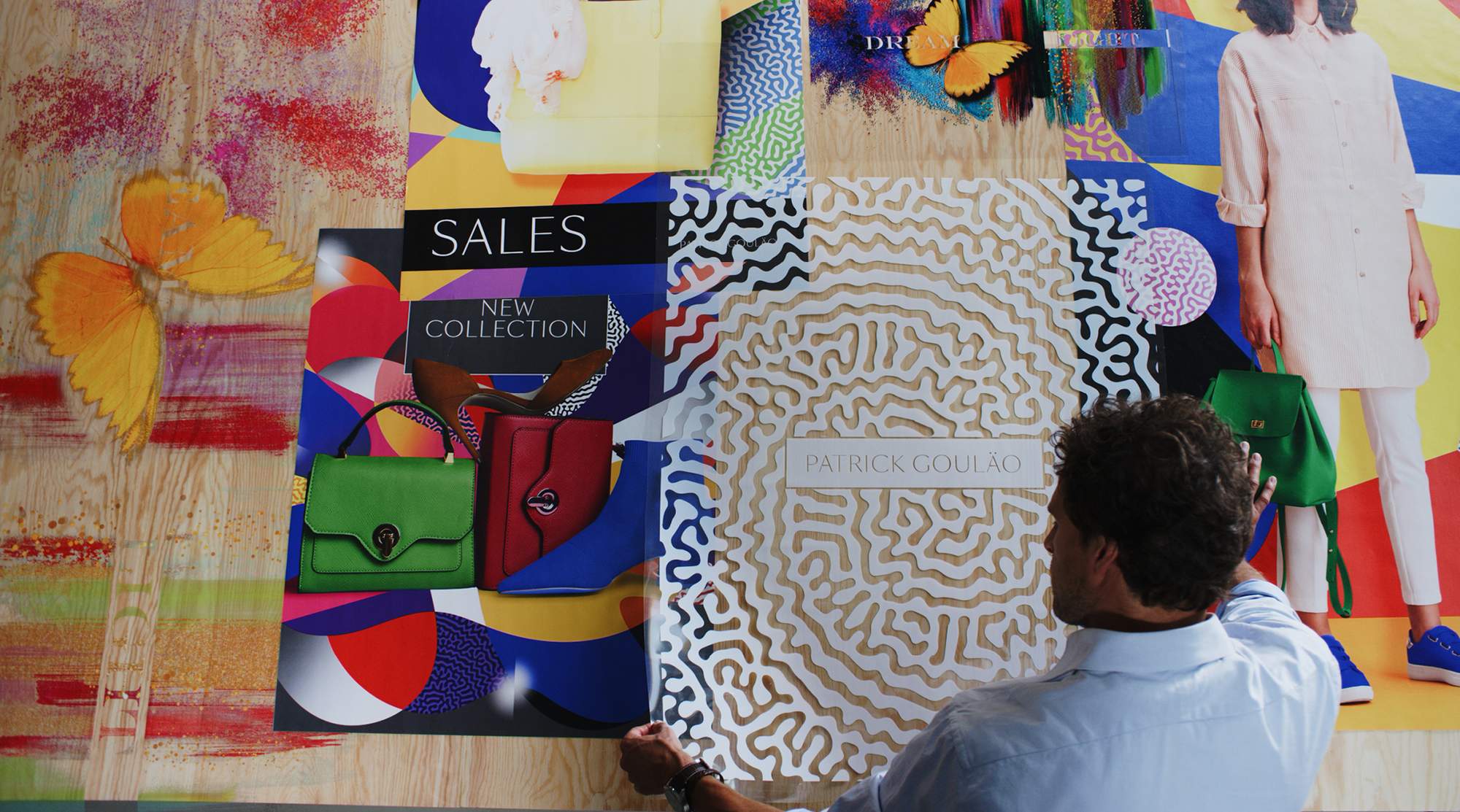 With White Ink, You Can Print Your Way To Higher Margins
With white ink, you can drive an increase in average gross margins by up to 30%. [1]. It might seem counter intuitive: white is a background colour, surely? Can white ink really add greater depth, realism and vivacity to your images and help you grow your business? Yes, it can. Here's why.
Use white to make customer images stand out

There are several methods print service providers (PSPs) can use with high-quality white ink to make their commercial graphics stand out, in ways that customers will love — and be prepared to pay for. The first of those is something called "underflood".
This dramatically named technique involves printing a white layer underneath the actual image. By doing this, you allow yourself to add brilliant white elements to transparencies, for instance window stickers, and to substrates which aren't white.
If the desired effect requires it, it's also possible to print a colour first, then white, then the main image on top. Place these next to the same image but printed without the underflood technique, and the difference is instantly visible. The images printed with underflood stand out and catch the eye.
Another technique is called "overflood". This involves printing a layer of white ink over a transparent media. Typically, this is used for things such as decals placed in the windows of shops, entertainment venues and other public spaces. It allows you to pick out details in a way that's eye-catching and makes the viewer want to stop and look again.
Finally, there is the more familiar spot mode. A stand-by for designers and printers for generations, spot colours are single colours used in the same print run as the rest of the colours. They're used as highlights or to create arresting and bold single-colour areas when the design calls for it. Using high-quality white ink in spot-colour mode allows the printer to outline the image, add decorative highlights and fine details.
In short, with the right white ink and printing technology, you can produce vivid images, without sacrificing the ability of media to catch and reflect natural light.

Choosing the right ink and the right printing tech
It's not necessarily possible to achieve these results with any white ink or any printer. Often, as any PSP who has dealt with older white-ink printing systems knows, older white inks — which tended to be used infrequently — would clog. Fixing this required manual cleaning and purging, all of which took time and meant the printer was out of action for the duration of the maintenance.
To get the results outlined above, and to keep the output rate high for the highest possible return on investment, you need a system that is specifically designed to avoid this problem. But that's not all. To achieve the desired effect, you also need a premium white ink, formulated not only to be vibrant but also to transfer to the media in smooth, consistent layers, in a way that's highly controllable. Only in this manner can you guarantee to preserve the media texture and quality and achieve the greatest possible impact with your finished print.
Introducing the HP Latex R Printer, HP Latex 700 W and 800 W Printers
With their advanced fluid management system designed specifically for — among other things — white ink, the HP Latex R Printer, HP Latex 700 W and 800 W Printers are the technology PSPs need to create higher impact graphics.
These printers come with HP's innovative automatic recirculation system. This continually recirculates white ink within the ink-delivery system and the printhead. It's designed to prevent clogging and maintain a ready-to-print state. It also reduces the need for manual purging. When not in use, the removable HP Thermal Inkjet white printhead is stored in an offline rotating chamber, so there's no waste between white jobs [2].
All three printers are specifically designed for use with HP Latex White Ink. This ink has been carefully formulated to achieve a remarkably opaque, visually strong, whitest white [3] by using exterior grade titanium dioxide pigments.
The white ink is layered smoothly, evenly, and flat so it takes on the shape of the media. It reflects light directly and uniformly for a high gloss consistency which helps preserve the media texture on materials such as aluminum or wallpaper.
HP Latex White Ink resists yellowing over time [4] —it's highly-resistant to photochemical reactions and doesn't contain photoinitiators or optical brighteners, unlike UV-curable inks. This delivers a better, more impactful finish. And because, like all HP Latex Inks, this white ink is water based, it produces odorless prints [5]. No special ventilation is required [6].
"The combination of HP Latex printers and HP White Ink gives outstanding, and stand out, results," said [HP spokesperson]. "They're also easy to handle and provide highly durable prints. Combined with the intelligent print system, this gives PSPs the tools and technology they need to take on higher margin jobs. In today's competitive print market, that's a significant edge over other print providers."
THREE REASONS TO CONSIDER A LARGE FORMAT PRINTER WITH WHITE INK.


Based on a research conducted by Keypoint Intelligence July 2020 and commissioned by HP, across over 100 print service providers across the U.S., Europe, and India.
When HP White Latex Printheads are placed in the storage cassettes, no white ink is used for servicing when printheads are not in use.
Whitest white based on HP Latex 700 W and 800 W Printers. Whitest white based on ISO/DIS 23498 compared to competitive alternatives using solvent and UV technologies under $50,000 USD as of May, 2020. Test performed on black opaque self-adhesive vinyl (L*:4.16 – a:0,48-b:2,34) with 160% UF printmode using HP 873 3-liter or HP 832 1-liter White Latex Ink Cartridges. Visual opacity = 91%.
Resists yellowing over time based on internal HP WeatherOmeter testing October, 2017 with 1 dot-per-pixel HP Latex Overcoat, on a range of rigid and flexible unlaminated substrates. Yellowing based on L* and B* of white underflood samples. White ink capability may be optional, requiring purchase of the HP White Ink Option Kit.
There is a broad set of media with very different odor profiles. Some of the media can affect the odor performance of the final print.
No special ventilation equipment means air filtration systems are not required to meet U.S. OSHA requirements. Condensate collection systems are provided on some models. Special ventilation equipment installation is at the discretion of the customer—see the Site Preparation Guide for details. Customers should consult state and local requirements and regulations.