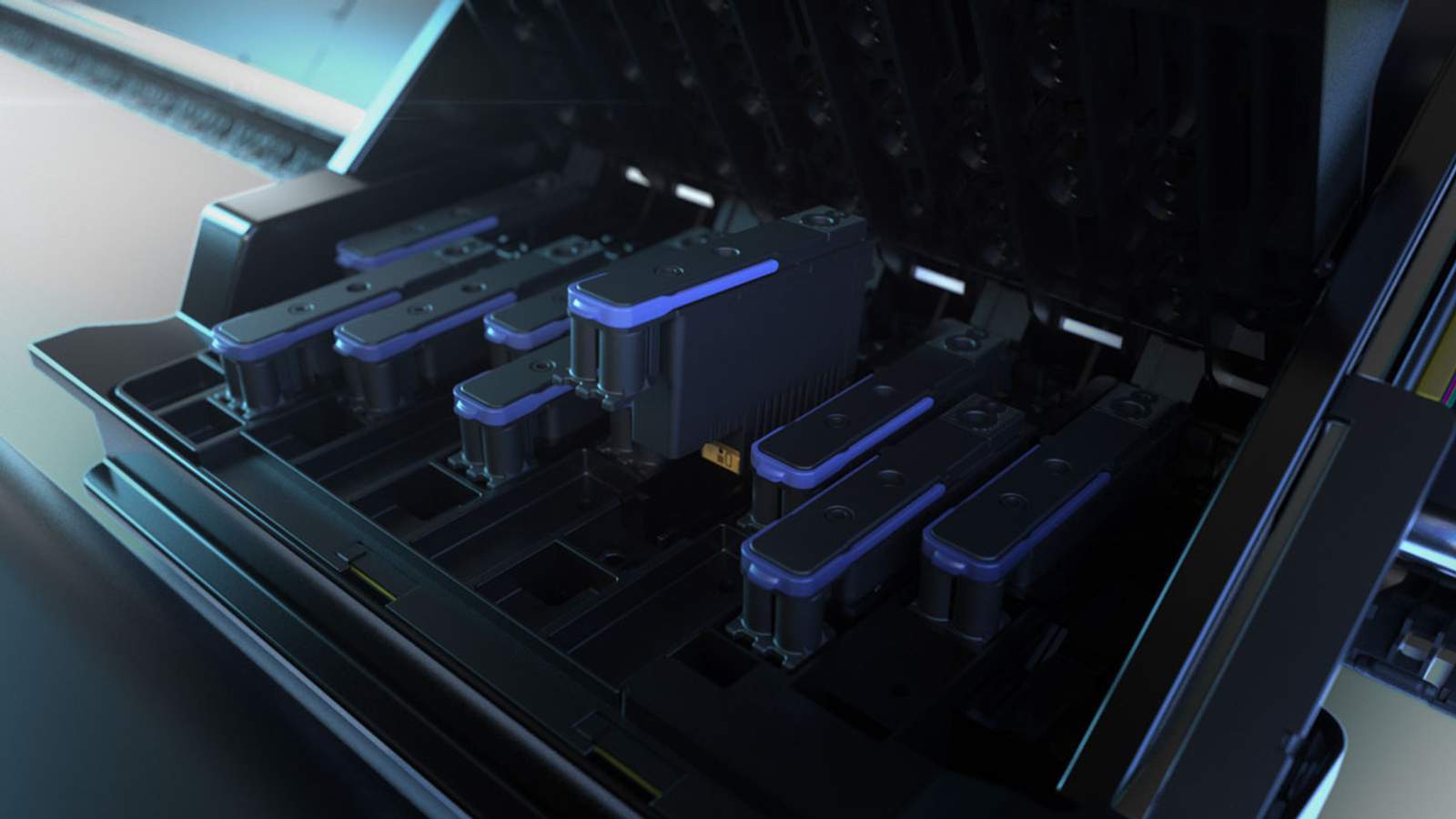 When You're Choosing A Large-Format Printer, Always Ask About The Ink Cartridges
The quality of the consumables determines everything from the cost of each print, through how environmentally sustainable you are right up to how much downtime you experience on any day.

The quality of print out is determined by many things: the speed and accuracy of the print engine, the intelligence of the software running that engine, the quality of the media and so on. But one thing which is often neglected, is the quality of the printhead.
What to look for in a professional-grade ink cartridge

Cartridge composition plays a crucial part in determining how environmentally sustainable your printer is. The cartridge should be made of materials with as small an environmental footprint as possible. It should be easy to dispose of. That means not just that the material from which the cartridge is made should be easy to recycle. It must also mean that the inks contained in the cartridge can be handled and disposed of without expensive special procedures.
Alongside the quality of the ink itself, a key determinant of the accuracy, fidelity and vivacity of your print jobs is the science behind the printhead. The printhead must be able to deposit ink droplets with the highest degree of accuracy possible. The printer should be able to keep it clean and working at peak efficiency. And it should do this, while also minimizing the requirement for manual intervention and downtime.
How HP Latex consumables get the job done

The new HP Latex 700 and HP Latex 800 Printer series are designed specifically to meet these challenges. Instead of conventional print cartridges, made of plastic, these large-format printers use recyclable HP Eco-Carton ink cartridges. The outer cardboard of which these innovative consumables are made can easily be recycled at any local cardboard and paper recycling programs1.
By replacing plastic cartridges with the new HP Eco-carton ink cartridge, the amount of plastic used in each consumable is reduced by up to 80% and the CO2 associated with that cartridge by up to 66%2. And where HP printers and supplies do still contain plastics, these are often recycled plastics, created with post-consumer electronics, soda bottles, UL-validated ocean bound plastics, coat hangers, and empty Original HP ink cartridges.
The inner linings, containing the ink, can be disposed of through the HP Planet Partners program1. And because water-based HP Latex Inks contain no hazardous air pollutants (HAPs)3, this not only makes handling easier, it also makes disposal simple and stress free. Taken together, these design attributes mean you send zero supplies-related content to landfill when you use these HP printers1. And HP Latex inks deliver vivid colours with striking contrasts4.
These inks are delivered through an HP Latex Printhead. These are capable of delivering inks to the page in droplets as small as 10-picoliters. A picoliter is a trillionth of a liter. With such tiny ink droplets, delivered with pin-point accuracy thanks to the precision of the software and engineering in the print systems, print jobs are clear, sharp and vibrant.
HP Latex 700 and 800 Printer series
Find out more about the HP Latex 700 and 800 Printer series


The ink cartridge HP Eco-Carton outer carton is 100% recyclable through local cardboard/paper programs. Inner materials including the ink bag are 55% recyclable and can be returned free of charge to the HP Planet Partners program for reprocessing of plastic parts. Zero landfill. For ink bag and printhead take back, visit http://www.hp.com/recycle to see how to participate and for HP Planet Partners program availability; program may not be available in your jurisdiction. Where this program is not available, and for other consumables not included in the program, consult your local waste authorities on appropriate disposal.
C02e reduction based on moving from plastic ink cartridge to cardboard HP Eco-Carton ink cartridge, with annual manufacturing savings of 291 tons and transport savings of 8 tons. Equivalent to 1,194,028 km (741,935 miles)t driven by an average passenger vehicle or over 38 million smartphones charged.
HP Latex Inks were tested for Hazardous Air Pollutants, as defined in the Clean Air Act, per U.S. Environmental Protection Agency Method 311 (testing conducted in 2013) and none were detected.
Whitest white based on ISO/DIS 23498 compared to competitive alternatives using solvent and UV technologies under $50,000 USD as of May, 2020. Test performed on black opaque self-adhesive vinyl (L*:4.16 – a:0,48-b:2,34) with 160% UF printmode using HP 873 3-liter White Latex Ink Cartridge. Visual opacity = 91%.

While we can't meet in person, why not to attend a live product demo or join live presentation from our experts.
To schedule it in advance, simply click the corresponding button below.