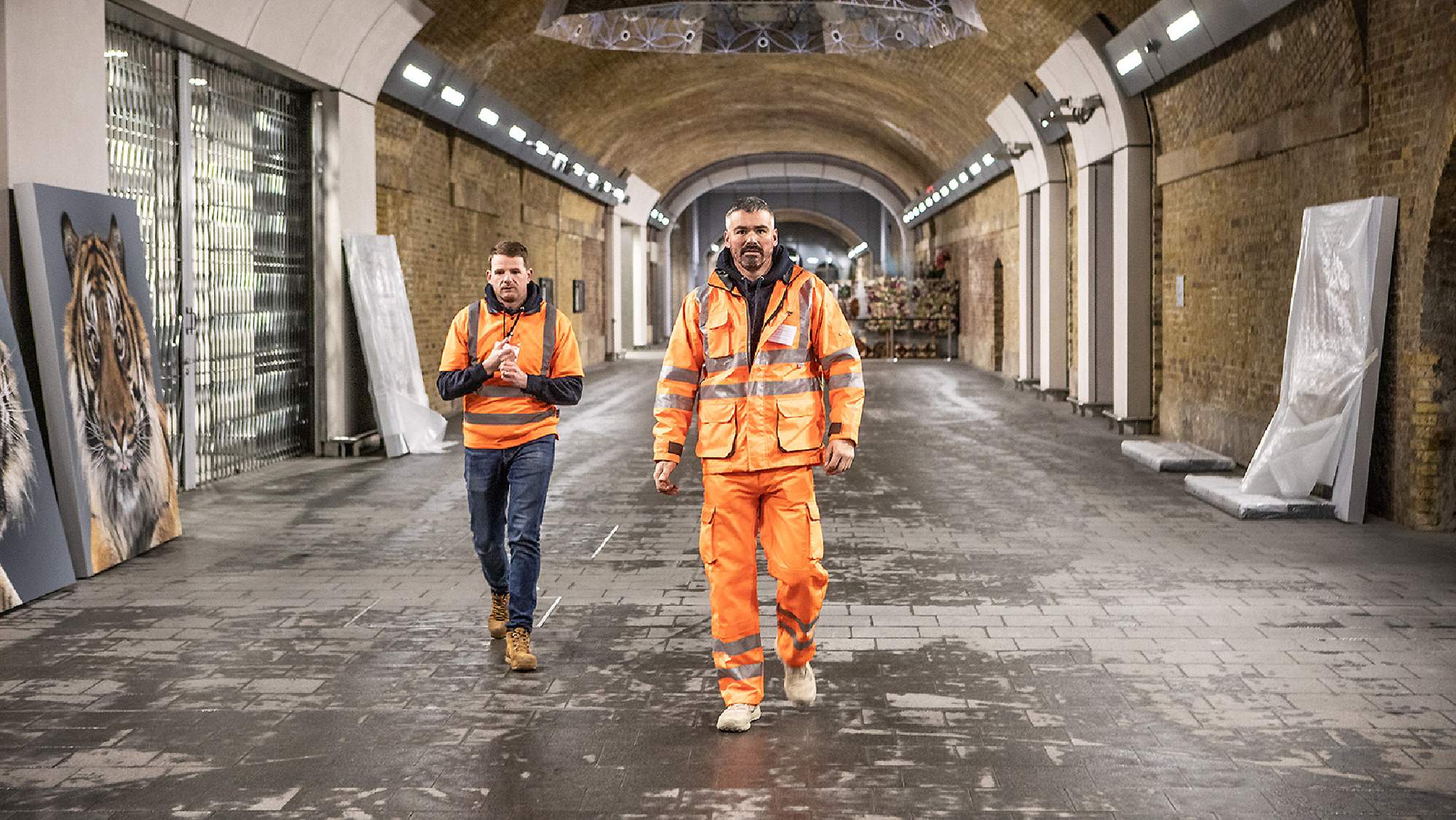 "I'm Glad We Chose Sustainable Printing Early On" - How One Print Service Provider Survived Lockdown And Become More Sustainable, With HP Latex Printers
"Hats off to the team, really," said Andy Wilson, managing director and founder of digital print specialist PressOn. "It's been a heck of a year. We saw the work rate drop off massively at the end of Q1 2020, and that was nerve-wracking. We had to work from home, work in bubbles, arrange our schedules around each other's home-schooling and family commitments — you name it. And never once did anyone complain."
Andy is talking about his, and his company's, turbulent last two years. Based in Kent, in the southeast of England, PressOn produces a wide range of digital-print products for household names including Netflix, Harrods, Pretty Little Thing, the UK's National Gallery, the Ritz and Harvey Nicholls. We spoke with MD Andy Wilson to find out how the company had coped during the pandemic, the lessons it had learned and what these meant for its future.

Like many print companies, PressOn was hit early and hit hard by the pandemic. With no idea how big the economic impact was going to be, marketing departments started slamming on the brakes. "By the third week of March 2020, we were cancelling more jobs than we were booking," said Andy. "And by the time lockdown hit, we had to close the office anyway, because there was just no work."
Andy, who's been with PressOn for twenty years and in the print industry for twenty five, wasn't going to take the situation lying down. After a week at home, he came back to the office, even before any sign of a bounce back. But almost in a spirit of "build it, and they will come", after Andy returned to the office, jobs began to come back. "By June, we started to get inquiries about jobs that had been postponed. By July and August, we were able to bring some staff back in from furlough."
But operating during the pandemic, as for everyone else, meant a completely different way of working. Prior to the pandemic, PressOn Invested in an HP Latex R2000 Printer, which allowed it to take on higher-margin jobs that required the range of finishes and effects enabled by advanced, water-based HP White Ink. The company also benefited from the ability of current generation of HP Latex printers to run unattended for much of the time.
"We had to work in bubbles," Andy said. "Thanks to the intelligent capabilities of HP Latex printers, unattended printing was not a problem for us. The print team would come in and set up the jobs in the morning. They'd only see each other, so they'd be in their bubble. They'd set the jobs printing, and then leave them unattended. We have HP Latex 3500 and 3600 printers, so unattended printing was no problem. Then the finishing team, a separate bubble, would come in for the afternoon, they'd do all the laminating and cutting. finishing isn't a fully unattended job, but it is highly automated, making social distancing throughout easier."

Important as it has been during the pandemic, unattended working isn't what excites Andy most when he talks about the future. He talked with animation about the company's sustainability efforts and their importance for his future plans. Over the last few years, the company has taken steps to cut its carbon footprint, for instance, by sourcing supplies in a way that minimizes transport miles, ensuring waste is sent to take-back schemes or recovered as energy, rather than going to landfill — and so on.
"We focused on sustainability early on," he explained. "I'm glad we did. It's increasingly clear that this is what is motivating customers. Even a year ago, when we dealt with clients, we'd often find that sustainability wasn't on the list of criteria for the tender process. But that's changing. Now, the client may ask us about our sustainability credentials. If they don't, because this is an area in which we're strong, we can make environmental impact a part of the proposal. In many cases, you'll find that not only does the end customer have sustainability criteria for its supply chain, so do its investors."
Working with HP is a real advantage when PressOn needs to demonstrate its environmental-impact credentials, Andy explained.* "To be blunt,"* he explained, "when we work with big national and international brands, they've heard of HP and they know of its reputation for leadership in sustainability. The same can't be said of other technology providers in the sector. This helps us open doors."
We finish the interview by asking Andy what, beyond a refreshed focus on sustainability, he plans for the immediate post-lockdown period. He smiles. "Well, PressOn turned twenty last year. It was a big thing for me. I was only twenty-five when I started the company. We couldn't really celebrate last year. With everything that was going on, it just wasn't appropriate. But now, well, it's starting to feel like time for a birthday party."

While we can't meet in person, why not to attend a live product demo or join live presentation from our experts.
To schedule it in advance, simply click the corresponding button below.